Even as he incited a far right, explicitly fascist coup attempt against the American government, Twitter refused to say whether it would remove outgoing United States President Donald Trump's account on the platform:
A company spokesperson told us:
In regards to the ongoing situation in Washington, DC, Twitter's Trust & Safety teams are working to protect the public conversation occurring on the service and will take action on any content that violates the Twitter Rules.

Let us be clear: Threats of and calls to violence have no place on Twitter, and we will enforce our policies accordingly.
When asked if that constituted a yes or no, the spokesperson did not respond. The company had told Forbes in December 2020 that he would not be exempt from its terms of use after his term officially ends on January 20 2021 — but that was before the events of January 6 2021.
The one-term president's loyalist supporters attacked the U.S. Capitol shortly after a rally in which he called on them to march to the building to demand that his loss to President-Elect Joe Biden in the November 2020 election be overturned, defying both the law and the popular and Electoral College votes. That came not long after the presidential debate on September 29 2020, when Trump, pressed by Joe Biden to condemn white supremacist and far right groups on camera, instead told the Proud Boys to "stand back and stand by."
Trump said at the gathering that he would join the group, but he failed to do so. Instead, he criticized Vice President Mike Pence on Twitter for not illegally stopping the certification of the vote. "Mike Pence didn't have the courage to do what should have been done to protect our Country and our Constitution, giving States a chance to certify a corrected set of facts, not the fraudulent or inaccurate ones which they were asked to previously certify," he wrote in yet another regurgitation of his lies about non-existent voting fraud. "USA demands the truth!"
The tweet was allowed to remain on the platform despite the lies, but the platform attached a label saying "This claim about election fraud is disputed":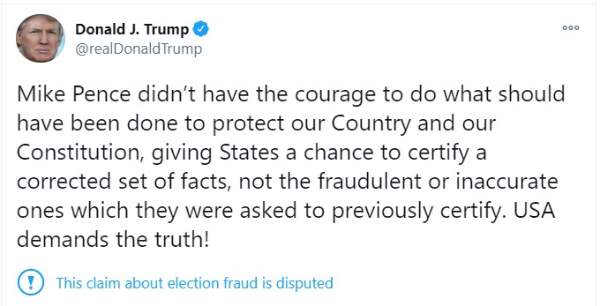 The incident renewed calls to remove Trump from the platform. Instead, Trump was allowed to post a video ostensibly calling for an end to the violence while lying yet again about the election.
"I know your pain, I know your hurt," Trump claimed. "We had an election that was stolen from us. It was a landslide election and everyone knows it, especially the other side."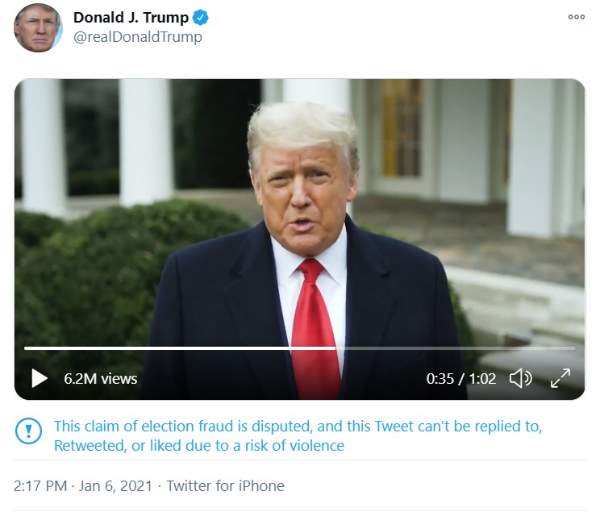 This tweet received a different label purportedly limiting its spread, while still refusing to state that Trump lost the election: "This claim of election fraud is disputed, and this Tweet can't be replied to, retweeted or liked due to a risk of violence."
The same label was attached to a separate tweet in which Trump lied yet again, saying his "sacred landslide election victory" was "unceremoniously & viciously stripped away" from his supporters.
Update: of 6:30 p.m. EST, both of Trump's most recent tweets are no longer available on the platform. Twitter subsequently announced that his account was suspended for 12 hours.
"If the Tweets are not removed, the account will remain locked," the company said.