U.S. Military Dogs Being Evacuated From Afghanistan
Claim
Photos show American military dogs being evacuated from Afghanistan in August 2021.
Like this fact check?

Reporting
On August 16 2021, CNN reporter Natasha Bertrand shared an image on Twitter which puportedly showed dogs with the United States military dogs as they were getting moved out of Afghanistan as its cities rapidly fell to the Taliban:
👀U.S. military dogs being evacuated from Afghanistan https://t.co/bOHDwXlpsl

— Natasha Bertrand (@NatashaBertrand) August 16, 2021
That tweet was part of the unfolding scenes of chaos in capital city Kabul after the Taliban seized control of the country:
KABUL, Afghanistan (AP) — Thousands of Afghans rushed into Kabul's main airport Monday [August 16 2021], some so desperate to escape the Taliban that they held onto a military jet as it took off and plunged to their deaths. At least seven people died in the chaos, U.S. officials said, as America's longest war ended with its enemy the victor.

The crowds came while the Taliban enforced their rule over the capital of 5 million people after a lightning advance across the country that took just over a week to dethrone the country's Western-backed government. There were no major reports of abuses or fighting, but many residents stayed home and remained fearful after the insurgents' advance saw prisons emptied and armories looted.
Live coverage from the New York Times provided ongoing reports of events in Afghanistan on and just before August 16 2021:
The day after the Taliban installed themselves in the presidential palace in Kabul, seizing control over Afghanistan two decades after being toppled from power by the U.S. military, fears intensified on Monday [August 16 2021] about a return to the Taliban's brutal rule and the threat of reprisal killings.

Kabul's international airport was under the protection of foreign forces, including thousands of U.S. soldiers sent to the country to assist in a hasty evacuation. The Pentagon said on Monday evening [August 16 2021] in Kabul that all flights had been suspended, military or civilian, into Hamid Karzai International Airport.
Bertrand's tweet (a retweet) was one of many images or stories about events on the ground during the broader evacuation. It showed a passenger flight primarily occupied by humans, but three rows in front of the photographer in seat 12E, what appeared to be a dog occupied seat 9E.
At 5:46 AM EST, ABC News shared a Facebook video location tagged in Kabul, Afghanistan. A status update that appeared with the video of dogs and their human handlers read:
U.S. military dogs in Kabul evacuated from the city's airport among other officials as Taliban takes control of Afghanistan.
ABC News linked to an article in the status update, but that generalized reporting ("Chaos at Kabul airport amid struggle to flee") did not mention dogs.  At 11:59 AM Eastern, the Facebook page Animal Welfare Watch shared the following images (without a link or source), adding "US Army successfully evacuated US Army dogs🐶 from Afghanistan":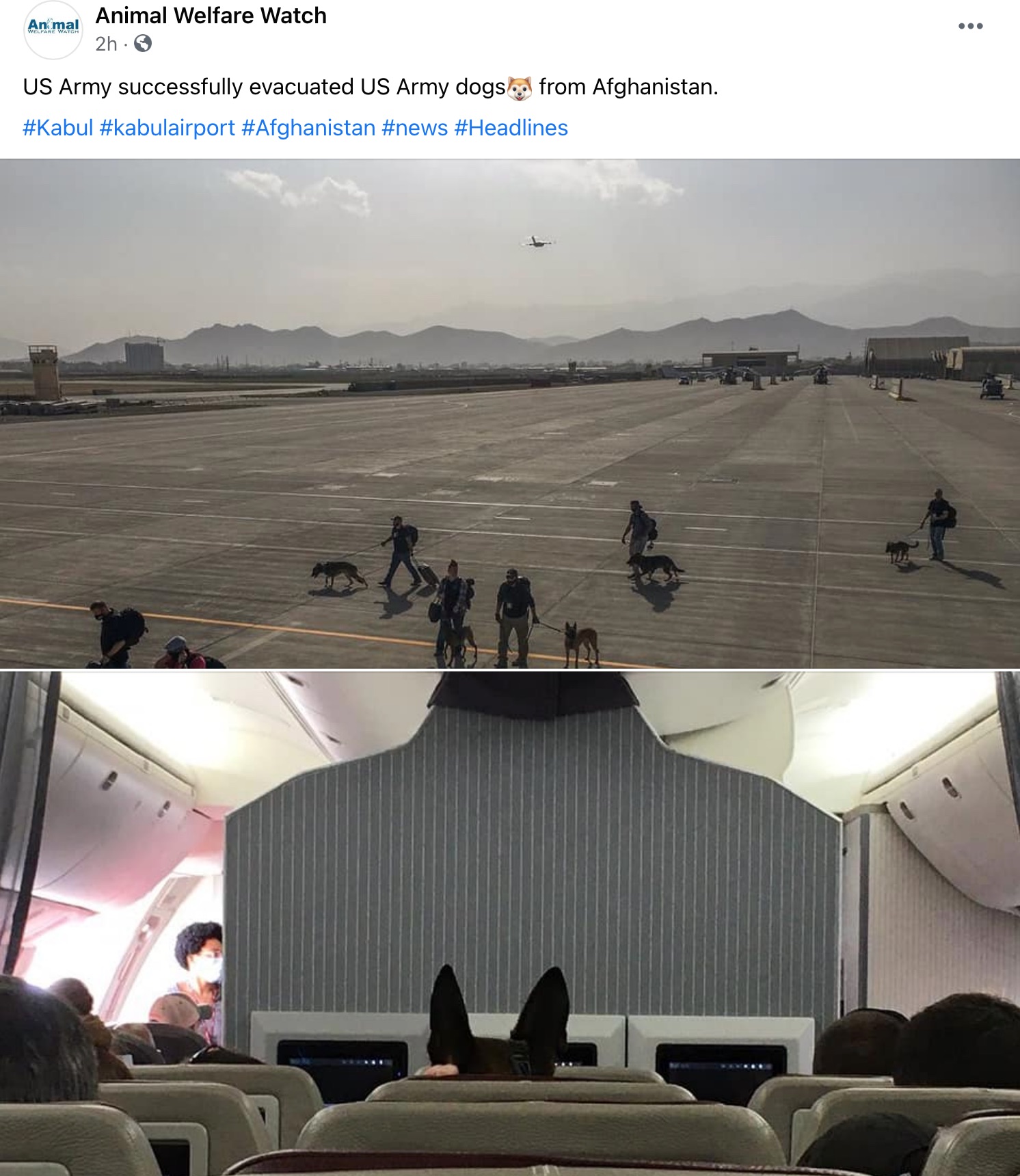 The same two images appeared in a tweet published at 7:55 AM by a Twitter account that appeared to be dedicated to geopolitical commentary, but with a slightly different interpretation:
I deleted my Previous tweet which wrongly depicted a Commerical Aircraft as C-17

It wasn't a C-17 but The U.S Evacuated its Military dogs rather than the stranded Afghan people when they are falling of the wings of Planes and dying which is the whole point. pic.twitter.com/blTb3Olklq

— Wars on the Brink (@WOTB07) August 16, 2021
In the tweet above, the account added that the United States evacuated its military dogs "rather than the stranded Afghan people when they are falling [off] the wings of Planes and dying which is the whole point."
Twitter user Muhammad Jalal made a similar observation, as did NBC News' Chief Foreign Correspondent Richard Engel:
Attention: The American military evacuated their dogs but left the Afghans who worked with them. pic.twitter.com/YE33a3A5y9

— Muhammad Jalal (@MJalal700) August 16, 2021
Many Afghans outraged and offended Americans evacuated service dogs in Kabul, but left people behind, including so many who helped the United States pic.twitter.com/DpnaZpWCux

— Richard Engel (@RichardEngel) August 16, 2021
Although most iterations of the U.S. military dogs getting evacuated from Afghanistan lacked attribution, Bertrand's retweet originated with two tweets shared by American military news outlet Stars and Stripes' correspondent Phillip Walter Wellman. Wellman tweeted the images as part of coverage of events on August 15-16 2021 in Afghanistan:
— Phillip Walter Wellman (@pwwellman) August 16, 2021
Two images of American military dogs being evacuated from Afghanistan on August 15 2021 spread virally on social media the following day amid ongoing coverage of events in Afghanistan. The images were captured by Stars and Stripes' correspondent in Afghanistan (Wellman), originally shared by him on the morning of August 16 2021 and captioned "U.S. military dogs being evacuated from Afghanistan."