As online content fearmongering about "Sharia Law" became easier to spread in 2016, low-level blogs and right-wing social media users took up an event at the University of Wisconsin in Madison for their own purposes.
That November, the school's Muslim Student Association partnered with the Wisconsin Union Directorate Global Connection to hold a "Hijabi for a Day," in which students volunteered to wear the traditional Muslim scarf on campus. A listing for the event read:
Help break stereotypes and address Islamophobia on campus. Experience firsthand what it's like to be hijabi while gaining a different perspective of life and a deeper understanding of discrimination and self-identity.
None of the participants was forced to take part. But that did not stop the spread of the lie that the university had "demanded" that students wear the hijabs. The blog "Truthfeed" was among those pushing the false claim. While that "story" has apparently been deleted, Facebook posts sharing it are still visible on that platform:
That blog has a long-standing reputation as a source of right-wing disinformation, including ties to white supremacists, and the benefit of content being promoted by Russian troll accounts.
The claim spread even further through the use of a photograph of high school students in Michigan — who donned hijabis for a day after reading a novel by Iranian-American author Azar Nafisi — posted with the caption "Sharia Law in America"?: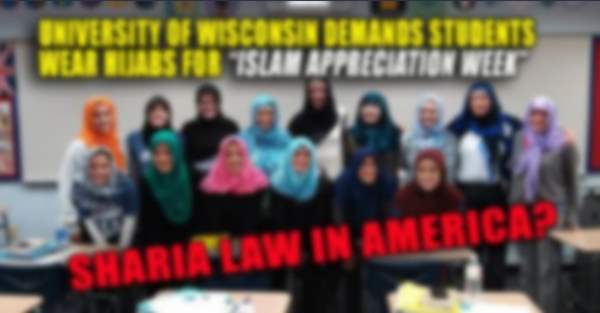 In September 2017 members of the Muslim Student Association met with the university's Vice Provost for Student Life Lori Berquam to discuss threats against Muslim students.
"Since [Donald] Trump's election, we've faced a lot of incidents where Muslim women have faced racist comments, hate and bias," Aldagher told the student newspaper the Badger Herald. "Our main goal was to address where to move on from there."
Update 1/21/2022, 3:18 p.m. PST: This article has been revamped and updated. You can review the original here.