Anonymous 'US Politics Polls' Twitter Account Spreading Election Disinformation
An anonymous Twitter account presenting itself as political analysis set itself to spreading disinformation on the last night of the U.S. elections on November 3 2020.
The account, which called itself "US Politics Polls," posted several false statistics early on in the evening as states began counting their votes. For instance, in one tweet it suggested that Democratic Party nominee Joe Biden had amassed 85 electoral college votes to 66 for incumbent President Donald Trump: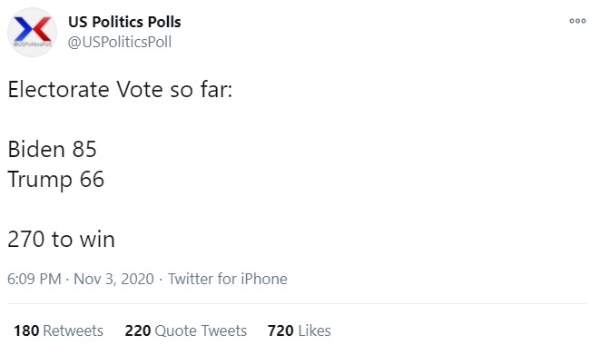 But at 9:02 p.m. EST NBC News reported that Biden had 80 electoral college votes to Trump's 48, a lead that was sure to fluctuate throughout the course of the night: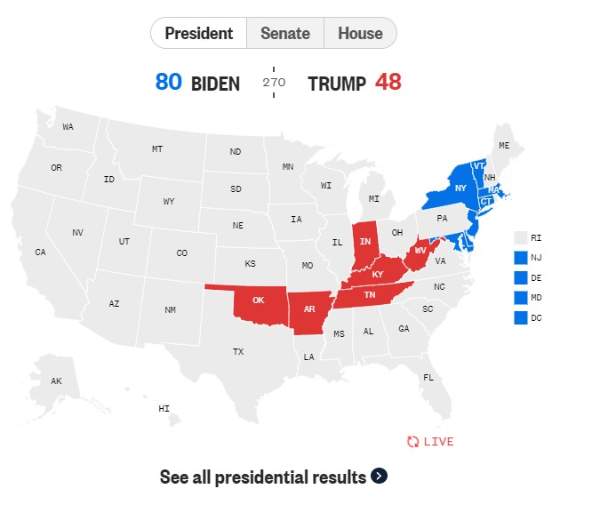 And around the same time, CNN was projecting 73 electoral votes to Biden and 48 for the president:

The account also claimed at 6:16 p.m. Eastern time that "Donald Trump has won Florida":

But at the time we published this story, no legitimate news organization had called the state for either candidate.
Users should be leery of any account that, like "US Politics Polls," displays no identifying information or methodology for its posts: