Virginia Thomas Embraced Conspiracy Theories Long Before 'Big Lie' Texts Came to Light
Long before she was revealed to have been pushing for the overturning of the 2020 presidential election, Virginia "Ginni" Thomas — the wife of Supreme Court Justice Clarence Thomas — trafficked in conspiracy theories in disinformation.
As the Washington Post and CBS News reported, Virginia Thomas called on Mark Meadows, chief of staff for former United States President Donald Trump, to help Trump "stand firm" after Trump's loss to Democratic Party candidate (and now U.S. President) Joe Biden. But the messages exchanged between the pair also followed Thomas' pattern of pushing disinformation in defense of the former president.
According to the report, Ginni Thomas sent messages to Mark Meadows drawing from the QAnon conspiracy playbook:
"Watermarked ballots in over 12 states have been part of a huge Trump & military white hat sting operation in 12 key battleground states," she wrote.

During that period, supporters of the QAnon extremist ideology embraced a false theory that Trump had watermarked mail-in ballots so he could track potential fraud. "Watch the water" was a refrain in QAnon circles at the time.

In the Nov. 5 message to Meadows, Thomas went on to quote a passage that had circulated on right-wing websites: "Biden crime family & ballot fraud co-conspirators (elected officials, bureaucrats, social media censorship mongers, fake stream media reporters, etc) are being arrested & detained for ballot fraud right now & over coming days, & will be living in barges off GITMO to face military tribunals for sedition."
Thomas also sent Meadows a link to a video entitled "TRUMP STING w CIA Director Steve Pieczenik, The Biggest Election Story in History, QFS-BLOCKCHAIN." Pieczenik claimed in the video (which has since been deleted) that Trump's "sophisticated sting operation" was about to produce arrests. (There were no arrests.)
But as The Daily Beast reported, Steve Pieczenik also had a longstanding reputation for pushing disinformation, which ended up with him estranged from even fringe outlets:
Whatever grip Pieczenik had on reality began to slip decades ago, when he began to appear on InfoWars. Pieczenik became known for claiming that a tragic event, often a mass shooting, was in fact a false flag event or even faked entirely. He's argued that the 9/11 attacks, the Sandy Hook shooting, and Pearl Harbor were all false flags. Among other claims, Pieczenik insists he once arrested Pope Francis.

His stories were so wild they even became too much for Jones. After he claimed the 2017 Las Vegas mass shooting that killed 60 people was fake, for example, Jones appeared to temporarily block him from appearing on the outlet. All that has given him a reputation as a loose cannon even by the already outré standards of the InfoWars green room.
In a separate message, Thomas promoted disgraced attorney Sidney Powell, who pursued — and lost — lawsuits arguing that Trump had won the 2020 election. (He had not.)
"Sounds like Sidney and her team are getting inundated with evidence of fraud. Make a plan," Thomas wrote, before making reference to a slogan adopted by Trump defenders. "Release the Kraken and save us from the left taking America down."
Thomas' own penchant for spreading disinformation and smears has attracted attention for years. She has reportedly made repeated reference in speeches at private events to the "fascist left." And as the Washington Post reported in December 2018:
This month, Ginni Thomas shared a Facebook post that bizarrely described California as a war zone, with illegal immigrants scaling walls and carjacking U.S. citizens. Last month, she shared a post alleging that Democrats committed voter fraud in four midterm races. (Which ones? How? She didn't say.) Then there was the post in August (since deleted) proclaiming that teenage survivors of the Parkland, Fla., school shooting are "dangerous to the survival of our nation" because of their gun-control activism. And the post in February that harangued Barack Obama and Hillary Clinton for supposedly wiretapping Donald Trump — a baseless accusation indulged in only by conspiracy theorists.
The anti-immigrant post — which, like the others mentioned in the story, has been struck from the platform — showed an injured police officer in Mexico. In the caption, Thomas blamed immigrants from Honduras for his condition. (The photograph was actually taken in 2012.)
"The media won't share THIS, will they?" she wrote. "It is an invasion, and thank GOD for President Trump."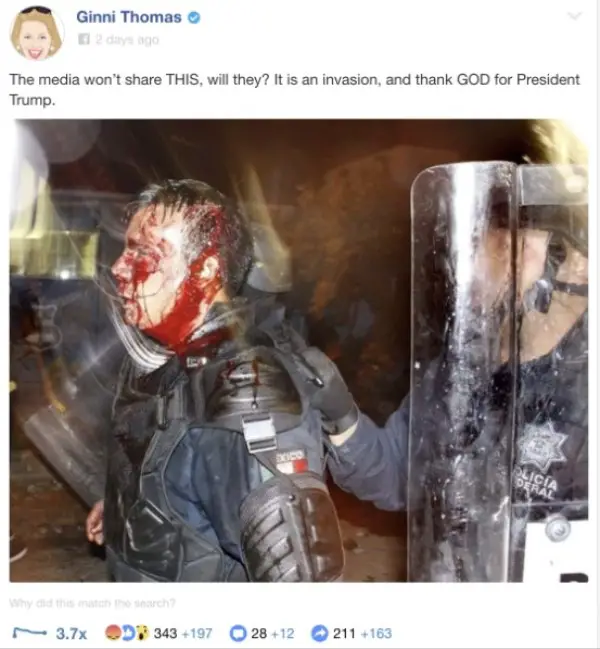 In February 2020, Virginia Thomas was also identified in reporting by Axios and CNN as part of a network of right-wing operatives that put together a list of government officials during Trump's presidency who were deemed to not be loyal enough to him, as well as a list of potential replacements.
One report said pro-Trump activists "funneled names to Thomas, and she compiled those recommendations and passed them along to the president."
The Washington Post reported on June 10 2022 that she also contacted 29 GOP state lawmakers in Arizona — more than 50 percent of the party's representation in that state's legislature — and pushed them to "set aside" Biden's victory and install their own group of electors.
The message, just days after media organizations called the race for Biden in Arizona and nationwide, urged lawmakers to "stand strong in the face of political and media pressure" and claimed that the responsibility to choose electors was "yours and yours alone." They had "power to fight back against fraud" and "ensure that a clean slate of Electors is chosen," the email said.

Among the lawmakers who received the email was then-Rep. Anthony Kern, a Stop the Steal supporter who lost his reelection bid in November 2020 and then joined U.S. Rep. Louie Gohmert (R-Tex.) and others as a plaintiff in a lawsuit against Vice President Mike Pence, a last-ditch effort to overturn Biden's victory. Kern was photographed outside the Capitol during the riot on Jan. 6 but has said he did not enter the building, according to local media reports.
The Washington Post further reported on September 1 2022 that Thomas also emailed lawmakers in Wisconsin using the online platform FreeRoots, which helps users "send pre-written emails to multiple elected officials." According to the newspaper:
The new emails show that Thomas also messaged two Republican lawmakers in Wisconsin: state Sen. Kathy Bernier, then chair of the Senate elections committee, and state Rep. Gary Tauchen. Bernier and Tauchen received the email at 10:47 a.m. on Nov. 9, virtually the same time the Arizona lawmakers received a verbatim copy of the message from Thomas.
The emails reportedly urged officials to "please stand strong in the face of media and political pressure" and "reflect on the awesome authority granted to you by our Constitution. And then please take action to ensure that a clean slate of Electors is chosen for our state."
Around the time Thomas was identified as part of the effort to overturn Biden's legitimate victory, Trump had demanded that Justices Ruth Bader Ginsburg and Sonia Sotomayor recuse themselves from potential cases involving him, claiming they held a "bias" against him.
At least two members of the Senate Judiciary Committee, Democratic lawmakers Cory Booker and Amy Klobuchar, have called on Clarence Thomas to recuse himself from cases connected to the 2020 election since his wife's text messages with Meadows came to light on March 27 2022. That was just a day before a federal judge found it "more likely than not" that Trump acted to obstruct the Joint Session of Congress to certify his election loss on January 6 2021 — the same day his supporters launched an attack against the U.S. Capitol. Thomas was the only justice to dissent when the high court rejected Trump's attempt to withhold records from the House committee investigating that attack.
Virginia Thomas became the subject of a conspiracy theory herself in May 2022, as online speculation named her as the person responsible for a leak of a draft opinion in which the high court would overturn Roe v. Wade and end the right to abortion in the U.S.
Her husband has not commented on the issue, but he has criticized the spate of protests that unfolded as Americans anticipated losing reproductive rights, which led to the installation of barriers outside the Supreme Court building.
"We are becoming addicted to wanting particular outcomes, not living with the outcomes we don't like," Clarence Thomas said at a legal conference. "We can't be an institution that can be bullied into giving you just the outcomes you want. The events from earlier this week are a symptom of that."
Clarence Thomas himself dug into a conspiracy theory after the high court declined to take up a challenge against New York State's vaccination requirement for healthcare workers.
"Petitioners are 16 healthcare workers who served New York communities throughout the COVID–19 pandemic," Thomas wrote in a dissent to that decision before falsely claiming, "They object on religious grounds to all available COVID–19 vaccines because they were developed using cell lines derived from aborted children."
The lawsuit seeking an exemption on "religious" grounds was brought forth by the Thomas More Society, which also filed suits alleging "irregularities" with the 2020 presidential vote in several states.
While the Senate moved to quickly pass a bill increasing security for the families of Supreme Court justices, though, abortion providers noted that the high court struck down any such protections for their own facilities. As NBC News reported:
Since 1977, anti-abortion activists have killed 11 abortion workers and attempted to kill 26 more, according to the National Abortion Federation, a professional group of abortion providers that tracks anti-abortion violence. In that same time period, there also have been 42 abortion clinic bombings and 194 arsons.`

In 2020, abortion providers reported a 125 percent increase in incidents of assault and battery outside clinics, and said they received 3,413 targeted incidents of hate mail and harassing phone calls.
When Virginia Thomas was interviewed by the committee investigating the January 6 coup attempt on September 29 2022, she reportedly continued to push the lie that the 2020 election was "stolen." She also claimed that she has never discussed cases going before the Supreme Court, and that Clarence Thomas was "completely unaware" of her communication with Meadows.
Rep. Bennie Thompson (D-Mississippi), who chairs the committee, has already said that her remarks, delivered outside of public testimony, could be cited in the group's public hearings. The committee was scheduled to hold a hearing on September 28 2022, but that was postponed because of the advance of Hurricane Ian against southern U.S. states.
Update 5/11/2022, 2:21 p.m. PST: Updated with mention of conspiracy theory linking "Ginni" Thomas to the leak of a Supreme Court draft decision overturning Roe v. Wade. — ag
Update 6/10/2022, 10:17 a.m. PST: Updated to note report that Thomas also pushed Arizona Republican lawmakers to install a new group of electors after President Joe Biden's victory in the 2020 presidential election. — ag
Update 6/30/2022, 10:26 a.m. PST: Updated to note Justice Thomas' invocation of a conspiracy theory involving "aborted babies" in a June 2022 dissent. — ag
Update 9/1/2022, 1:02 p.m. PST: Updated to reflect report that Virginia Thomas also emailed officials in Wisconsin asking them to dispute the results of the 2020 presidential election. — ag
Update 9/30/2022, 2:47 p.m. PST: Updated to reflect Virginia Thomas' interview with the committee investigating the January 6 2021 coup attempt. — ag