WhatsApp Notification of a Voice Message-Virus!
 
Summary of eRumor:
In baskets are being flooded with notifications from the instant messaging service WhatsApp of an awaiting voice message.
The Truth:
 
This is a hoax that could lead computer users to potential malware waiting to infect their computers.
Testing for spoof links is not too difficult with Windows PC systems as long as you do not click the left mouse button. That would take you to the infecting link.
Simply take your fingers off the mouse buttons and position the mouse curser over the play button in the email.  The destination URL should appear at the bottom of the window in most email programs.
This trick may not work with Yahoo, Gmail or other online email sites.  Another method is to move the mouse cursor to the play button RIGHT CLICK the mouse, copying the the link address and pasting it into a blank note pad page.  This should allow you to see where the mouse click would take you.  Be very careful not to click the left button on the mouse.
A good tip to know when trying to check to see if a link is valid.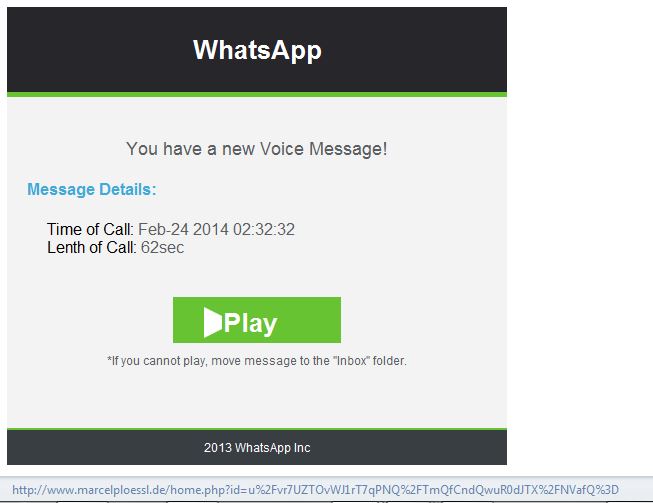 Screen shot displays destination URL does not belong to Whatsapp.com
Posted 02/25/14