'Why Did Slaves Come to America?' School Worksheet
Claim
Images depict a worksheet ("Why Did Slaves Come to America?"), indicating slaves willingly "immigrated" in exchange for seven years of labor.
Like this fact check?

Reporting
In March 2019, two viral Facebook posts circulated with an image of an alarmingly inaccurate "Why Did Slaves Come to America?" worksheet. The viral Facebook posts were part of a larger controversy in February and March 2019 about myriad incomplete, deeply inaccurate, and outright misleading school lessons on slavery in various places across the United States in what appeared to be an attempt to whitewash the nation's history.
The first post appeared on March 7 (archived here), and as of March 18 it had 5,500 shares. The second was shared on March 16 (archived here) and accumulated 27,000 shares on the same date. Of first note is that the second, more popular post contained an image identical to the one of several images in the first.
It appeared that the second, more popular version obtained the image and re-shared one from the set without attribution, creating the impression that more than one parent or guardian located the same material in their child's schoolwork. However, we were unable to locate any more iterations of the worksheet. The second poster added a circle around the most egregious portion of the sheet: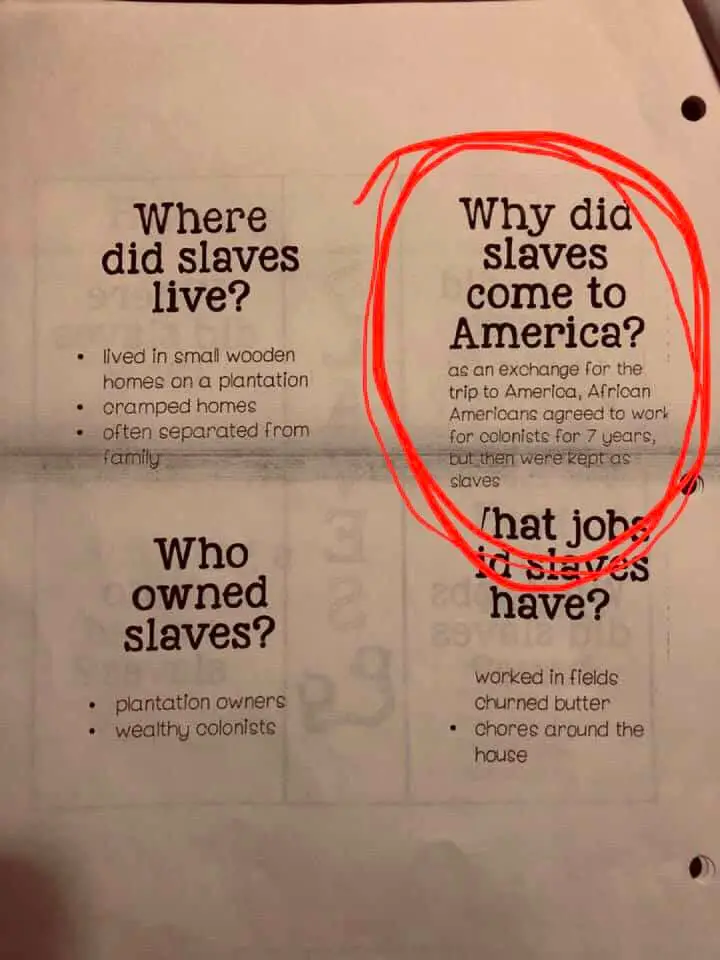 Background elements of the photograph (such as the shadow of a hand or thumb in the lower left hand corner) were identical in both images. The second poster simply said: ""Come"…. "Exchange"…. "Agreed"…. They're really out here lying to the kids. Blatant lies!"
The first provided information about how they encountered the lesson:
Why did slaves come to America?

My 3rd grade son bought home this packet today…they are covering Colonial America. The packet (from The Classroom Nook) gives info on the daily life of men, women, children and slaves during that time. Please take a look at the answer to "Why did slaves come to America?" It plainly states "as an exchange for the trip to America, African Americans agreed to work for colonists for 7 years, but then were kept as slaves."

Now if I recall when I was school that is not what I learned; to my understanding slaves were brought here to America against their will. If I am wrong please correct me and direct me to the proper source.

Slavery may not be the easiest subject to teach/discuss and I get that. But it is part of American history and what built this country. Lying about it is disgraceful.

I'm extremely upset! It's crazy that this is what schools are teaching our children…straight lies!
The original poster referenced a source, The Classroom Nook. The Classroom Nook appeared to be a Pinterest-optimized blog, not a textbook publishing site. It lacked an easily accessible "About" page, but a linked Facebook page's "About" section said:
If you're an elementary teacher challenged with balancing your time and energy, all while striving to meet new state and district standards, then The Classroom Nook is for you! I'm here to provide you with high-quality, instructional resources, tips, and strategies to send you into the classroom prepared and confident that you will meet your students' needs.
The Classroom Nook maintained a storefront (archived here) on a separate "online marketplace"of open-source lessons for sale called TeachersPayTeachers.com. The "Why Did Slaves Come to America?" worksheet appeared to be part of the lesson "Civil War and Reconstruction [Google Classroom Compatible]," which costs $19.99 and was advertised as appropriate for 4th and 5th grade students (archived here.)
In a March 10 2019 Facebook post published after the first version above but before the second — archived here —The Classroom Nook acknowledges the distribution of their material as part of their slavery and Civil War curriculum available for purchase online. The lesson plan retailer claimed that the circulating excerpt was from an "answer key" and that it purportedly represented an example of an incorrect response mistakenly included as teaching material:
Recently a Facebook post with pictures of how one particular teacher has implemented some of my materials on colonial America has come to my attention. After looking into this and with the help of some very thoughtful educators who sought to help me investigate, I can now explain the situation. It appears that one particular teacher has taken the suggested answer key, intended to contain example student responses (which were less scrutinized for accuracy) and used them as part of the teaching material. This material was never intended to be distributed to students but rather to serve as an example for teachers, however I recognize that it is not accurate as is, and certainly does not provide enough information when used alone. The content in question is insensitive when presented like that. I never imagined the material would be used as a student resource. When this was first brought to my attention, I was very confused as I did not even recognize the pictured product in the form shown.

I apologize for any damage this has caused to anyone. The last thing I want as an educator is mis-information being taught to children for any reason, particularly on this extremely important and sensitive topic. I have begun taking steps to rectify this situation. First, I have deactivated the product in question as well as a related product until I can evaluate the best way to modify it to correct the information and to prevent this sort of thing making it to students in the future. Second, I'll be reaching out to all who have purchased this product with the updated copy to make sure the corrected versions are used in the future.

Finally, I ask for understanding from the community. Since this post has been circulating, I have been harassed and personally attacked with very strong language. Please understand that this is a difficult topic to teach at the third and fourth grade levels and all teachers deserve the benefit of a doubt and a chance to correct any mistakes that may have been made. I embrace positive and constructive discussion on these topics and I ask that this be taken into consideration going forward. I would encourage anyone who would like to, to share this post so that the full story can be heard and understood.
Commenters on the post were largely unswayed by the apology:
Also, when people tell you you have done serious and grievous harm, be accountable. Don't blame folks for being mad at you when you have done something violent and infuriating.

We get to be angry at the damage and the harm. We are humans and humans get angry.

Period. It's for you to work past it and show good faith.

But your defensiveness is utterly unacceptable.
The material is authentic and was sold as a lesson plan on an open-source, unvetted marketplace for lesson plans. The Classroom Nook, author of the worksheet, claimed that the material was improperly used and originated with an answer key.