Was William Shatner the First 'Star Trek' Actor to Reach Outer Space?
Claim
William Shatner's October 2021 flight to outer space made him the first "Star Trek" performer to travel beyond Earth.
Reporting
While William Shatner did explore the "final frontier" when he briefly reached outer space in October 2021, it is inaccurate to say that he journeyed to where no Star Trek actor had gone before.
As fans quickly noted online, Dr. Mae Jemison is the first person to have both gone to space and been a part of the iconic sci-fi franchise: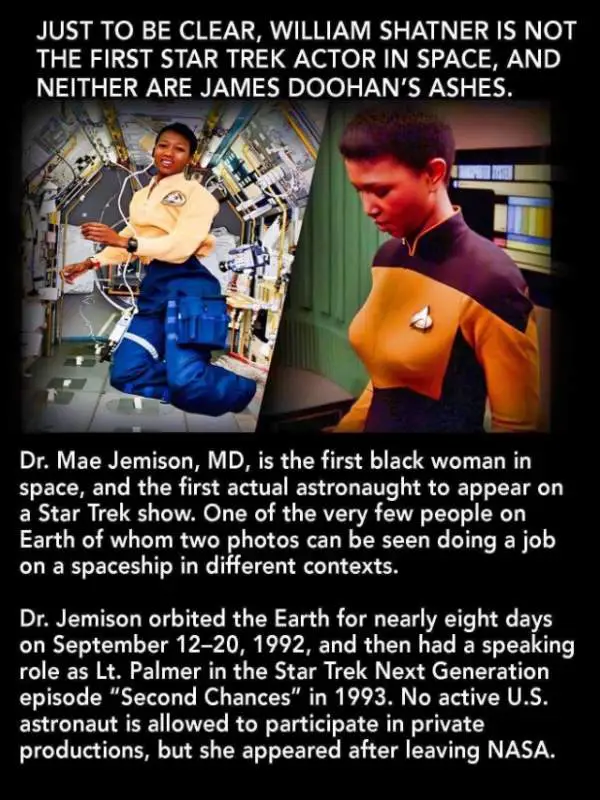 Jemison was a science officer on the NASA shuttle Endeavour for its September 1992 mission, officially designated as mission STS-47. As science news site Space.com reported:
A mission specialist, Jemison was a co-investigator of two bone cell research experiments, one of 43 scientific investigations that were done on mission STS-47. The shuttle landed at Kennedy Space Center in Florida on Sept. 20. Over the course of her only space voyage, Jemison logged 190 hours, 30 minutes, and 23 seconds in space.

Jemison left NASA in March 1993. She went on to teach at Dartmouth College. She also founded her own company, the Jemison Group, which seeks to encourage a love of science in students and bring advanced technology to schools around the world. She is a strong advocate for science and established an international science camp for high school students.
Nearly a year later, Jemison appeared on an episode of Star Trek: The Next Generation (known as TNG for short) in a credited and speaking role as Lieutenant (junior grade) Palmer. Jemison also has her own entry in Memory Alpha, a fan-operated website covering the franchise.
"It's part of the imagination," Jemison said in an interview that aired following her appearance. "And all of science, all of space exploration, everything we do in the world is about imagination and using your creativity to expand beyond your normal boundaries."
Jemison, the first African-American to travel into space, credited Nichelle Nichols — a star of the original Star Trek series — with inspiring her to pursue science as a career. And nearly 25 years to the day of Jemison's appearance on TNG, the two women appeared together at the Silicon Valley Comic Con (SiliCon). As the San Francisco Chronicle reported:
"I used to get pissed off, Nichelle, when you weren't put in charge" on the Starship Enterprise, Jemison says, turning to Nichols during an interview with The Chronicle.

"So did I," the actor says, not missing a beat.
In May 2012, Nichols' co-star James Doohan made the journey into space posthumously, as his ashes were among those of 309 people who were "beamed up" through an agreement between two private companies, SpaceX and Celestis. The latter company has also taken the ashes of the franchise's spiritual parents — creator Gene Roddenberry and his wife Majel Barrett Roddenberry — outside of Earth.
Shatner's October 2021 jaunt, made possible by Amazon founder Jeff Bezos' company Blue Origin, did make him the oldest person yet to be taken into outer space. The Canadian native described the experience as one everyone should have.
"To see the blue color whip by, and now you're staring into blackness, that's the thing," Shatner said after descending back to Earth. "The covering of blue, this sheath, this blanket, this comforter of blue that we have around, we say, 'Oh, that's blue sky.' And then suddenly you shoot through it all, and you're looking into blackness, into black ugliness."