Woodland Hills 'Sharia Law' Poster
Claim
The Council on American-Islamic Relations (CAIR) placed posters in and around Woodland Hills, California asserting the area was a "sharia controlled zone."
Like this fact check?

Reporting
On March 24 2019, a Facebook post in the group "Political Liars" (archived here) attributed a poster  that apparently appeared in Woodland Hills, California to the Council on American-Islamic Relations, also known as CAIR: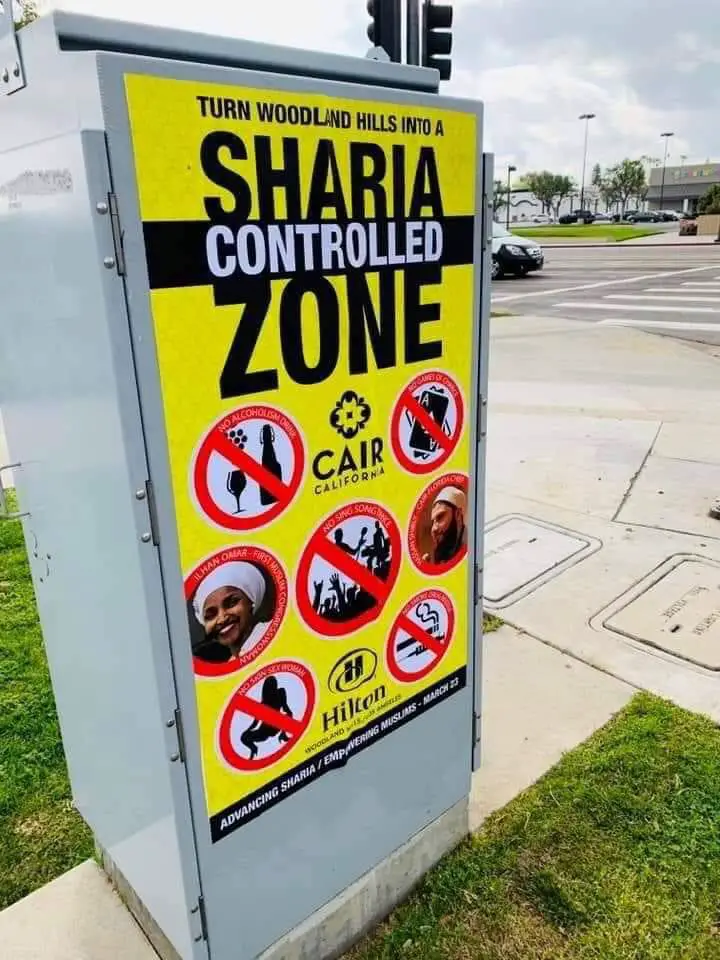 A status update true to the page's name stated:
US Rep Omar helped CAIR at their March 23rd [2019] fundraiser. This poster about CAIR says it all! Wake up America!
With the exception of one or two people, the bulk of commenters accepted that the posters were created and distributed by CAIR.
On Twitter, @JewishVoice shared images of the posters and attacked CAIR. In the comments of the tweet, @HiltonNewsroom stated the posters were "clearly an unauthorized use of our logo." Neither party addressed the authenticity of the posters or the claims about where they had originated.
However, an article published at the same time by the hyperpartisan disinformation site TheGatewayPundit.com covered the distribution of the signs seen above, along with additional anti-Islam material. Gateway Pundit attributed the material to a right-wing street artist named Sabo:
Conservative street artist Sabo savaged terror-tied CAIR (Council on American Islamic Relations) and [Muslim] Congresswoman Ilhan Omar on Saturday in Woodland Hills, California.

[…]

"Turn Woodland Hills into a Sharia controlled zone" one poster read.

"Woodland Hills is a jihad free zone." … This may some of Sabo's best street art yet!
Breitbart also attributed the posters to Sabo, and an Instagram account @unsavoryagents shared the images in early March 2019. Sabo also has a Wikipedia page:
Sabo (born 1968) is the pseudonym of a politically conservative street artist active in Los Angeles, California. His name derives from sabot, a device most commonly used in firearm or cannon ammunition. According to a 2014 interview, Sabo had been involved in street art since 2000, though he began to take his activity in the scene more seriously beginning in 2008. Sabo's works have been critical of left-wing politics (and its prominence in the entertainment industry) and the American Democratic Party, claiming that "leftism is a [mental] disorder."
A CAIR representative confirmed to us that this was indeed Sabo's work, and that this poster and others like it are part of a larger pattern of using disinformation to smear Muslims in the United States:
The Council on American-Islamic Relations had nothing to do with the bench signs or posters in question that were placed around the Hilton Woodland Hills, the location of CAIR-LA's 4th Annual Valley Banquet. We denounce the person or persons who used the CAIR and CAIR California logos in an unauthorized manner to propagate fear and division in the Valley.

Islamophobia is not on the upswing. It is bursting at the seams. According to the two most recent years of FBI statistics, anti-Muslim assaults have increased three times in the past decade, which is in line with what our national chapter and our California chapter have recorded in recent years.

The current trend of normalizing hate speech has emboldened bigots in their speech, as well as in their actions. This has been most recently witnessed in the slaughter of 50 people at mosques in New Zealand by a white supremacist who, in his manifesto, lauded President Trump's policies. It happened on Sunday morning in Escondido, Ca. – a suburb of San Diego – when someone attempted to burn a mosque down, leaving a note referencing New Zealand.

CAIR and the American Muslim community have in the past expressed solidarity with Jewish, Christian, Native American, African-American and Sikh communities nationwide following acts of hate, threats, violence, vandalism, arson or bombings – and we appreciate the reciprocal support.

Anti-Semitism, xenophobia and bigotry in any forms are unacceptable. This type of behavior is unacceptable. We will continue to stand up and defend our fellow community members in the face of hatred. Hate will not prevail.
Posters purporting to be the work of CAIR announcing "a sharia controlled zone" were attributed to street artist Sabo. However, images of the posters circulated on Facebook and were spread on Twitter by @JewishVoice without proper explanation, ensuring that CAIR was blamed for posters created to mock and direct hate toward Muslim Americans during a time that disinformation against Muslims has reached a fever pitch in typical agitprop fashion.