Christmas Wreaths At Arlington Cemetery-Truth!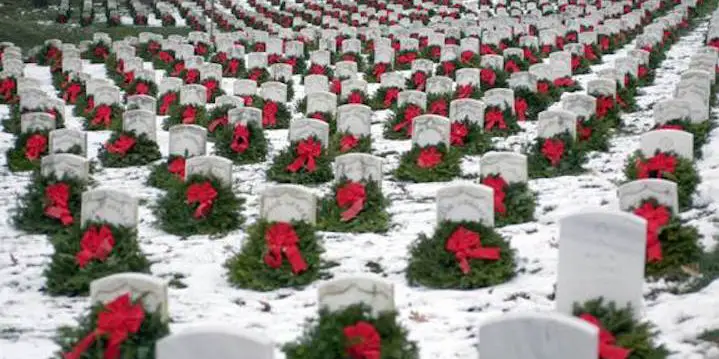 Christmas Wreaths At Arlington Cemetery-Truth!

Summary of eRumor:
A picture of beautiful Christmas wreaths on graves at Arlington National Cemetery in Virginia.  The wreaths have allegedly been donated since 1992 by Merrill Worcester of the Worcester wreath company.
The Truth:
The picture and the story are true.
His name is actually Morill Worcester (not Merrill).
In 1992 he was faced with a surplus of wreaths and hearkened back to a memorable trip he'd taken to Arlington National Cemetery when he was 12-years old.  He took the wreaths to Arlington from his business in Maine and laid them on the graves of 4,000 who are laid to rest there.
The next year he decided to plan on taking 5,000 wreaths and has been doing it ever since.  He said that there were only a few volunteers the first year and it took them five or six hours to place the wreaths.  Now, however, he has so many helpers each year that the work is done in about an hour.
Worcester expanded the campaign and started Wreaths Across America.  He is placing wreaths in each of the more than 230 State and National cemeteries and Veterans Monuments across the country.
CLICK HERE for more information about the project.
Updated 11/16/06
---
A real example of the eRumor as it has appeared on the Internet:



Readers may be interested to know that these wreaths — some 5,000 — are donated by the Worcester Wreath Co. of Harrington, Maine. The owner, Merrill Worcester, not only provides the wreaths, but covers the trucking expense as well. He's done this since 1992. A wonderful guy. Also, most years, groups of Maine school kids combine an educational trip to DC with this event to help out. Making this even more remarkable is the fact that Harrington is in one the poorest parts of the state.