People Mark Anniversary of 'Killdozer' in Colorado-
Truth!

&

Fiction! 

Summary of eRumor:
Social media posts in June 2017 marked the anniversary of a man named Marvin Heemeyer going on a rampage in Granby, Colorado, with a homemade "killdozer" in response to city officials ruining his muffler business.
The Truth: 
Claims about Marvin Heemeyer's killdozer rampage in Granby, Colorado, are true — but important details have been left out or changed in the story's retelling to portray Heemeyer in a more favorable light.
A man named Tyler Macfarlane posted an anniversary ode to the killdozer on his personal Facebook page on June 4, 2017. Macfarlane's account, which portrays Marvin Heemeyer as a reasonable man pushed to the brink by over-zealous government officials, had been shared more than 100,000 times within a week of being posted:

Marvin Heemeyer was a man who owned a muffler shop in Granby Colorado. The city council ordained to approve the construction of a concrete factory in the lot across from Marvin's shop. In the process this blocked the only access road to the muffler shop. Marvin petitioned to stop the construction to no avail. Petitioned to construct a new access road, and even bought the heavy machinery to do so himself. Denied.

The concrete factory went up in disregard to the ramifications on Marvin's business. To add insult to injury, the factory construction disconnected the muffler shop from the city sewage lines. An indifferent city government then chose to fine Marvin for this.

Rather than "lie down and die," the legend goes, Marvin Heemeyer chose to fight back and outfitted a bulldozer with a steel and concrete shell, bullet-proof glass, semi-automatic weapons and a camera system, creating an indestructible "killdozer" that he used to destroy 13 buildings in downtown Granby on June 4, 2004.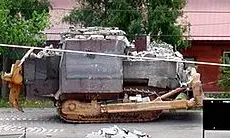 News reports from the killdozer rampage indicate that those details are mostly true. Heemeyer had been using a vacant lot adjacent to his muffler shop as a way to access his business, and city zoning commissioners' decision to approve a concrete plant at the site virtually cut-off access to Heemeyer's business.
Additionally, Heemeyer was fined more than $2,500 for having junk cars and other debris on the property, and for not being hooked up to the city's sewer line — so, while the Facebook post reports that the city disconnected Heeymeyer's sewer line, i Heeymeyer's business was actually never connected, Rocky Mountain Newsreports.
After appeals to the zoning board failed,  Heemeyer spent a year building the killdozer and then went on a spree of destruction on June 4, 2004, that ended with him committing suicide when the killdozer's tracks got stuck on debris, the Denver Postreports.
But other important details have come to light since those early reports — and many of those facts have been left out of the story's retelling. Heemeyer, for example, originally agreed to sell his property to the developer of the concrete plant for a pretty profit, but the deal fell apart because Heemeyer kept increasing the price, the Durango Telegraphreports:
The story of the batch plant also goes back to 1992, three years after Heemeyer had moved to the area. Heemeyer bought his two acres from the Resolution Trust Corp., the federal agency set up to handle the assets of failed savings and loan institutions. He bought the two acres for $42,000 but later agreed to sell it to the Docheff family, which wanted the property for a concrete batch plant, for $250,000. They agreed, but then he wanted $375,000 and at some later point wanted a deal worth approximately $1 million. All of this was well before the rezoning proposal hit town hall.
"I just think he set things up to the point where you would have to say no.'" said Susie Docheff in an interview with the Sky-Hi News. "He probably set you up to say no' just so he could get mad at you."
The same reports notes that while some have lauded Heemeyer for avoiding casualties and fatalities in his rampage, local police dismissed that praise, noting that he fired 15 rounds from a 0.50-BMG rifle at power transformers and propane tanks, and "Had these tanks ruptured and exploded, anyone within one-half mile of the explosion could have been endangered."
So, while many of the details in the killdozer Facebook post are true, some important details have been left out or changed. That's why we're calling this one "truth" and "fiction."