Are Deaths Listed in a '2018 Muslim Threat' Tweet Accurate?
Claim
Various causes of death claimed specific numbers of American lives in 2018.
Like this fact check?

Reporting
On January 1, 2019, civil rights lawyer and podcast host Qasim Rashid, Esq. tweeted a purported breakdown of the so-called "Muslim threat" relative to other risks to Americans in 2018:
2018 Recap of the "Muslim threat"

Americans killed by:
•Americans w/guns: 40,000
•Falling out of bed: 700
•Hit by bus: 260
•Lawnmowers: 70
•Lightning: 30
•Armed toddlers: 20
•White supremacists:15
•Muslim extremists: 1

WH: 100% Silence on white supremacy🤔#HappyNewYear

— Qasim Rashid, Esq. (@MuslimIQ) January 2, 2019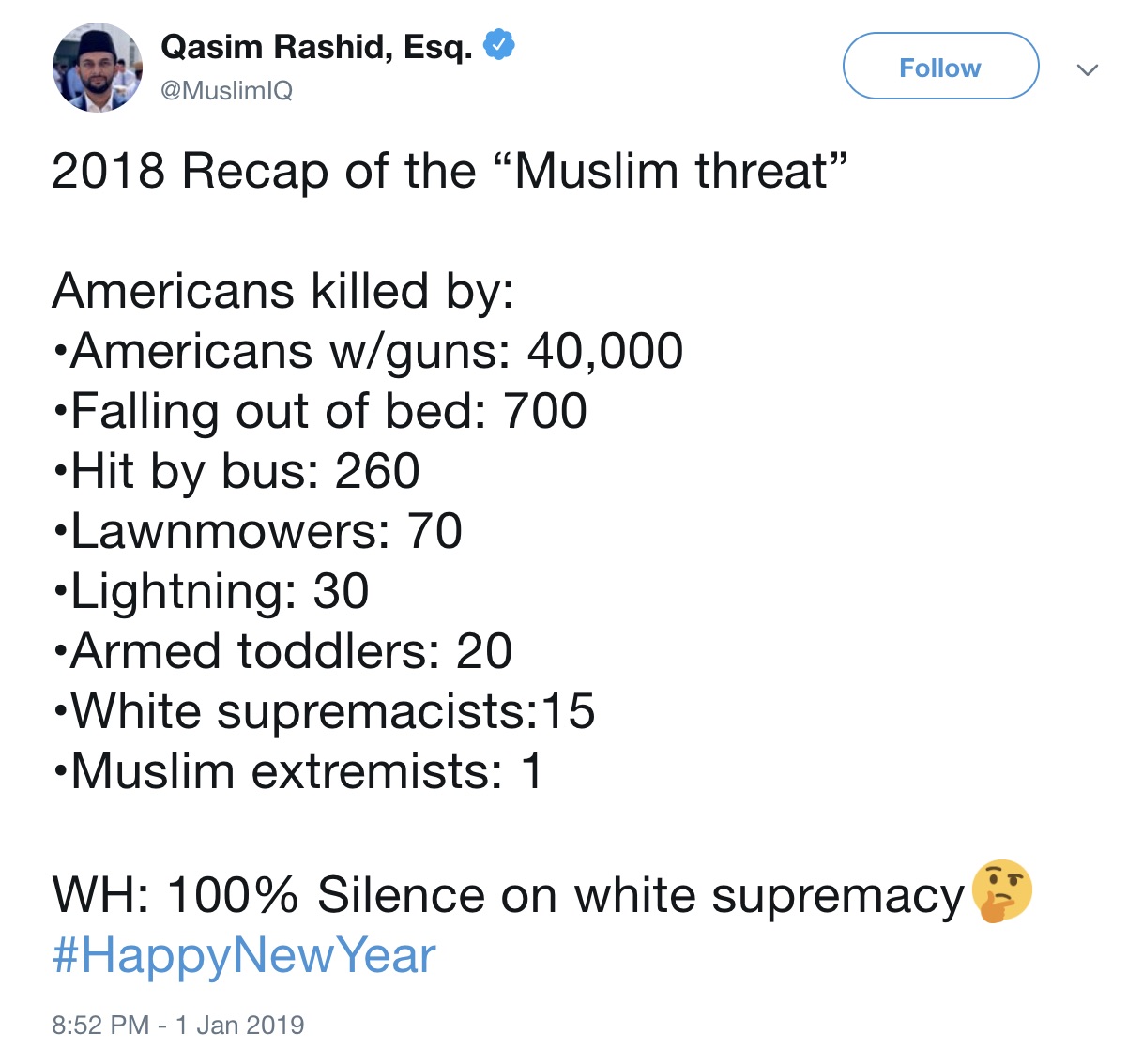 According to Rashid: 40,000 Americans were killed by guns, 700 fell out of bed to their deaths, 260 were hit by buses, 70 died in unfortunate lawnmower accidents, 30 were fatally struck by lightning, 20 died at the hands of armed toddlers, 15 were murdered by white supremacists, and one American was killed by a Muslim extremist.
We could not find a response tweet from Rashid in which he provided a source for the specific numbers he referenced, but a similar claim made by Kim Kardashian in January 2017 led to articles about various causes of death mentioned in the tweet.
This sparked a debate in which some claimed that the numbers would be different in Europe; others added that armed Americans were a deterrent to Muslim extremism. Still more commenters referenced the number of deaths from lack of affordable healthcare, a topic we have covered in depth, and at least one person mentioned the five Americans killed by lettuce in 2018:
No, he's not kidding https://t.co/xONyOBKvC2

— Hutaff Hillside (@LucasHaskins) January 2, 2019
The first statistic referenced — 40,000 Americans purportedly killed by firearms in 2018 — is data typically obtained for the purpose of fact-checking from the Centers for Disease Control and Prevention's annual morbidity and mortality reports. The tool used, wonder.cdc.gov, includes data up to the year 2017 as of early January 2019.
In lieu of those figures, we averaged all firearm-related deaths for the ten-year period  between 2007 and 2017. The number returned by the CDC tool was 373,663, averaging 37,366 a year:

That figure rounded up would yield 40,000. However, CDC mortality statistics for 2018 would not be available for several months as of January 2019.
The CDC also provided statistics for multiple causes of death from to buses, lawnmowers, and lightning:




Between 2007 and 2017, we found that 13,277 Americans were killed in incidents involving a bus, or approximately 1,328 annually; 9,051 Americans were killed by falling out of bed, or 905 a year. Lawnmowers resulted in the deaths of 846 Americans that decade, or about 85 each year, and 317 Americans died in lightning strikes, about 32 annually.
The final three causes of death were more difficult to pin down: armed toddlers, white supremacists, and Muslim extremists. The latter two fell into the realm of "homicide," figures typically obtained from the Federal Bureau of Investigation. The former, toddlers discharging firearms, did not seem to be available through any centralized database.
The tweet attributed 20 deaths in 2018 to armed toddlers, but we were unable to locate the source of that number. Christopher Ingraham's October 2015 Washington Post piece "People are getting shot by toddlers on a weekly basis this year" often formed the basis of "armed toddler" claims, but in those figures, 13 toddlers killed themselves and two killed other people, for a total of fifteen. Ingraham maintained detailed data about to shooting deaths in the United States for his work, but we found nothing offering information for toddler-involved shootings in 2018.
Statistics maintained by gun control advocacy group Everytown for 2018 counted "at least" 204 unintentional shootings by children in 2018. The group referenced "media reports to identify shootings in which a person age 17 or under unintentionally fires a gun and harms themselves or someone else," but the figures provided by Everytown were not restricted to toddlers. The group included the age of the victim of the shootings, but not the age of the child who discharged the weapon.
For the "white supremacists" cause of death cited by Rashid, once again there was no real cohesive data from which to obtain a solid figure (although related claims remained popular). The only widely-cited related report we could find originated with Jewish non-governmental organization the Anti-Defamation League (ADL) in, which provided its own figures for 2017:
White supremacists were "directly responsible" for 18 out of 34 U.S. extremist-related deaths in 2017, the ADL said. Islamic extremists, by comparison, were only responsible for nine deaths in America.
The claims about American killed annually by guns, falling out of bed, buses, lawnmowers, and lightning were not too far from the average figures for those causes of death in 2007 through 2017; figures for 2018 were not available in January 2019. We were unable to find figures for the final three causes — armed toddlers, white supremacists, and Muslim extremists — even for years prior to 2018. Because of this, at this time we rate the claim in its entirety unknown.
However, the larger point — that the threat of Muslim extremism is significantly less likely to kill Americans than nearly every other preventable way to die — is true.