Did Rod Rosenstein's Wife Work as an Attorney for Hillary Clinton?
Claim
Deputy Attorney General Rod Rosenstein's wife, attorney Lisa Barsoomian, has represented Bill and Hillary Clinton for decades.
Like this fact check?

Reporting
As part of the efforts to smear Hillary Clinton and push the "Deep State" conspiracy theory, right-wing blogs tried to paint a federal attorney as being in her pocket.
This particular strain of the debunked conspiracy was introduced by right-wing operative Roger Stone in June 2017, when he claimed that Lisa Barsoomian, who is married to Rod Rosenstein (the U.S. Deputy Attorney General at the time), had represented Clinton and her husband dozens of times.
Stone, who acted as an adviser to Donald Trump during Trump's one-term presidency, claimed in a blog post:
Lisa Barsoomian works for R. Craig Lawrence, an attorney who has represented Robert Mueller three times, James Comey five times, Barack Obama forty-five times, Kathleen Sebellius fifty-six times, Bill Clinton forty times, and Hillary Clinton seventeen times between 1991 and 2017.

Barsoomian participated in some of this work personally and has herself represented the FBI at least five separate times. It would be great to research the specifics of the cases she worked in, many of the documents from the Court Docket relating to these cases have been removed from the D.C. District and Appeals Court, including her representation for Clinton in 1998's case Hamburg. V. Clinton.
As so often happens, the claim circulated thanks to Stone's fellow travelers in right-wing media circles: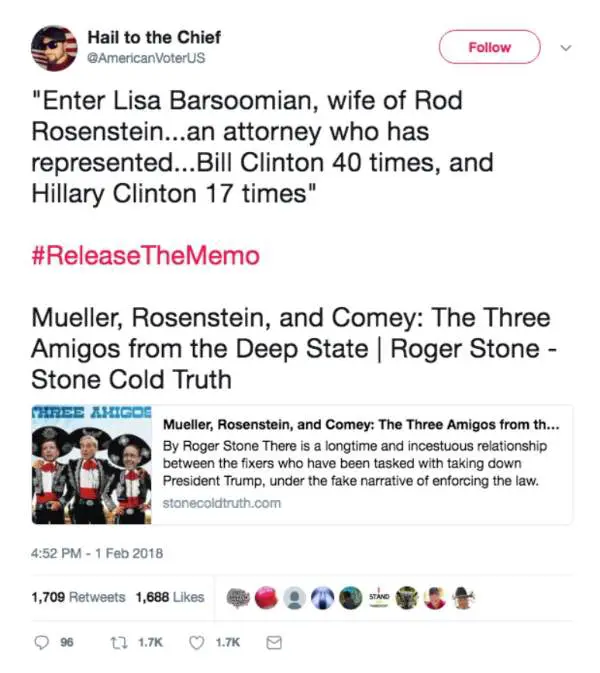 At the time Stone made his claims, Barsoomian worked as an attorney for the National Institutes of Health; before taking on that role, she was an Assistant U.S. Attorney for the District of Columbia, where she represented the U.S. government in civil litigation — but that was the government, not either Clinton personally; as the U.S. attorney's office for that area states on its website:
The civil litigation assigned to the U.S. Attorney's Office includes both defensive (U.S. as defendant) and affirmative (U.S. as plaintiff) cases and matters, which are handled by the Civil Division at both the trial and appellate levels.
For example, Barsoomian was listed as an attorney in the 2002 case Judicial Watch, Inc. v. FBI. Although Robert S. Mueller — the special counsel her husband would later appoint to investigate purported ties between Trump's 2016 presidential campaign and Russian interests — was director of the Federal Bureau of Investigations at the time, Barsoomian did not represent Mueller personally; the U.S. Justice Department was listed as the defendant in that case, which was dismissed.
But Stone's bogus claim was that because of Barsoomian's prior work, Rosenstein and Mueller, along with James Comey (FBI director at the time Trump took office as president) were the "Three Amigos from the Deep State," the catch-all term adopted to attack government officials who opposed Trump's agenda.
In November 2019 Stone was convicted of lying to Congress, witness tampering, and obstruction — part of a line of Trump associates and allies who met the same fate.
The following February, Trump ranted on social media that the seven-to-nine year sentence prosecutors recommended for Stone was a "miscarriage of justice." The prosecutors involved in the case resigned shortly afterward.
In late December 2020 — the period between losing his re-election bid to Democrat Joe Biden and Biden taking office — Trump pardoned Stone as well as fellow operative Paul Manafort and Charles Kushner, the father of Trump's son-in-law Jared Kushner.
Nearly a year later, Stone was one of several Trump allies subpoenaed as part of a congressional investigation into the January 6, 2021 right-wing coup attempt and attack on the U.S. Capitol.
At the time, Stone claimed that any implication that he was involved in the attempted coup, which left several dead and dozens injured, was "categorically false." In early December 2021, however, his attorney said in a letter that Stone would invoke the Fifth Amendment and refuse to turn over any documentation to investigators.
Update 12/14/2021, 11:46pm PST: This article has been revamped and updated. You can review the original here. -ag