BHA in Milk-Bone Dog Treats Causes Cancer-Unproven!
BHA in Milk-Bone Dog Treats Causes Cancer-Unproven!
Summary of eRumor:
Claims that Milk-Bone brand dog treats contain BPH, a preservative allegedly known to cause cancer, have gone viral.
The Truth:
Claims that Milk-Bone and other dog treats contain cancer-causing BHA aren't new — and they are haven't been proven true, either.
Panic that Milk-Bone and Beggin Strips, the two most popular dog treat brands in the nation, cause cancer have been floating around the web since at least 2010. Back then, a WordPress site called Good Stuff For Dogs warned that these dog treats contain a number of toxins, including the preservative butylated hydroxyanisole (BHA).
Then, the claim went viral again in March 2016 when a Facebook community page called "Planet Paws" repeated the claim in a video that was quickly viewed 15 million times: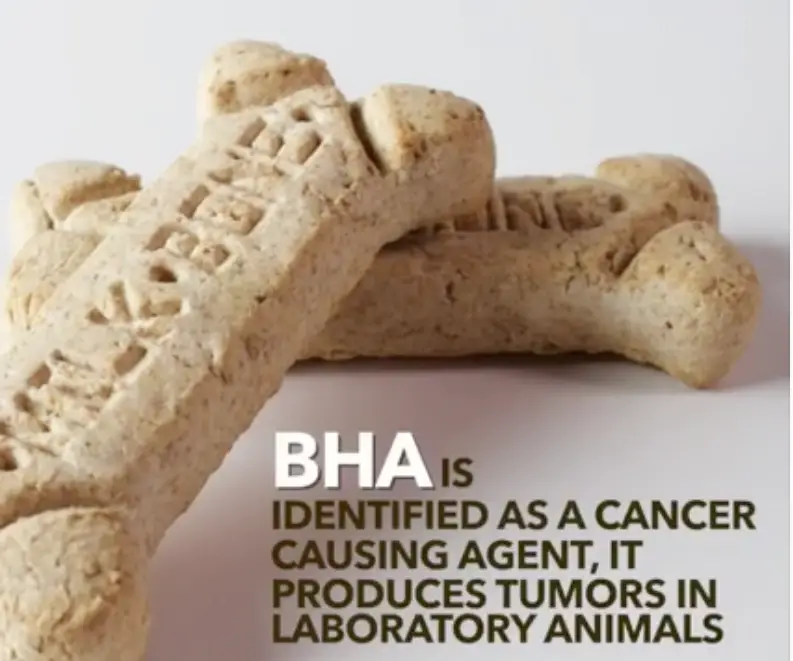 On its face, that claim has some merit. A National Institutes of Health (NIH) study found that there was "sufficient evidence of carcinogenicity" when BHA was added to the diets of lab rats and hamsters. And the California State Regulatory Program lists BHA on its list of Known Carcinogens and Reproductive Toxins.
However, the FDA allows BHA to be added to human food (and dog treats) at certain levels and classifies the preservative as "generally regarded as safe." The idea is that although BHA might cause cancer in lab rats, its metabolized differently by other animals —humans and dogs in particular — and it's used in foods at amounts well below levels that would cause problems. Still, the FDA concedes that more research is needed:
While no evidence in the available information on butylated hydroxyanisole (BHA) demonstrates a hazard to the public when it is used at levels that are now current and in the manner now practiced, uncertainties exist requiring that additional studies be conducted.
For its part, Milk-Bone has responded to customer concerns on Facebook by saying that BHA has been recognized as safe by the FDA, and that "very small amounts of BHA" are added to Milk-Bone treats to preserve fats and prevent staleness: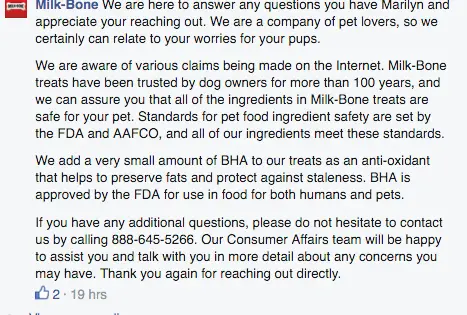 So, after years of speculation about whether or not BHA is a cancer-causing preservative, the jury is still out. The FDA has acknowledged that more research is need, but it considers BHA generally safe for both humans and dogs. That's why we're calling this claim unproven.