Bill Clinton Has Aids, Transmitted AIDS to Hillary Clinton-
Fiction! 
Summary of eRumor:
A former D.C. call girl has come forward with accusations that President Bill Clinton has AIDS, and that Hillary Clinton is HIV positive.
The Truth:
An unsubstantiated claim that Bill Clinton has AIDS that swirled during the nasty 2016 presidential campaign resurfaced in June 2017 and was re-reported as breaking news.
It's not clear exactly where this rumor came from, but the earliest version we could find was a YouTube video  posted in August 2016 that showed slides of Bill Clinton posing with various women and periodically featured a slide that raised the possibility (without providing any proof) that  Hillary Clinton had AIDS from her husbands "past and present affairs." The video has been viewed nearly 80,000 times.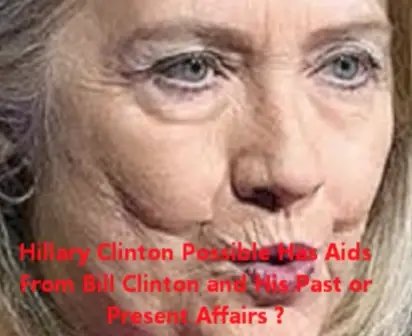 In September 2016, the claim appeared at TruthFeed.com, a website that presents its content "as is" without making any claims about its reliability or accuracy, under the headline, "SHOCKING CLAIM – DC Call Girl Says Bill Clinton Gave Her AIDS, Believes Hillary Has it As Well." The report begins:
Hillary Clinton is HIV positive, according to a shock claim by a Washington D.C. call-girl who says she was diagnosed with the virus after a pay for play fling with former President Bill Clinton in April of last year.
"Bill Clinton visited me one night when he was in town, and he left me with more than a cash payment," said Mandy Cloud, the pseudonym the former D.C. call-girl chose for her book set to be published next month.
The story reemerged in June 2017, and it's not clear why. Many social media users shared a link to TruthFeed.com and reacted to the news that Bill Clinton has AIDS — but given the site's lack of credibility, and that it provides no concrete evidence (aside from a supposed DC call girl using a fake name), the claim doesn't appear to have any merit.
We investigated a separate (false) rumor in April 2017 that Bill Clinton had suffered an unspecified health crisis and was reportedly on his death bed in Arkansas. We also investigated many rumors about Hillary Clinton's health during the 2016 campaign, all of which can be found here.
Rumors that Bill Clinton has AIDS and likely transmitted to Hillary Clinton appear to be the latest in a long-running string of conspiracy theories that the Clintons are trying to hide various medical ailments from the public.