In June 2017, conspiracy theorist Alex Jones wound up being the subject of a recycled piece of satire in his own right.
The Babylon Bee, which promotes itself as a faith-based satirical blog, published a post "reporting" that Jones had been named White House press secretary, complete with a mocked-up photograph of the Infowars broadcaster in a suit: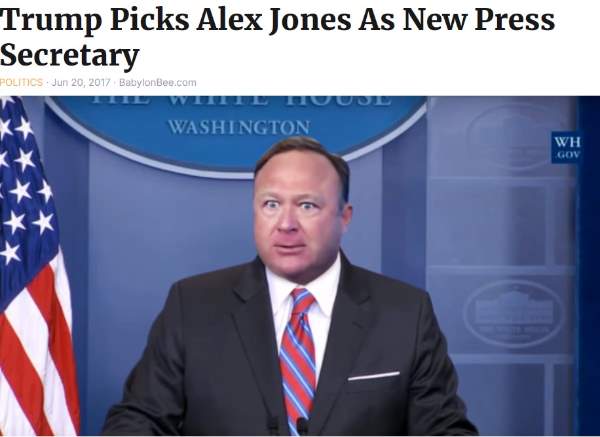 The post read in part:
"I am the new Press Secretary!" he bellowed in his distinct Texas growl at all the reporters present, occasionally taking a handkerchief out of his pocket to dab perspiration from his red face. "AAAAAaaaaaaAAAAAAHHHHH!" he continued, beating his chest like a gorilla.

"We're comin' for ya globalists! 1776 will commence, you wicked, wicked devils!" he added, before mumbling something about gay frogs.
While the Babylon Bee carries a disclaimer identifying its content as satirical, the post was picked up by a separate satirical blog, the Nevada County Scooper, to the extent that some readers treated it as a legitimate news story: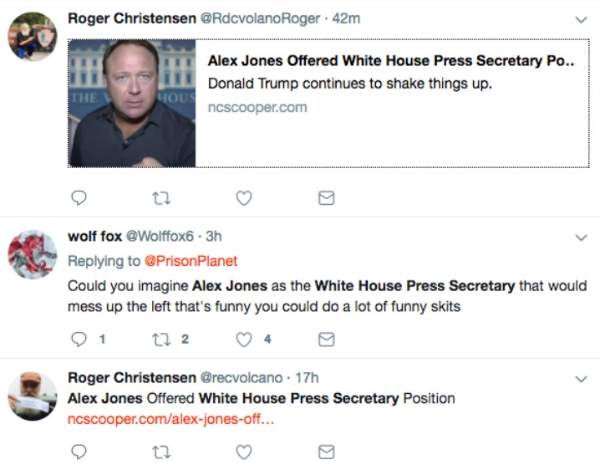 The stories went out months after Jones claimed — falsely — that he had been offered press credentials to the White House. As Buzzfeed reported at the time:
Jones, an ardent Trump supporter has been called "America's leading conspiracy theorist" and is a prominent 9/11 and Sandy Hook truther. His false suggestion that he's been offered White House press credentials comes on the heels of reports that the Trump administration is planning to open the briefing room to alternative outlets.
The Scooper's publisher, who went by the name Randall "Fink" Finkelstein III online, announced in January 2018 that the blog would be shuttered.
However, Jones' real-life disinformation continues to have repercussions, including for him.
Jones' claims that the 2012 mass shooting attack at Sandy Hook Elementary in Connecticut was fabricated led him to be sued by Neil Heslin and Scarlett Lewis, two of the parents bereaved by the attack, which left 26 people dead — twenty of whom were children.
On August 3 2022, Jones admitted under oath that the shooting was "100 percent real."
That same day, an attorney for the plaintiffs revealed that he had received a digital archive of two years' worth of Jones' text messages from his attorneys.
"Do you know what perjury is?" attorney Mark Bankston asked Jones.
Footage of Jones reacting to that news circulated widely online:
Within hours after the existence of the text messages came to light, Rolling Stone reported that the House committee probing the January 2021 coup attempt at the U.S. Capitol is preparing to request those records as part of its investigation.
As the Daily Dot reported in October 2022, more unflattering footage of Jones surfaced online:
The video is a supercut that appears to show Alex Jones consuming at least a bottle of alcohol over the course of a day, routinely going to a closet where he either drinks something from a bottle, adds something to a cup, or walks off with something.
For instance, the video — which has been posted on YouTube as well as ther video hosting platforms — includes footage of Jones drinking with the caption "Day 4 — 5th Open Bottle":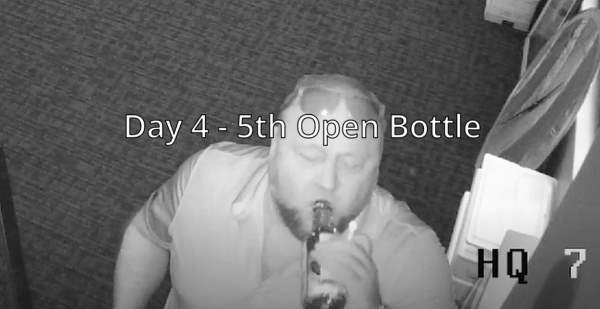 According to the Daily Dot, a file listed alongside the video (titled "Don't Spy on Your Employees") is hosted on a site "that appears to be run" by someone claiming to be a "groyper" — a term for a particular subset of online white nationalists and other far right activists.
Connecticut's Hartford Courant reported on October 5 2022 that Jones declined to put on a defense in a separate defamation case in Connecticut for his attacks against bereaved Sandy Hook families.
Jones then reportedly filed a post-trial motion seeking to limit the amount of money the families can recover from him in damages. Instead, he was ordered on October 12 2022 to pay $965 million to the bereaved family. On November 10 2022, Judge Barabara Bellis ordered him to pay another $473 million.
Jones has already claimed on his show that he will not comply with the orders because he cannot afford to make those payments. However, Bellis also blocked him from transferring, shedding, or moving any assets outside of the U.S.
The Washington Post reported on November 21 2022:
Between August 2020 and November 2021, Free Speech Systems signed promissory notes — essentially IOUs — for $55 million to cover what it said were past debts to a company called PQPR Holdings that Jones owns with his parents, according to financial records filed in court by Jones' attorneys. PQPR, which is managed by Jones's father, a dentist, had bought tens of millions of dollars in supplements for Jones that he then sold on his show, the records say. A lawyer for Free Speech Systems has said in court that the debt accrued unnoticed due to sloppy bookkeeping.
According to the Post, testimony also showed that in 2022 Jones paid his personal trainer $100,000 a week "to help ship supplements and other merchandise." Jones' sister also reportedly owned a company paid another $240,000. Attorneys for the bereaved families said that Jones started moving money out of Free Speech Systems in response to mounting difficulties in court.
"In the middle of this lawsuit, they started documenting debts that had no evidence of existing beforehand," said one of the attorneys, Avi Moshenberg.
Jones' legal issues continued to mount on November 22 2022, when a Texas judge rejected his attempt to limit the amount of damages he should be forced to pay two other bereaved Sandy Hook parents, Neil Heslin and Scarlett Lewis. Instead, Judge Maya Guerra Gamble ruled that Jones should be forced to pay them an additional $45.2 million, separate from the $1 billion in damages Jones owes the plaintiffs in the Connecticut case.
Jones and his attorney claim they will appeal Gamble's ruling.
Reuters reported on February 14 2023 that Jones could face a third defamation trial; bankruptcy judge Christopher Lopez said that he will consider the request made by Leonard Pozner and Veronique De La Rosa, whose son was killed in the Newtown attack, during a hearing on March 24 2023.
Two days later, the Washington Post reported that financial disclosure documents filed by Jones showed another apparent link between him and participants in the January 6 coup attempt:
In the section of the bankruptcy statement that asks Jones to identify property he owns or controls for somebody else, he described the items he has in limited detail.

"Holding firearms for certain January 6th participants to be provided," the entry says.

The filing does not state why Jones, who participated in the rally that preceded the attack on the Capitol, is holding the weapons or where they are located.
According to that statement, Jones has $10 million listed in "reported assets" and reported making $617,143.02 in gross income in 2021.
Update 8/3/2022, 4:04 p.m. PST: This article has been revamped and updated. You can review the original here. — ag
Update 10/5/2022, 11:24 a.m. PST: Updated to reflect new allegations against Jones and the apparent conclusion of his 2022 trial for defamation. — ag
Update 11/10/2022, 12:19 p.m. PST: Updated to reflect orders that Alex Jones pay more than $1 billion to the bereaved Sandy Hook families. — ag
Update 11/21/2022, 12:21 p.m. PST: Updated to reflect alleged financial activity involving Jones and companies he owns as well as his family and allies. — ag
Update 11/21/2022, 12:21 p.m. PST: Updated to reflect alleged financial activity involving Jones and companies he owns as well as his family and allies. — ag
Update 11/23/2022, 11:20 a.m. PST: Updated to reflect a Texas judge's ruling holding Jones responsible for paying $45 million to two other plaintiffs. — ag
Update 2/17/2023, 12:30 a.m. PST: Updated to reflect new information regarding Jones' bankruptcy filings and the possibility of being sued in a third defamation trial. — ag