Did the FBI Report No Deaths at Sandy Hook?
Claim
An FBI report that found there were no murders in Newtown, Connecticut, in December 2012 -- thus proving that the Sandy Hook Elementary School shooting was a hoax.
Like this fact check?

Reporting
Part of the barrage of disinformation about the 2012 Sandy Hook mass shooting attack given a platform for years by conspiracist Alex Jones hinged on a distortion of federal crime statistics and reliance on "internet sleuths."
In September 2014, Jones' Infowars blog published a post claiming that the Federal Bureau of Investigation (FBI) had recorded no murders in Newtown, Connecticut (where the school is located) that year, in spite of the attack killing more than 20 people.
It includes a screenshot from the FBI report, "Crime in the United States 2012":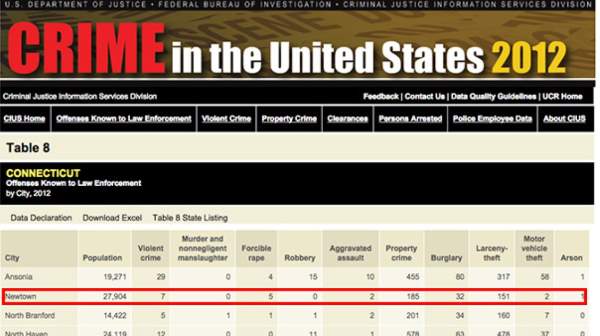 The post has since been deleted from the blog, but an archived version remains online. According to the "story":
Internet sleuths immediately took to the web to stitch together clues indicating the shooting could be a carefully-scripted false flag event, similar to the 9/11 terror attacks, the central tenet being that the event would be used to galvanize future support for gun control legislation. Two years later, and scores of politicians and gun control groups have cited the Sandy Hook incident as a pretext to curtail Americans' Second Amendment rights.
In reality the statistic was less of a "conspiracy" than what USA Today described as a frequent ocurrence regarding FBI statistics.
An analysis by the publication found that FBI statistics had a 57 percent accuracy rate concerning "the killings of more than four people in a single event." According to the Investigative Assistance for Violent Crimes Act of 2012, mass killings are defined as "three or more killings in a single event."
USA Today reported:
Connecticut's homicide count is correct, but the FBI's detailed supplementary material includes only the shooting of Adam Lanza's mother at her home in December 2012, just before Lanza went to the elementary school. Lt. Paul Vance says his department submitted a six-page report on the Newtown school victims to the FBI but later identified a mistake. Updated data was provided too late to be reflected in the database, Vance says, but the information should be added soon.

Missing information in the homicide data isn't unusual. The entire state of Florida, for instance, does not submit data to the FBI. And for many years, Nebraska and Washington, D.C., didn't either. But the 57 percent accuracy rate is based on dozens of cases between 2006 and 2012 that were not reported to the FBI, which USA Today found through other records. It also includes erroneous FBI data based on coding errors. Nationally, there are about two dozen mass killings every year.
The Sandy Hook attack was, however, included in a bureau report on mass shootings in the U.S. between 2000 and 2013:

The archived Infowars page shows frequent references to Wolfgang Halbig, interviewed by Jones and presented as an "investigator" into the shooting:
Halbig's role in helping Jones sow disinformation about the shooting was examined as part of the defamation trial against the far-right blogger and broadcaster. As the Huffington Post reported, Jones continued to offer Halbig a platform despite Halbig harassing bereaved parents via email:
In an email shown to the jury Wednesday, Halbig reached out to the parents of a child with autism who died in the shooting. He blamed the parents for letting their daughter go to what Halbig called a "filthy" school. Halbig has made the false claim that the school was simply a shoddy building used to stage the shooting.

"You failed Josephine, the non-verbal child as you stated," Halbig wrote in the 2014 email. "She needed you to protect her from all the serious health risks. That filthy and deplorable school with all that toxic waste, we call this child endangerment."
Halbig was also arrested in January 2020 for disseminating personal information about Lenny Pozner, one of the parents who won a default judgement against Jones in 2019; Halbig allegedly sent that information to several law enforcement agencies and news outlets without Pozner's consent. In March 2022, Halbig reportedly filed for Chapter 7 bankruptcy.
Five months later, in August 2022, a jury ordered Jones to pay a combined $49.3 million to Neil Heslin and Scarlett Lewis, whose 6-year-old son Jesse Lewis died in the attack.
Jones faces at least two more defamation lawsuits filed by parents of the victims of the shooting for his disinformation. Around "two years' worth" of text messages from Jones' cell phone have also been turned over to the House committee investigating the January 2021 coup attempt in support of Jones' ally, former President Donald Trump.
On August 9 2022 the FBI executed a search warrant on Trump's Mar-a-Lago resort connected to a separate investigation into material — some of it classified — Trump had wrongfully been hoarding at the property.
Update 8/9/2022, 4:00 p.m. PST: This article has been revamped and updated. You can review the original here. — ag