Labor Union Tells Supporters to Vote For U.S. Flag Ban on Fox News Poll-Fiction!

Summary of eRumor:

This is a forwarded email that tells of a Fox News poll posted on their web site that asks if the American flag should be banned from schools. The email warns that the Service Employees International Union (SEIU) and Moveon.org have been encouraging followers to participate in the poll and to vote to support the ban.  The email also encourages true patriots to go to the link and vote to keep the flag in schools.

The Truth:

This poll is on the Fox News web site and the SEIU denied encouraging supporters to participate.  A posted statement on their web site saying that they "would never encourage people to vote to ban the American flag."  The labor union went on to say, "We also don't often drive traffic to Fox's website either, so that should have been a red flag as well."
This poll was sparked by a May 5, 2010 news story of students being sent home from a Morgan Hill, Ca school for wearing American Flag shirts on a day that is celebrated by Hispanics from Mexico known as "Cinco de Mayo."
Over two million votes have been tabulated but it is important to remember that these results would have no change to any existing policies.  The poll is also clearly labeled at the bottom to say that it is not a scientific poll.
 A spokesperson for Moveon.org told TruthOrFiction.com that the allegations are "categorically false."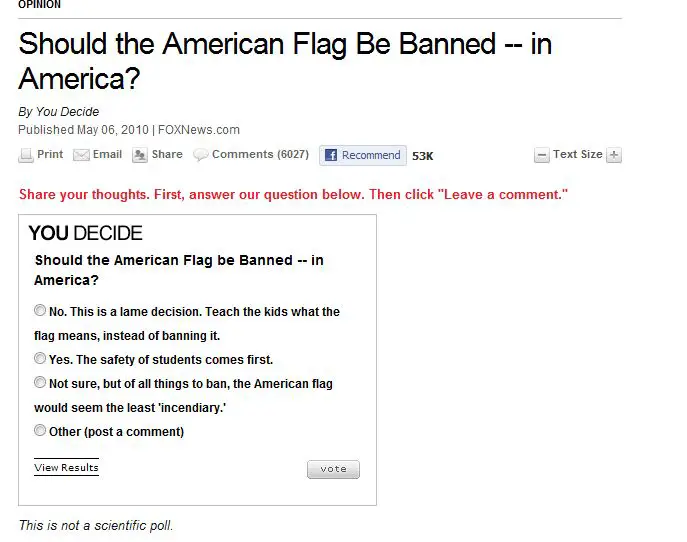 Image of viewer poll taken from Fox News web site.
update 07/19/10