Clint Eastwood Dies of Heart Attack at Age 87-
Fiction! 
Summary of eRumor:
Actor Clint Eastwood has died of a heart attack at the age of 87.
The Truth:
A fake news website mocked-up to look like CNN is behind Clint Eastwood death hoaxes that went viral on social media on June 20, 2017.
Reports of Clint Eastwood's death first appeared at CNN-GlobalNews.com, a website that is in no way affiliated with CNN but used the classic tactic of duping readers into believing it was by using a similar-sounding URL. The report, which has since been disabled, claimed that Clint Eastwood died from an apparent heart attack at age 87.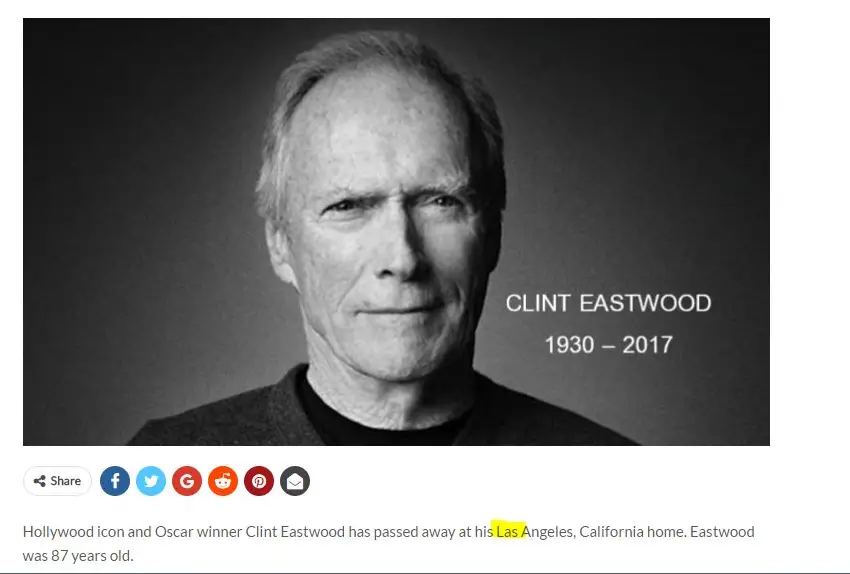 A 3-week-old website based in Singapore is behind false reports of Clint Eastwood's death.
The death hoax also included a fake quote from fellow actor Tom Hanks: "I am lost for words. Some people you just assume with be with you forever. #ClintEastwood."
Social media users quickly circulated the Clint Eastwood death hoax without checking the original source, which appears to be unreliable. The domain for CNN-GlobalNews.com was registered to an owner in Singapore on June 6, 2017, just weeks before the Clint Eastwood death hoax went viral.
That would seem to indicate that the Clint Eastwood death hoax was a (successful) attempt to drive up the new website's domain authority in search engine ranking algorithms using a classic clickbait celebrity death hoax. And the fact that the website was completely disabled less than 24 hours after the report went viral only further proves that point.
There's been no official response from Clint Eastwood or his representatives in the wake of the death hoax. Given the lack of credibility of the 3-week old website that broke the story, however, it's safe to classify this one as "fiction."