A rumor about the origins of the phrase "Black Friday" saw new life online in late 2014 amid a call for a shopping boycott of the traditional high-water day for retailers.
As MarketWatch reported that December:
A message posted on New York Knicks guard J.R. Smith's Instagram page on Nov. 25 (now deleted) claimed that the term arose from the day after Thanksgiving, when slave traders would sell slaves at a discount to plantation owners for the coming winter. The post garnered more than 5,500 "likes" before it was pulled down. No one from the Knicks organization responded for comment.

Grammy-award winning R&B Singer Toni Braxton also linked the phony rumor to her Facebook page, saying "No Black Friday for me" the same day, garnering more than 34,000 "likes" and more than 269,000 shares as of Monday afternoon.
Braxton's post, which remains active as of October 2021, has been shared more than 417,000 times. The caption read:
Did you know Black Friday stemmed from slavery? It was the day after Thanksgiving when slave traders would sell slaves for a discount to assist plantation owners with more helpers for the upcoming winter (for cutting and stacking fire wood, winterproofing, etc.), hence the name …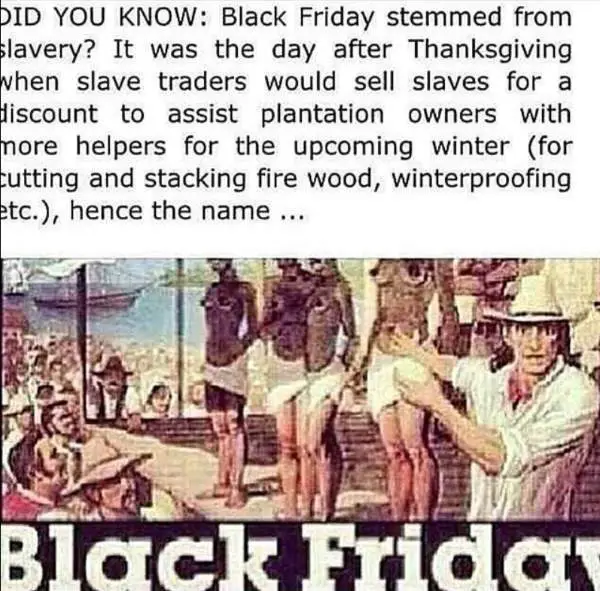 Braxton's refusal to shop on the day after Thanksgiving dovetailed with a campaign calling for a large-scale boycott organized by the group Blackout For Human Rights, which was organized by director Ryan Coogler. Coogler's 2013 film Fruitvale Station covered the events leading up to the 2009 death of Oscar Grant at the hands of a transit officer — an incident that spurred protests against police brutality not long before the advent of the Black Lives Matter movement.
"The lack of indictment in the deaths of Michael Brown of Ferguson, MO, John Crawford III of Ohio, and many, many more victims of police deaths are unacceptable in this modern society," the campaign said at the time. "To that end, we will cease spending money on American retail corporations until a change is made."
But while the term "Black Friday" has been used in different contexts for centuries, it was not attached to the slave trade. As we have noted in the past, it was not used in connection to shopping until it surfaced in an advertisement in 1966:
"Black Friday" is the name which the Philadelphia Police Department has given to the Friday following Thanksgiving Day. It is not a term of endearment to them. "Black Friday" officially opens the Christmas shopping season in center city, and it usually brings massive traffic jams and over-crowded sidewalks as the downtown stores are mobbed from opening to closing.
A local news outlet, KYW-TV, reported that the term was reappropriated by retailer Peter Strawbridge, and has since been associated with the Friday after Thanksgiving and shopping volume on that day helping retailers make a profit or go "into the black."
Nearly a century earlier, however, the term was used to describe mass absences by workers following the holiday. According to a 1951 column from the trade publication Factory and Maintenance:
"Friday-after-Thanksgiving-itis" is a disease second only to the bubonic plague in its effects. At least that's the feeling of those who have to get production out, when the "Black Friday" comes along. The shop may be half empty, but every absentee was sick — and can prove it.

What to do? Many companies have tried the standard device of denying Thanksgiving Day pay to employees absent the day before and after the holiday. Trouble is, you can't deny pay to those legitimately ill. But what's legitimate? Tough to decide these days of often miraculously easy doctors' certificates.
The term was also used in reference to the collapse of the U.S. gold market in September 1869 following what PBS has described as a scam by financiers Jay Gould and Jim Fisk against President Ulysses S. Grant, which was only foiled by Grant discovering the plot and selling $4 million in government gold. According to PBS:
Starting on September 20, Gould and Fisk had started to buy as much gold as they could. Just as they planned, the price went higher. At its highest point on September 24, the price of an ounce of gold reached more than 30 dollars above what it was when Grant took office. But when the government gold hit the market, so did panic.

Within minutes, the price of gold plummeted, and investors scrambled to sell their holdings. Many investors had obtained loans to buy their gold. With no money to repay the loans, they were ruined.
Update 10/21/2021, 1:00 p.m. PST: This article has been revamped and updated. You can review the original here.