Black Friday Originally Referred to Slave Trade – Fiction!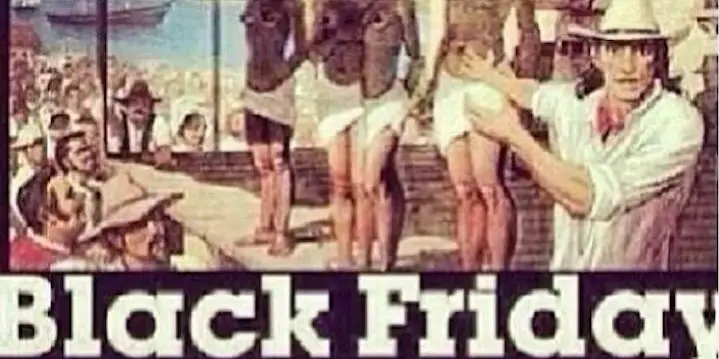 Black Friday Originally Referred to Slave Trade – Fiction!
Summary of eRumor:

The term "Black Friday" originally referred to a day after Thanksgiving sale in which slaves were sold at discounted rates.
The Truth:

The term "Black Friday" can be traced back to the 1860s, but it was never used to describe a day after Thanksgiving "sale" on enslaved African-Americans.
The claim that retailers borrowed "Black Friday" from slave traders lit up social media in both 2013 and 2014.
According to the eRumor:
"Did you know Black Friday stemmed from slavery? It was the day after Thanksgiving when slave traders would sell slaves for a discount to assist plantation owners with more helpers for the upcoming winter (for cutting and stacking fire wood, winterproofing, etc.)"
A number of celebrities fueled the controversy in November of 2014 when they re-posted the message and urged their followers to boycott shopping on Black Friday.
In truth, the day after Thanksgiving was first referred to as Black Friday in the early 1950s. It described the rash of employees who called in sick after Thanksgiving to extend their holiday weekend, according to a 1951 column that appeared in the Factory and Maintenance trade publication.
According to the column:
"'Friday-after-Thanksgiving-itis' is a disease second only to the bubonic plague in its effects. At least that's the feeling of those who have to get production out, when the 'Black Friday' comes along. The shop may be half empty, but every absentee was sick — and can prove it."
Black Friday was first applied to retail sales in the 1960s — but it was used to deter shoppers, not to encourage them. Philadelphia traffic cops coined the term to warn shoppers about traffic jams and theft brought on by sales and the annual Army-Navy football game held on the Friday after Thanksgiving, Philly.com reports.
According to the article:
"Today the term seems lost in antiquity, but it was a traffic cop who started it, the guy who directed traffic with a semaphore while standing on a small wooden platform, in the days before traffic lights."
Author and retail scholar Michael Lisicky said the term initially succeeded in scaring shoppers away. However, retailer Peter Strawbridge re-branded it and claimed that Black Friday referred to business profits "going into the black" by the late 1960s.
And although the earliest use of Black Friday can be traced back to the 1860s, it didn't refer to the slave trade. The collapse of the U.S. gold market on September 24, 1869, was widely known at the time as Black Friday, PBS reports.
---
A real example of the eRumor as it has appeared on the Internet:
DID YOU KNOW: Black Friday stemmed from slavery? It was the day after Thanksgiving when slave traders would sell slaves for a discount to assist plantation owners with more helpers for the upcoming winter (for cutting and stacking fire wood, winterproofing etc.), hence the name …