A June 11 2021 Facebook post attributed a quote (beginning with "I wish we were all hippies") to late musician Bob Marley, and that post has since spread like wildfire: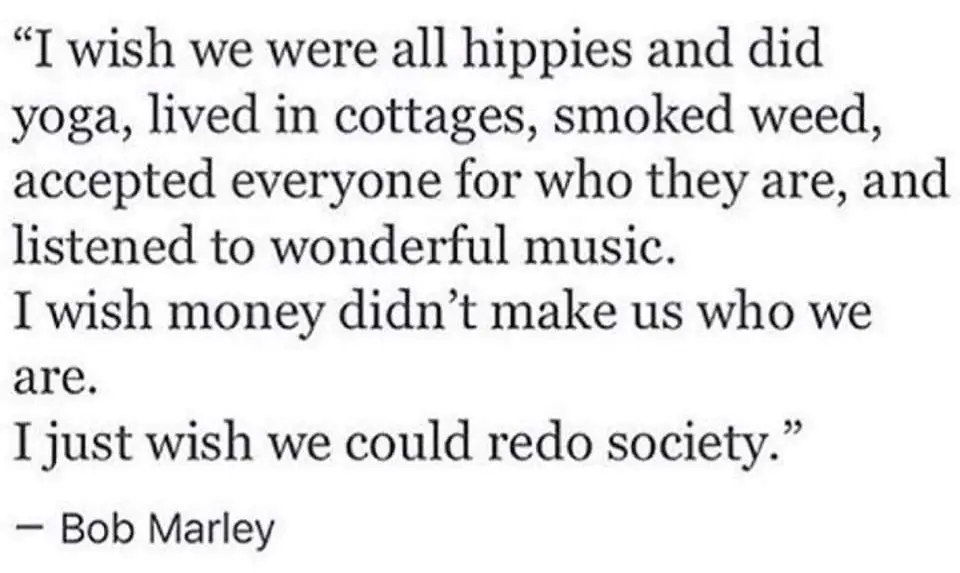 Nothing in the image nor the status update inspired confidence that this was anything Bob Marley might have actually said, but it was shared thousands of times in only a few days regardless.
Even in image format, the attribution to Marley looked shaky; the font in which "Bob Marley" was rendered did not match the font used for the quote.
It read:
"I wish we were all hippies and did yoga, lived in cottages, smoked weed, accepted everyone for who they are, and listened to wonderful music.

"I wish money didn't make us who we are.

"I just wish we could redo society."

— Bob Marley
Since the post lacked attribution, we sought any weightier or more credible record of the musician, performer, and activist stating he wished "we were all hippies."
However, our search for more convincing attributions was not immediately successful, leading us down garden paths and to strange places like AirBnb listings from 2015. Goodreads — the unwitting source for many misquotes and inaccurate attributions — featured a version of the quote shared as early as September 2014; no information about the source of the commentary appeared alongside it.
A Google search bracketing "I wish we were all hippies" with Marley's name returned only two pages of results, not restricted by date, and another marginal, undated source attached a year (1968) to the quote. On Tumblr (which is responsible for an entire cornucopia of Frida Kahlo misquotes), an account shared the quote from a since-deleted account on March 17 2014: