Buffalo Wild Wings Adds Obamacare Surcharge-Outdated!
Buffalo Wild Wings Adds Obamacare Surcharge-Outdated!
Summary of eRumor:
There are rumors that Buffalo Wild Wings has added a surcharge to customer bills to help cover the cost of Obamacare.
The Truth:
It's true that one Buffalo Wild Wings franchisee briefly added an Obamacare surcharge to customer bills, but the surcharge was later dropped.
Reports that Buffalo Wild Wings had added a 2% Obamacare surcharge to customer bills first appeared in January 2015. A customer at a Buffalo Wild Wings location in Lubbock, Texas, tweeted a photo of receipt with a $1.12 charge listed for "FL Surcharge Afford Care":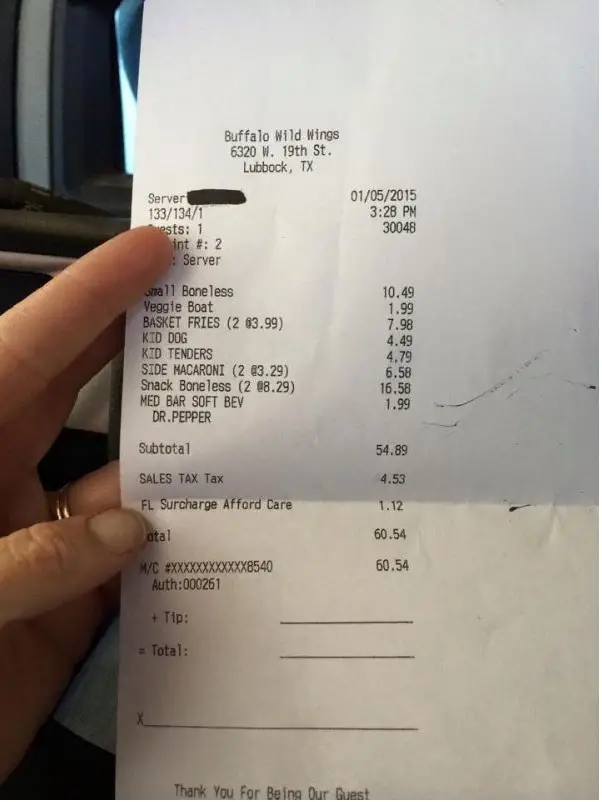 The Obamacare surcharge was implemented a handful of restaurants owned by the Howard Restaurant Group in Lubbock, Texas — not across the entire franchise. A spokesperson for the Howard Restaurant Group explained in a statement that the Obamacare surcharge was intended to cover additional expenses for full-time employees under the Affordable Care Act:
"Due to the Affordable Healthcare Act and its requirement of healthcare coverage to all full-time employees, our restaurant group has decided instead of cutting employee hours and raising food and beverage prices, to implement a two percent surcharge on all guest checks to offset the cost of the federally mandated employee healthcare with the least possible impact to the consumer," Samantha Spitzer, director of marketing for Howard Restaurant Group, said in a statement.
Days later, however, the restaurant group announced that it had reversed its decision to add an Obamacare surcharge to customer bills. Buffalo Wild Wings director of public relations Heath Leiferman said in a statement, "The health care surcharge at our franchised Buffalo Wild Wings in Lubbock, TX has been removed. We regret any inconvenience this may have caused. Our priority is to always provide our guests great experience every day so they can enjoy our wings, beer and sports."
A number of restaurants across the country tacked an Obamacare surcharge onto customer bills in late 2014 or early 2015. The Los Angeles Times reported that a number of upscale eateries in Los Angeles had done so in October 2014, and that restaurant owners had kept the surcharge in place despite negative customer feedback.