California Officials Attempt to Quell Confusion Around Gubernatorial Recall Election
As mail-in ballots began to go out in advance of the September 2021 gubernatorial recall election in California, a spokesperson for the California Secretary of State's office attempted to quell disinformation and confusion around the often confusing process.
Jenna Dresner told Capital Public Radio:
Regardless of how a voter responds to the question of recalling the governor, they can still cast a vote for a potential replacement candidate. The votes for each question are counted separately, so your vote for one question does not impact your ability to vote on another, that includes leaving a question blank
The September 14 election focuses on whether or not to remove Gov. Gavin Newsom from office and contains two questions: Whether Newsom should be removed; and if so, which of the 46 listed candidates on the ballot should take over the office. According to the Secretary of State office's website:
If a majority of the votes on the recall question are "Yes," Governor Newsom shall be removed from office and the replacement candidate receiving the highest number of votes shall be declared elected for the remainder of the governor's term of office (ending January 2, 2023). If one-half or more of the votes on the recall question are "No," Governor Newsom shall remain in office.
Both Newsom and the state Democratic Party have urged supporters to vote "No" in the recall question and leave the second question blank: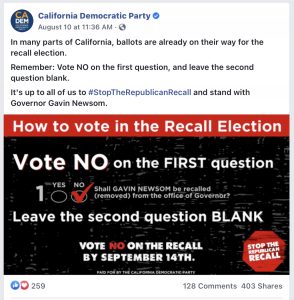 As the San Francisco Chronicle reported, the state Republican Party has declined to endorse any of the 24 GOP candidates listed on the ballot.
Of that group, four candidates — right-wing talk show host and Epoch Times commentator Larry Elder, former San Diego Mayor Kevin Faulconer, state Assembly member Kevin Kiley, and former Rep. Doug Ose — had qualified to compete for the endorsement.
The recall election against Newsom is the second of its kind in state history. In October 2003, Democrat Gray Davis was recalled when 55 percent of voters (4,976,274 in all) said they wanted him removed from office. That paved the way for Republican candidate and actor Arnold Schwarzenegger — who had no political experience — to be elected.