The Young Daughter of Singer Steven Curtis Chapman Killed When Struck by a Car Driven by Her Brother-Truth!
Summary of eRumor:
Several different versions of this story circulating.  One simply says that the 5-year old daughter of contemporary Christian singer Steven Curtis Chapman was killed at the family home in a tragic accident.  Others say that little Maria Chapman died as the result of being accidentally hit by a car driven by her older brother.
The Truth:
Tragically, this story is true.
According to the Tennessee Highway Patrol, 5-year-old Maria Sue was hit in the driveway of the family home near Franklin in Williamson County, Tennessee on the evening of Wednesday, May 21, 2008.  Maria was rushed to Vanderbilt Childrens Hospital in Nashville, transported by LifeFlight, but died there of her injuries, according to the Steven Curtis Chapman web site.
The driver of the vehicle, a Toyota Land Cruiser, was one of Maria's teen-age brothers but neither the family nor authorities had authorized the release of his name.
The Williamson County Sheriff's department says the death appears to have been the result of an accident and that they didn't expect any charges to be filed against the brother.
Maria Sue Chapman was the youngest of six children to Steven Curtis Chapman and his wife Mary Beth.  She was also one of three adopted children.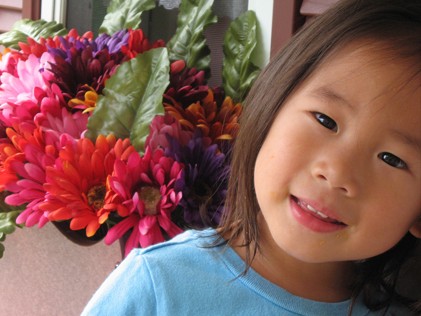 Jim House, Chapman's manager, said that the accident happened in the midst of what was otherwise a season of rejoicing for the family.  Just a few hours earlier the Chapman's oldest daughter, Emily, was engaged.  They were also preparing for a high school graduation party for their son Caleb.  And 10-days earlier they had celebrated Maria Sue's 5th birthday.
Chapman and his wife founded The Shaohannah's Hope Ministry to help financially support families who wish to adopt a child.  Shaohannah is the name of the Chapman's first adopted daughter who was brought into their home from China, which is where Maria Sue was from as well.  The ministry has provided grants to more than 1,700 families who want to adopt orphans from around the world.
Chapman is a popular contemporary Christian musician with five GRAMMY Awards, 54-Dove Awards, and has sold more than 10-million albums.
One of his popular songs is Cinderella, which encourages people to grab hold of special times with those whom we love.  It was inspired by a bath time for Maria and her sister, Stevery Joy, when they were not being very cooperative.  Steve tried to rush the bath but was halted by recognition of how important it was to enjoy the minutes together.  It's part of an album titled This Moment, centered around the theme of celebrating every moment in our lives.
Updated 5/22/08