Charlie Daniels song "This Ain't No Rag, It's a Flag."-Truth!
Charlie Daniels' Letter About the Country Freedom Concert and his song, "This Ain't No Rag, It's a Flag"–Truth!
Summary of eRumor:
According to this eRumor, Charlie Daniels was scheduled to appear on the CMT (Country Music Television) Country Freedom Concert, a benefit for victims of the terrorist attacks on September 11.  The organizers of the program, however, told Charlie that he could not perform one of his songs because they felt the lyrics might offend someone.  Charlie decided to pull out of the show and released a public letter both explaining his reasons and showing the lyrics to the song titled "This Ain't No Rag, It's a Flag."
 
The Truth: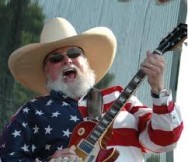 TruthOrFiction.com checked with Charlie Daniels' office and they confirmed that the story, the letter, and the song are true.