Woman Finds A Deep-Fried Chicken Head in Her Order of Fried Chicken at McDonald's–Unproven!
 
Summary of eRumor:
A woman in Virginia opened her order of fried chicken pieces from McDonalds and was disgusted to find the deep-fried head of a chicken.
The Truth:
This is an unusual eRumor because it does have a first-hand source, but the final chapter of the story has yet to be written.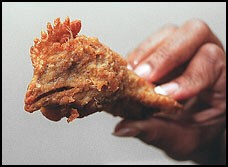 According to published reports, Katherine Ortega of Hampton Roads, Virginia went to McDonald's to get a couple of Happy Meals for her two children.  When she opened one of them, she found the fried chicken's head and screamed.  She was reportedly offered a refund and a substitute order of chicken, but turned it down.
A McDonald's spokesperson said he had no comment on the incident except to say that a product tampering investigation is underway.
In other words, the story of the woman who found the chicken head and reported it to McDonald's is true.  It is being investigated, however, as to where the chicken head came from.  Did McDonald's really accidentally fry a chicken head?  Or did a prankster prepare the chicken head at home and bring it to McDonald's?
updated 6/21/01