Injuries on children caused by cleaning "erasers"-Truth! &Fiction!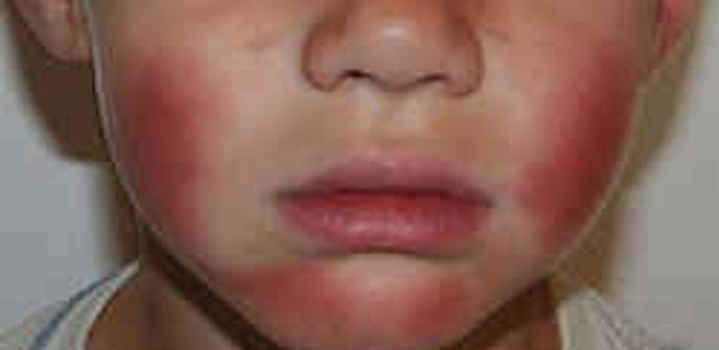 Injuries on Children Caused by ScotchBrite Easy Eraser or Mr. Clean Magic Eraser-Truth! & Fiction!
Summary of eRumor:
There are apparently different versions of this but they all warn that children can experience injuries on the skin from the ScotchBrite Easy Eraser or the Mr Clean Magic Eraser.
One of the eRumors says that Mr. Clean Magic Eraser is being removed from store shelves because of containing formaldehyde.
The Truth:
The bottom line is that there is a first-hand story of a child who experienced skin irritation from a ScotchBrite Easy Eraser but there is dispute about whether it was from chemicals or the abrasive action of the product from being rubbed on the skin.
The story about Mr. Clean Magic Eraser being removed from the market is not true.
Procter & Gamble Mr Clean Magic Eraser
The eRumor claims that the Magic Eraser contains formaldehyde.
If you review the government-required Material Safety Data Sheet, you see that one of the ingredients is "Formaldehyde-Melamine-Sodium Bisulfite Copolymer."  That's the name of the entire ingredient and it's different than if the product had formaldehyde alone, according to Procter & Gamble.
A company release said that "…the word 'formaldehyde' is in its chemical name. However, this ingredient is not formaldehyde and poses no health or safety risks. (Think of this name like 'sodium chloride', which is table salt. Sodium by itself can be dangerous, but sodium chloride – salt – is safe.)."  The company said that any formaldehyde found on its product would be in tiny amounts and a result of the manufacturing process and would be "actually less than what is found in indoor air."
Procter & Gamble denies that there is any danger from the product and adds "In fact, no ingredients in Magic Eraser are subject to any health-related labeling laws in North America or in the European Union."
ScotchBrite Easy Eraser
The text of the eRumor about a mother's experience with the ScotchBrite Easy Eraser is authentic.  It's a first-hand account from the woman who runs a website named Kerflop.  Don't know if that's her last name but her first name is Jessica and the text of the eRumor is posted on her site.  The incident took place in 2006.
She describes how her son (picture below) got "large, shiny, blistering red marks… across his cheeks and chin" from apparently rubbing a ScotchBrite Easy Eraser on his face.  She got advice over the phone from a poison center, which told her that products like the Easy Eraser and Magic Eraser "…have a pH of 8 – 10 and can cause chemical burns."  They gave her first-aid instructions.  She then took her son to a hospital for treatment.  It is her contention that the product contained "a harmful alkaline or "base" chemical (opposite of acid on the pH scale) that can burn your skin."  She describes his injuries as "chemical burns."
We have not found any experts who would agree with the comment from the poison control center that a pH of 8 – 10 can cause chemical burns."  The pH scale measures the range of acidity on one hand and alkalinity on the other.  The scale ranges from 0 to 14. At the 0 end is solutions that are very acidic.  Lemon juice is about a 2, vinegar is around 3,. Pure water has a neutral pH of 7, which is and some soaps range up to a pH of 9.
Although her story is about ScotchBrite's Easy Eraser, she makes reference to the Mr. Clean Magic Eraser as well and notes that the original packaging of each did not include any warnings of harm from their use on the skin.
The 3M company's Material Safety Data Sheet shows that the product is made of polyurethane foam and melamine foam.  No other chemicals are listed.
The sheet does indicate that there can be "mechanical abrasion" and Kerflop says that in January she got a note from 3M that said: "We have addressed the issue and are taking steps to change the packaging to warn other consumers of the potential reaction to using the product on the skin."
Updated 7/25/07
---
A real example of the eRumor as it has appeared on the Internet:
Example  #1

IF YOU ARE USING MR. CLEAN MAGIC ERASERS….STOP!

HI EVERYONE, JUST WANTED TO LET YOU ALL KNOW THAT I AM A HUGE FAN OF MAGIC ERASERS…..HOWEVER, I HAVE A FRIEND THAT TOOK ENGINEERING IN SCHOOL AND HE NOW WORKS FOR A HUGE COMPANY IN HALIFAX AND THEY GET THE
HEADS UP ABOUT PRODUCTS BEFORE ANYONE ELSE.WELL HE CALLED ME LAST NIGHT REGARDING MAGIC ERASERS AND SAID THAT THEY ARE SLOWLY BEING BANNED BECAUSE THEY CONTAIN THE INGREDIENT FORMALDEHYDE. YES THE CHEMICAL THEY
USE TO PRESERVE DEAD PEOPLE. IT IS HIGHLY DANGEROUS TO YOUNG CHILDREN AND CAN BE HARMFUL TO YOURSELF, SO PLEASE IF YOU ARE USING THEM, THROW THEM AWAY, DON'T BUY THEM ANYMORE AND PLEASE SEND THIS ON TO ANYONE WHOM YOU THINK MIGHT USE THEM, ESPECIALLY WITH YOUNG CHILDREN.

Example #2

Chemical Burns to Children 

One of my five year old's favorite chores around the house is cleaning scuff marks off the walls, doors, and baseboards with either an Easy Eraser pad, or the real deal, a Mr. Clean Magic Eraser. I purchased a package of Magic Erasers ages ago when they first came out. I remember reading the box, wondering what the "Magic" component was that cleaned crayon off my walls with ease. No ingredients were listed and absolutely no warnings were on the box, other than "Do not ingest."

My package of the Scotchbrite Easy Erasers didn't have a warning either and since my child knew not to eat the sponges and keep them out of reach of his little brother and sister, it was a chore I happily let him do.

If I had known that both brands (and others like them) contain a harmful alkaline or "base" chemical (opposite of acid on the pH scale) that can burn your skin, I never would have let my little boy handle them. As you can see from the picture, when the Scotchbrite Easy Eraser was rubbed against his face and chin, he received severe chemical burns.
At first, I thought he was being dramatic. I picked him up, put him on the counter top and washed his face with soap and water. He was screaming in pain. I put some lotion on his face – more agony. I had used a Magic Eraser to remove magic marker from my own knuckles a while back and I couldn't understand why he was suddenly in pain. Then, almost immediately, the large, shiny, blistering red marks started to spread across his cheeks and chin.

I quickly searched Google.com for "Magic Eraser Burn" and turned up several results. I was shocked. These completely innocent looking white foam sponges can burn you?

I called our pediatrician, and of course got sent to voice mail. I hung up and called the Hospital and spoke to an Emergency Room nurse. She told me to call Poison Control. The woman at Poison Control said she was surprised nobody had sued these companies yet and walked me through the process of neutralizing the alkaline to stop my son's face from continually burning more every second.

I had already, during my frantic phone calling, tried patting some numbing antibiotic cream on his cheeks, and later some Aloe Vera gel – both resulted in screams of pain. The Poison Control tech had me fill a bathtub with warm water, lay my son into it, cover him with a towel to keep him warm and then use a soft washcloth to rinse his face and chin with cool water for a continuous 20 minutes.

My son calmed down immediately. He told me how good it felt. I gave him a dose of Tylenol and after the twenty minutes was up, he got dressed in his Emergency Room doctor Halloween costume and off we went to the Hospital.

They needed to make sure the chemical burn had stopped burning, and examine his face to determine if the burn would need to be debrided (from my fuzzy recollection of hospital work, this means removing loose tissue from a burn location). My son was pretty happy at the hospital, they were very nice and called him "Doctor" and let him examine some of their equipment. The water had successfully stopped the burning and helped soothe a lot of the pain. I'm sure Tylenol was helping too.

They sent us home with more Aloe Vera gel, Polysporin antibiotic cream, and some other numbing burn creams. By the time we got home, my son was crying again. I tried applying some of the creams but he cried out in pain. Water seemed to be what worked the best.

After a rough night, I took the above photo in the morning. He was swollen and wouldn't move his lips very much to avoid moving the skin on his taut cheeks. I was fighting back the tears, and I said, "Oh honey, I wish I could take it away from you. I wish I could take it off your face and put it on mine." He was so shocked, he started to tear up a little and said, "Mom, no. You don't want this on your face, it hurts so much. You would be hurting. Last night was terrible, I couldn't sleep, and you wouldn't be able to sleep either." It just broke my heart into five trillion pieces – as much as he is hurting, he wouldn't want me to be hurting in his place.

Today he is doing much better. The burns have started to scab over, and in place of red, raw, angry, skin we have a deeper red, rough healing layer. I can touch his skin now, without it stinging, and this morning he went back to Pre-School with Polysporin rubbed all over his face. He announced to the class, "I brought my face for Show and Tell!"

—

Note – he was doing fine as of Friday. Kudos to this diligent parent for informing us all.