A former Republican official's allegedly misplaced Twitter message on November 10 2020 led to allegations of online chicanery that culminated in the public outing of an "anti-feminist TV critic" purportedly related to legendary singer Patti LaBelle.
Dean Browning, a white Republican ex-county commissioner in Lehigh County, Pennsylvania, first drew scrutiny — and mockery — on the platform after posting:
I'm a black gay guy and I can personally say Obama did nothing for me, my life only changed for a bit and it was for the worse. Everything is so much better under Trump though. I feel respected — which I never do when democrats are involved.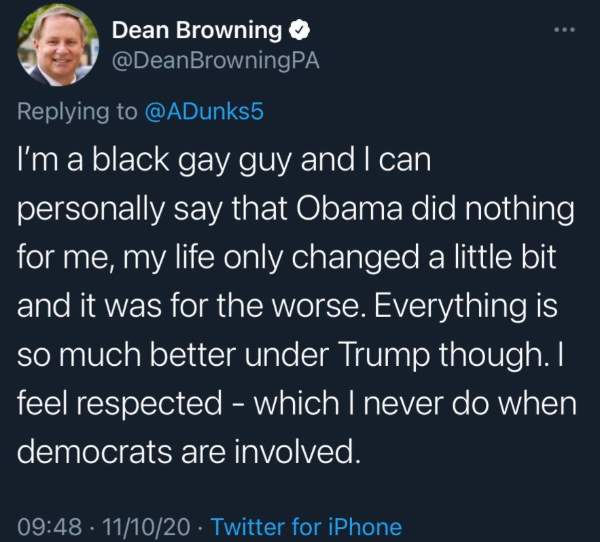 The post drew allegations that Browning had created a second account (or an "alt," as they are commonly known) to pass himself off as both Black and gay. Other Twitter users identified the user "@DanPurdy322" as the offending account, noting that besides the fact that it was created in October 2020, the "DanPurdy" account frequently replied to Browning's posts while also posting misogynist and anti-Black material of his own — including the statement, "Black [people] can't count":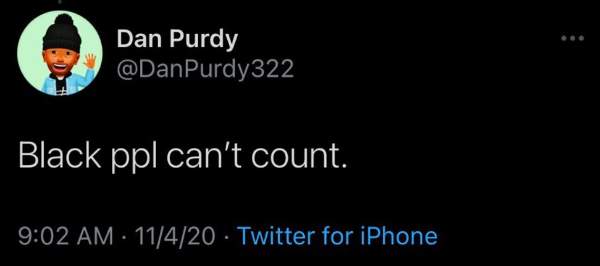 Browning denied any connection to this Twitter account.
"Regarding the tweet that is going viral from my account — I was quoting a message that I received earlier this week from a follower," he wrote. "Sorry if context was not clear. [Donald] Trump received record minority votes & record LGBTQ votes. Many people won't say it vocally, but do in private."
Browning has yet to produce a screen capture confirming this alleged message. However, a separate person posted a video on the "Dan Purdy" account identifying himself as both a gay Black man and a supporter of outgoing United States President Donald Trump, and saying that he had sent the original text to Browning.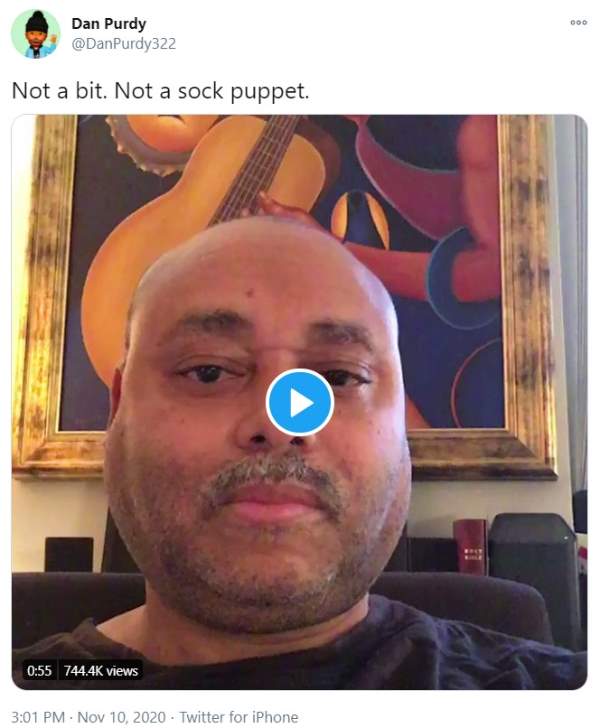 "I don't actually know how it was posted but I did send it to him because I had a problem with how people of my race and sexual persuasion were treating Donald Trump," he said in the video prior to the account's removal. "I don't have a problem with Donald Trump on those levels, and I don't understand why so many pretend to."
The "Dan Purdy" account was subsequently suspended by Twitter.
After the video went online, though, "Dan" was quickly identified as a someone else entirely — William "Byl" Holte, with an entirely separate online footprint; for example, Holte also has an account on the blogging site Medium in which he describes himself as an "anti-feminist TV critic":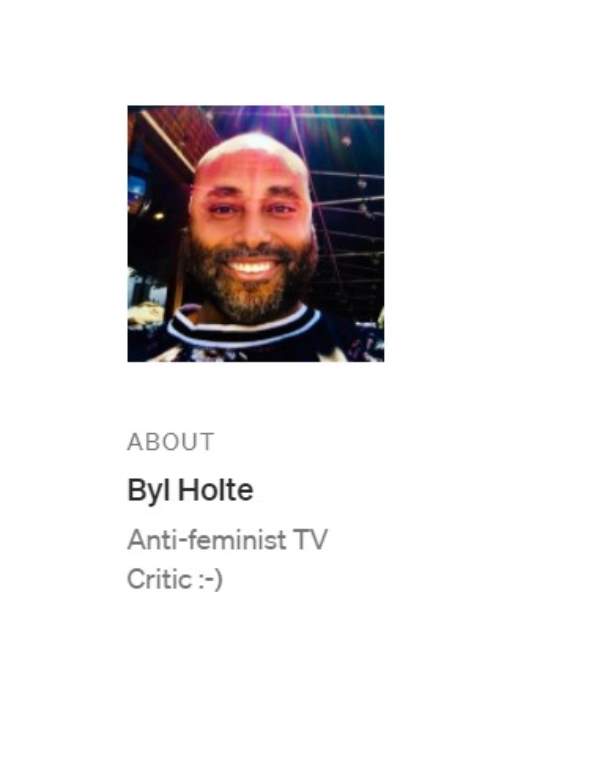 The same painting seen in the background of Holte's video defending his support for Trump can also be seen in a photograph on his Facebook account: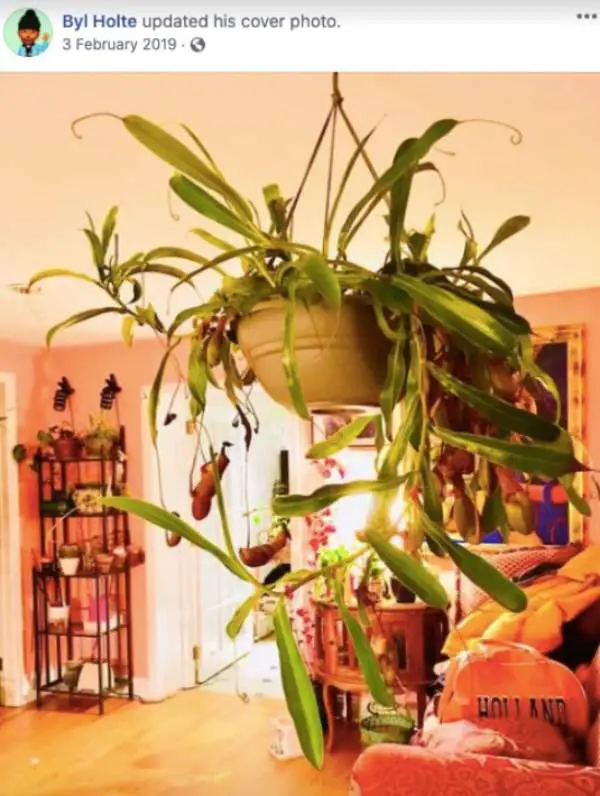 An online search for Holte shows that he is listed as the son of LaBelle. However, Holte has posted photographs identifying her as his aunt. That painting showed up in a 2002 episode of Cribs (featuring Patti LaBelle's home), as well: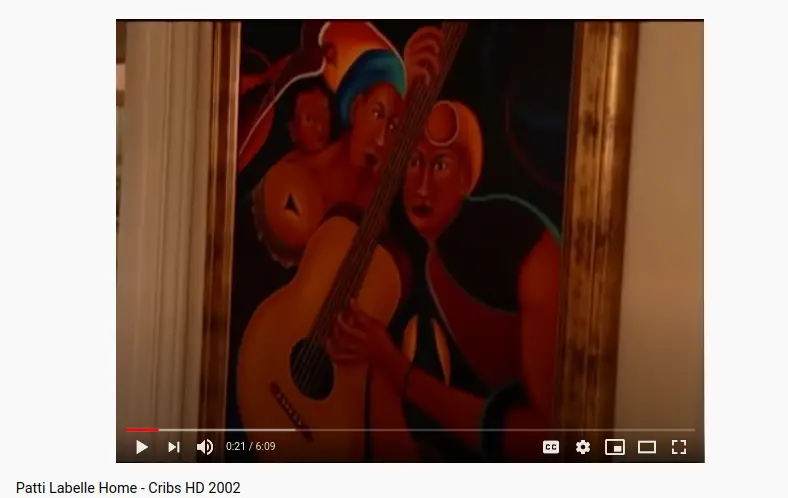 Browning is listed as the head of a right-wing political action committee, Common Sense Solutions.
"Common Sense Solutions PAC works tirelessly to expose hidden hypocrisies and uncover the truth," the group says on its website. "CSSPAC serves to hold Elected Officials responsible for their actions, whether they are incumbents or running for office.
We emailed the group seeking comment.
Twitter confirmed that the "Dan Purdy" account was suspended for violating the platform's terms of service.
In 2022 Browning resurfaced politically, running for a state Senate seat in Pennsylvania. He lost to Democrat Nick Miller.
Brooke Binkowski contributed to this report.
Update November 10, 2020 5:06 p.m.: Updated with confirmation from Twitter regarding the suspension of the "Dan Purdy" account.
Update November 12, 2022 9:34 a.m. PST: Updated to reflect Dean Browning's loss in the November 2022 general election. — ag