Did a Cemetery Exhume the Bodies of Confederate Soldiers?
Claim
The Delaware City Council approved exhuming and relocating the bodies of Confederate soldiers from Oak Grove Cemetery in response to violent protests in Charlottesville, Virginia.
Like this fact check?

Reporting
The purported exhumation of Confederate soldiers' bodies in 2017 by a "satirical" blog succeeded in stirring real-life anger in its readers.
The blog "Delaware Ohio News" published a post saying:
Delaware City Council passed a resolution this week ordering the bodies of all Confederate soldiers buried at Oak Grove Cemetery to be exhumed and relocated. The remains will be molested and dumped in the lake at nearby Alum Creek State Park.

The decision to relocate Confederate graves comes after violence broke out at a white nationalist rally in Charlottesville, Virginia last week. One woman who was protesting against the white nationalist groups in attendance was killed when James Alex Fields Jr. drove his car into a crowd of counter protesters.

Of 32 civil war graves at Oak Grove, 6 contain Confederate soldiers. Work started early Saturday morning and is expected to wrap up this weekend.
The blog itself says in a disclaimer that "everything on this website is made up. Do not rely on anything said here."
The cemetery itself is real. Further, it does host a memorial for fifteen unidentified Black soldiers who fought in the war as part of the United States Colored Troops (USCT) — but no one from the Confederate side.
Accordingly, the photograph the blog used for its "reporting" was appropriated from a legitimate source. The photographer behind it posted their own disclaimer on their Flickr account:
It has absolutely and categorically nothing to do with the disputed report that Confederate soldiers were being exhumed in Ohio, USA. The photo was taken in England nearly seven years ago and reused under the creative commons licence, by someone in the USA.
But as so often happens, the fake story produced actual anger, with readers in their comments section calling for someone to be "put in [the graves] and buried":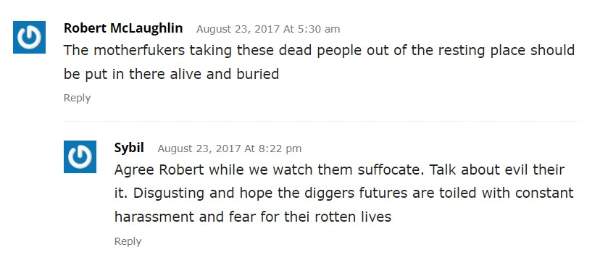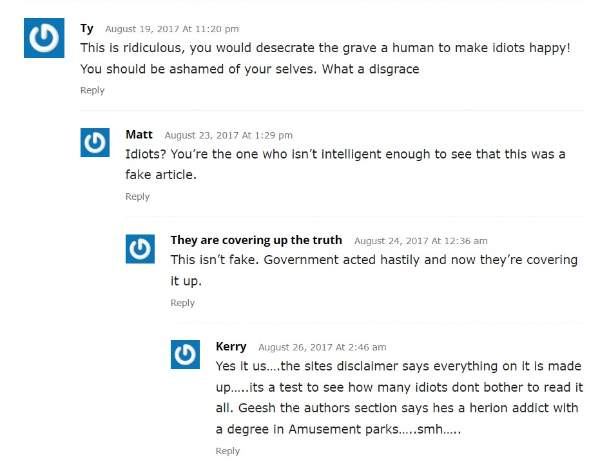 More than 200 monuments to Confederate soldiers were removed across the U.S. in 2020 and 2021.
In July 2021, the city of Charlottesville removed the statue of Confederate leader Robert E. Lee; just over four years earlier, 32-year-old Heather Heyer was run over and killed by a white nationalist while counter-protesting against a white supremacist gathering there.
Update 2/1/2022, 4:02 p.m. PST: This article has been revamped and updated. You can review the original here. -ag