Did Hurricane Harvey Flood the Runway at William P. Hobby Airport?
Claim
A photo that began circulating on August 28 2017 shows Houston's William P. Hobby Airport flooding in the wake of Hurricane Harvey.
Like this fact check?

Reporting
A photo graphic showing a possible climate-related disaster in the future spread online in August 2017 — only falsely presented as part of the actual damage caused by Hurricane Harvey.
The photo, showing a flooded airport runway with several planes at risk of being submerged, was originally created by Nickolay Lamm in 2013 as a visual representation of data presented in a report by the research group Climate Central on the threat of rising sea levels: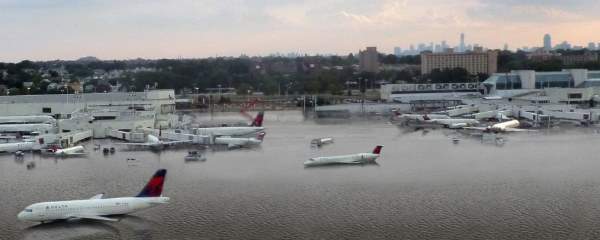 The caption reads:
What LaGuardia Airport could look like at high tide with 5 feet of sea level rise, an amount that could occur by 2100, according to some estimates.
According to the report, LaGuardia and other airport hubs around the U.S. "face a growing risk of flooding during even modest storms."
But a version of the photo altered even further — making the flood waters appear even higher and completely submerging all but the tail fin of several 747 airplanes on the tarmac — was circulated online and falsely identified as William P. Hobby Airport in Houston, where Harvey caused significant flooding:
Ohohoho Houston airport pic.twitter.com/1JAMTxlu7c

— Aunn ✈ (@MadniSwagger) August 28, 2017
Picture Of #Houston Airport After The Ongoing Flooding Of #Harvey #HarveyFlood pic.twitter.com/W5lKV2CBLV

— James Barlow (@Jamesbarlow2012) August 29, 2017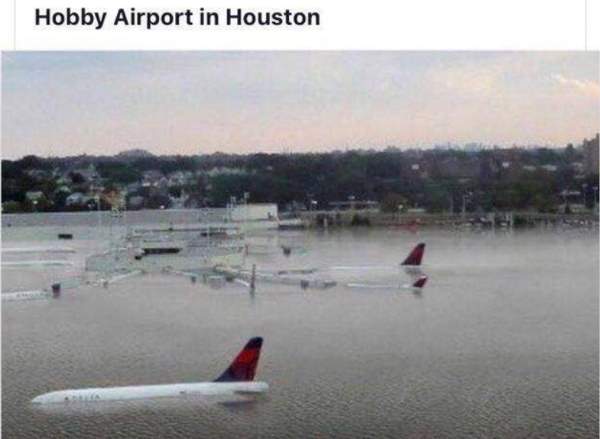 However while officials at both Hobby Airport and and George Bush Intercontinental Airport grounded flights on August 29 2017 — two days after the edited graphic began circulating — neither facility was flooded; that happened instead along surrounding roads. As a public alert from the local airport system said at the time:
Commercial operations have ceased at both IAH and HOU until further notice due to severe weather. No inbound or outbound flights from either airport at this time. For flight details, rescheduling and waivers, please contact your air carrier.

At this time, there has been no flooding at the ecopark lots or the terminal parking garages. We are actively monitoring these properties.
The cost of damages caused by the hurricane was estimated to be around $125 billion.
Update 6/29/2021, 7:44am: This article has been revamped and updated. You can review the original here.