Did First Lady Melania Trump Announce a Child Wellness Initiative on the Same Day President Trump Asked for CHIP Cuts?
Claim
On the same day that First Lady Melania Trump announced a children's health and wellness initiative, U.S. President Donald Trump asked to cut the children's health insurance program, or CHIP.
Like this fact check?

Reporting
In January 2019 amid an ongoing government shutdown, a May 2018 Occupy Democrats meme showed up once again on Facebook: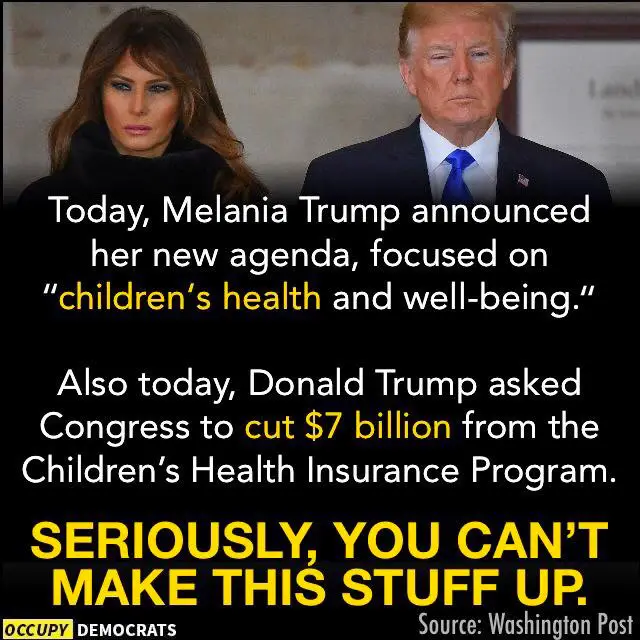 Under a photograph of Melania Trump and President Trump, text stated:
Today, Melania Trump announced her new agenda, focused on "children's health and well-being."

Also today, Donald Trump asked Congress to cut $7 billion from the Children's Health Insurance Program.

SERIOUSLY, YOU CAN'T MAKE THIS STUFF UP. [Source: Washington Post]
As to why the meme recirculated in January 2019, that was likely related to the $5.7 billion price tag attached to United States President Donald Trump's border wall project — not too far from the $7 billion mentioned in the claim. The meme's use of "today" enabled it to spread in perpetuity, possibly creating the erroneous perception that its claims were chronologically relevant at the same time the $5.7 billion wall funding request was in dispute.
Under the original post, Occupy Democrats provided a top-level comment citation for its claim, a May 7, 2018 Washington Post article titled "Trump calls on Congress to pull back $15 billion in spending, including on Children's Health Insurance Program." That piece presented a more nuanced picture of the second part of the claim, which was that Trump proposed cuts to funding for children's health insurance:
President Trump is sending a plan to Congress that calls for stripping more than $15 billion in previously approved spending, with the hope that it will temper conservative angst over ballooning budget deficits.

Almost half of the proposed cuts would come from two accounts within the Children's Health Insurance Program (CHIP) that White House officials said expired last year or are not expected to be drawn upon. An additional $800 million in cuts would come from money created by the Affordable Care Act in 2010 to test innovative payment and service delivery models.

Those are just a handful of the more than 30 programs the White House is proposing to Congress for "rescission," a process of culling back money that was previously authorized.

[…]

The proposed cuts to CHIP would come in part from cutting $5 billion from the Children's Health Insurance Fund, to help reimburse states for certain expenses. But the White House said the ability to use this money expired in September, meaning it can't be legally used, even as it remains on the government's balance sheet … The White House's other proposed cut to CHIP is a $2 billion reduction would pare back the Child Enrollment Contingency Fund, meant to ensure states have access to funds if there is a higher-than-expected enrollment, the senior administration official said. States are not expecting to see a jump in enrollment, though, in part because the economy is improving.
The Washington Post made no reference to any initiatives involving Melania Trump, although its "source: Washington Post" note implied that the article described the purported dichotomy. The paper reported that the funds allocated to the program then up for cutting either could not legally be used or they were not anticipated for later use.
We didn't find any reference to the other part of the claim involving Mrs. Trump's purported agenda "focused on 'children's health and well-being.'" But on the same day the Washington Post article was published, many outlets covered the unveiling of the First Lady's "Be Best" initiative.
"Be Best" was widely covered in the media (due in part to its atypical syntax), but it seemed to have little to do with health insurance:
Melania Trump gave a splashy launch [in May 2018] to her public awareness campaign to help children, calling it "Be Best." In a rare twist on their White House roles, she commanded the Rose Garden lectern while President Donald Trump watched from the audience.

The first lady said the "Be Best" campaign will focus on childhood well-being, social media use and opioid abuse.

"As a mother and as first lady, it concerns me that in today's fast-paced and ever-connected world, children can be less prepared to express or manage their emotions and oftentimes turn to forms of destructive or addictive behavior such as bullying, drug addiction or even suicide," she said.

"I feel strongly that as adults, we can and should 'be best' at educating our children about the importance of a healthy and balanced life," she added.
Additional reporting on "Be Best" appeared to focus on the reaches of the opioid epidemic, as well as cyberbullying:
Written material distributed in support of the initiative includes a booklet adults can use to talk to children about being online. It is similar to one the Federal Trade Commission released during the Obama administration. A spokeswoman for the first lady said the agency asked Mrs. Trump to include the booklet in her materials. The agency also wrote a blog post thanking the first lady for distributing it.
Other reports focused on the cyberbullying aspect of "Be Best":
During an appearance in the Rose Garden, Trump officially launched the multifaceted. child-focused initiative she will champion from the White House. Her new awareness campaign, called "Be Best," is dedicated to children's well-being, cyberbullying and opioid abuse.

According to the White House, through the initiative the First Lady will promote existing programs that are already working to "overcome the issues they face growing up."

As a mother and First Lady, Trump said she wants every child to know that it is "safe to make mistakes and there are supportive adults and friends nearby to catch them" if they fall. The initiative appears to focus primarily on helping kids build a strong foundation for the future, harnessing tools that can help them develop emotionally and socially so they can use be nice to themselves and others and make a positive use of social media.
An official page for the program on WhiteHouse.gov summarized it:
The mission of BE BEST is to focus on some of the major issues facing children today, with the goal of encouraging children to BE BEST in their individual paths, while also teaching them the importance of social, emotional, and physical health. BE BEST will concentrate on three main pillars: well-being, social media use, and opioid abuse.

BE BEST will champion the many successful well-being programs that provide children with the tools and skills required for emotional, social, and physical health. The campaign will also promote established organizations, programs, and people who are helping children overcome some of the issues they face growing up in the modern world.
The Occupy Democrats meme claimed that Trump sought to cut funding for children's health insurance on the same day that the First Lady launched an unnamed program to focus on the wellbeing of children. Taken together, the claim was misleading on a few fronts. It is true that the "Be Best" program launched on the same day President Trump's proposed cuts to several programs were reported. But the "Be Best" initiative was wide-ranging, and it really had little to do with healthcare funding (or healthcare at all, despite a vague focus on "health.") The proposed cuts, while controversial, had largely to do with funds that were either unused or that were not projected to be necessary to the programs going forward.