Did the Supreme Court Rule 5-4 Against Swearing in on the Qur'an?
Claim
The Supreme Court ruled 5-4 against the use of the Qur'an for swearing oaths.
Like this fact check?

Reporting
On June 11 2019, a Facebook user shared the following text-based status update (archived here), claiming the Supreme Court ruled 5-4 against the use of the Qur'an for swearing oaths: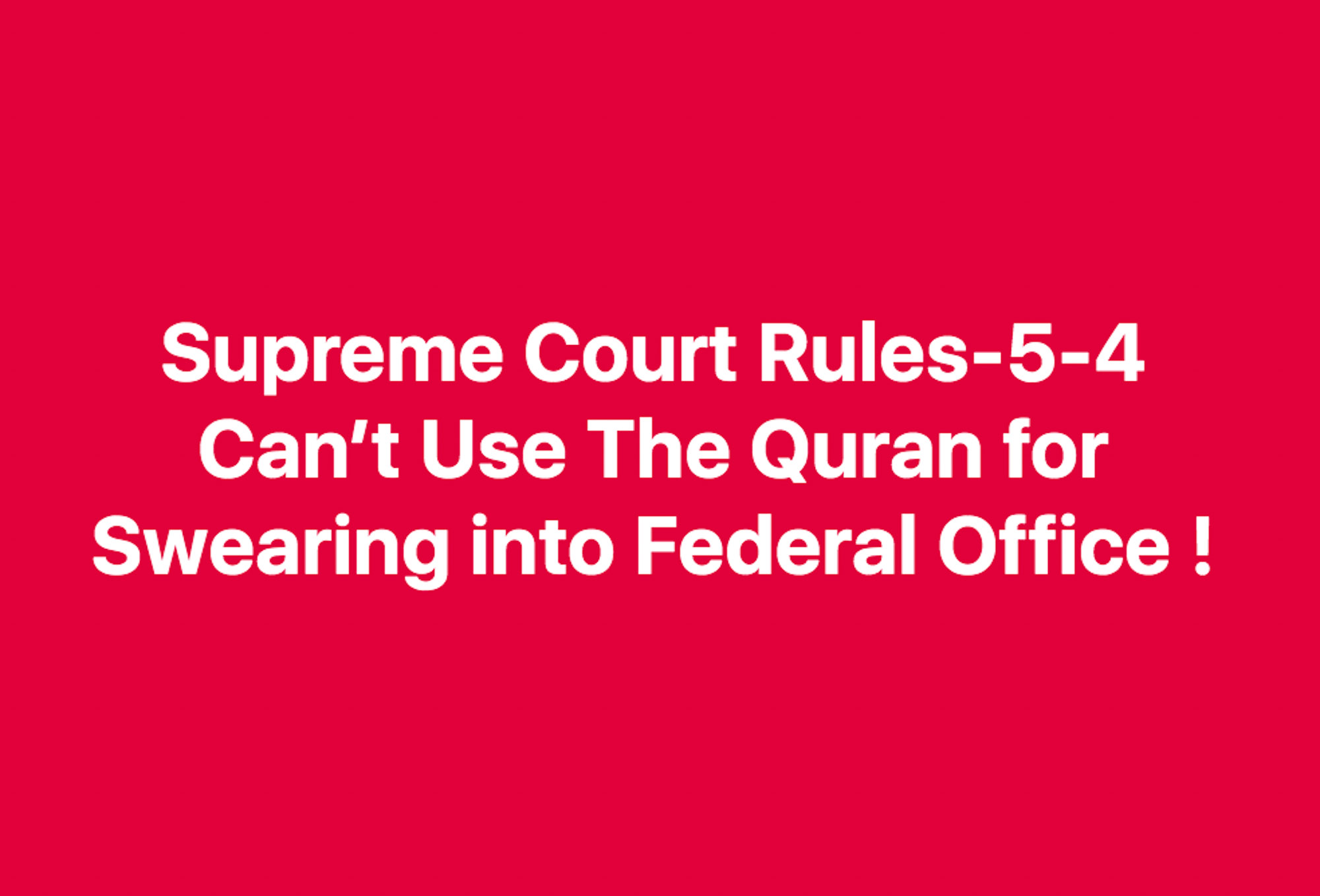 Right off the bat, the format of the post was a scourge to fact-checking sites. Text against a colorful background, rarely if ever accompanied by citations, spreads like wildfire on its native platform, Facebook.
And few if, any of, the ones that come across our desks are ever rooted in much truth. Before the claim about a Supreme Court ruling of 5 to 4 against the use of the Qur'an in oaths, similar posts claimed: that a 2012 gun ban led to Venezuelans being killed in the streets by their government, that dozens of Christians were massacred by Muslims in March 2019 in Africa, that the passage of HR 1 allowed non-citizens to legally vote, that President Barack Obama deliberately planted refugee voters in Rep. Ilhan Omar's district, that Chicago city identification cards enabled non-citizens to vote (again), that Sen. Bernie Sanders called Christianity an "insult to Muslims," and that Nancy Pelosi called late-term abortion bans "really quite a sad thing."
In March 2019, Poynter reported that the format was causing headaches for fact-checkers on and off Facebook thanks to the speed with which it was able to spread false claims. Nevertheless, the post above accrued thousands of shares per day in the short time between its appearance and this fact check. As it happens, the claim had been spread (and debunked) before. In January 2019, Factcheck.org examined the exact same claim and traced it to its source — a notorious purveyor of disinformation, the website Last Line of Defense:
First of all, the story originated on a website that has a disclaimer warning readers: "Everything on this website is fiction." Parts of the made-up story, though, were copied by other sites without a disclaimer and presented as news.
An archived link to the original falsehood was available in that article. Titled "BREAKING: Supreme Court Rules 5-4: Oaths Not Taken on Bibles Illegal," the attendant article was on a page with a footer labeling the content as false:
sat·ire ~ˈsaˌtī(ə)r noun the use of humor, irony, exaggeration, OR ridicule to expose and criticize people's stupidity or vices, particularly in the context of contemporary politics and other topical issues.