Donald Trump is an Atheist-Fiction!
Summary of eRumor:
Rumors about Donald Trump revealing that he's an atheist have gone viral.
The Truth:
There are well-documented accounts of Donald Trump being a Christian dating as far back as the 1980s, so reports that Trump is an atheist are false.
That rumor took flight in July 2015 in response to comments that Donald Trump made at the Family Leadership Summit. When asked by moderator Frank Luntz if he had ever asked God for forgiveness, Trump responded:
"I'm not sure I have," Trump said. "I just go on and try to do a better job from there. I don't think so. I think if I do something wrong, I think, I just try and make it right. I don't bring God into that picture. I don't."
"We I take, when we go, and church and when I drink my little wine – which is about the only wine I drink – and have my little cracker, I guess that's a form of asking for forgiveness, and I do that as often as possible because I feel cleansed, OK? But, you know, to me that's important, I do that, but in terms of officially, I could say, 'Absolutely!' and everybody, I don't think in terms of that. I think in terms of, let's go on and let's make it right."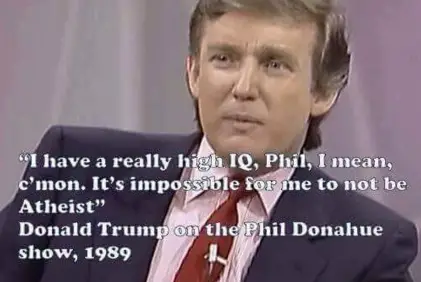 The unusual way that Donald Trump talked about his faith sparked public debate about how genuine Trump's claims to practice Christianity really were at the time.
A meme that went viral claimed that Donald Trump had even confessed to being an atheist in a 1989 appearance on the Phil Donahue Show:

There's no record of Trump appearing on the show in 1989, but he did make an appearance on the show in 1987. There are accounts from the time of Trump complaining about his treatment by Donahue (he accused Trump of being greedy) that make it seem unlikely Trump would appear on the show again.
Trump's roots in Christianity can be traced back to his association with minister and self-help author Norman Vincent Peale in the 1970s, the Washington Post reports:
By invoking Peale, who died in 1993, Trump has something ecclesiastical he can talk about as he seeks support in the faith community, an all-important voting bloc.
"The great Norman Vincent Peale was my minister for years," Trump told CNN last July, a sentiment he repeated in Atlanta and in Iowa during stops in Ames and Dubuque.
Peale, for his part, described Trump as "kindly and courteous" with "a streak of honest humility," and touted him as "one of America's top positive thinkers and doers." The minister also called Trump "ingenious" and predicted that he would be "the greatest builder of our time."
Trump's parents, Fred and Mary Trump, formally joined Peale's Marble Collegiate Church in Manhattan — a venerable affiliate of the Reformed Church in America — during the 1970s. Trump visited Marble Collegiate with his second wife, Marla Maples. (Newspaper accounts have reported that Trump's adulterous relationship with Maples began at Marble Collegiate — "THEY MET IN CHURCH" was the New York Post headline — although Trump said in the interview that it all started at a party.)
Today, Trump identifies himself as a Presbyterian. Despite rumors to the contrary, there's no proof that he's anything but that.