Nike Wouldn't Let Steph Curry Put Bible Passage on Shoes-Fiction!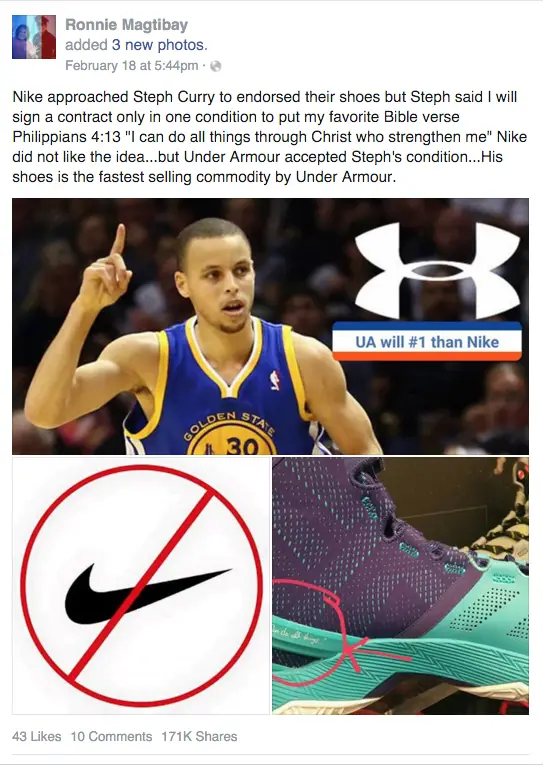 Summary of eRumor:
Nike wouldn't let Steph Curry put his favorite Bible verse, Philippians 4:13, on his signature basketball shoes, so the NBA star signed a deal with Under Armour instead.
The Truth:
Claims that Steph Curry passed on a Nike endorsement deal because the company wouldn't let him put his favorite Bible verse on his signature shoes are false.
Rumors about Steph Curry and Nike spread across social media after this post surfaced on February 18, 2016:
a
Within weeks, the post had been shared more than 170,000 times, and many believed that it was true. However, the post doesn't cite any sources to back the claim up, and it's the only account of Steph Curry's so-called fallout with Nike on the Internet. There are, however, many credible accounts of Curry parting ways with Nike after the company refused to invest heavily in him before he became a star.
In reality, Steph Curry didn't pass on Nike — it was Nike that passed on Steph Curry.
Curry was drafted in 2009 and wore Nike shoes for the first four years of his career. Then, in 2013, Nike offered Curry a $2.5 million sponsorship deal (small in terms of shoe deals) because the company was unsure that people would actually buy his shoes. Instead, Curry signed with Under Armour for $4 million, ESPN's Darren Rovell reports:
Two years ago, Nike had a chance to pay Curry a lot of money and lock him up for the future. After offering less than $2.5 million a year, Nike had a second chance — this time to match Under Armour's offer. Unsure that Curry would ever be able to sell signature shoes, Nike let him go.
Curry remembers the moment but doesn't talk much about it, choosing today to focus more on the company that did believe in him, the company that did pay him what he was worth (and is now getting a bargain).
Today, Curry is a star. His Under Armour "Curry One," which debuted around the NBA All-Star Game in February, is giving more credibility to the brand at retail than any endorser, across all sports, it has ever had.
Thanks to the Steph Curry endorsement, Under Armour's shoe sales soared. In 2015, Under Armour re-signed Curry, but this time he was given a lot more than $4 million. He received an equity stake of the $7.5 billion company, which will likely make the deal worth hundreds of millions of dollars, ESPN reports.
But is true that Steph Curry's signature Under Armour shoes have his favorite verse stamped on them. Curry was asked why there was a 4:13 stamped on the tongue of his shoes in February 2015, Rapzilla reports:
"That's a good question," the Golden State Warriors point guard said. "Glad you asked."
And there it was, playing out just how he drew it up.
"It represents a Bible verse I wear on my shoe," Curry said. "Philippians 4:13. It says 'I can do all things through Christ who strengthens me.' It's also my mantra, how I get up for games and why I play the way I do."
The new Curry One, set for a Feb. 13 release, is a proclamation that he's arrived as an NBA star, and he's a different kind of star.
His new shoe is a microcosm for how he approaches this pedestal his sweet jumper has propped him on. It's his latest example of how his amazing story is part of a divine plan.
For Curry, the shoe represents overcoming, considering not that long ago he was all but written off due to repeated ankle injuries. It represents sacrifice, as he traded in credibility and global reach by shockingly leaving Nike. It also represents ministry, which is why Curry's new sneaker is dripping with spiritual innuendo.
"It's part of my DNA, who I am," Curry said. "To have that come out in my vision for my first shoe is special."
So, Steph Curry's favorite Bible verse is on his shoes, but that's not why he chose Under Armour over Nike.