Eddie Murphy Dies in Car Accident-Fiction!
Eddie Murphy Dies in Car Accident-
Fiction!
Summary of eRumor:
Reports have gone viral that actor and comedian Eddie Murphy has died in a car accident.
The Truth:
False reports of Eddie Murphy's death spread across social media shortly after the comedian and actor's older brother, Charlie Murphy, died from leukemia in April 2017.
A fake news website called LinkBeef.com reported that Eddie Murphy had died in a car accident in Los Angeles in a post that appeared under the headline, "Eddie Murphy Actor and Comedian, Dies at 54." The post begins:
US actor and comedian Eddie Murphy, who starred in over 50 films, has been killed in a car crash in California.
Murphy, 54, was a passenger in a Porsche sports car driven by a friend – who also died – when it crashed north of Los Angeles.
Murphy was said to be attending a charity event at the time.
The Los Angeles County Sheriff's department said the crash happened in the community of Valencia.
It said deputies found a car engulfed in flames when they responded to a report of a collision. Two people found in the car were pronounced dead at the scene.
"He was a passenger in a friend's car, in which both lost their lives. We… are stunned and saddened beyond belief by this news."
Paramount Pictures also issued a statement, saying studio staff were "heartbroken" by Murphy's death.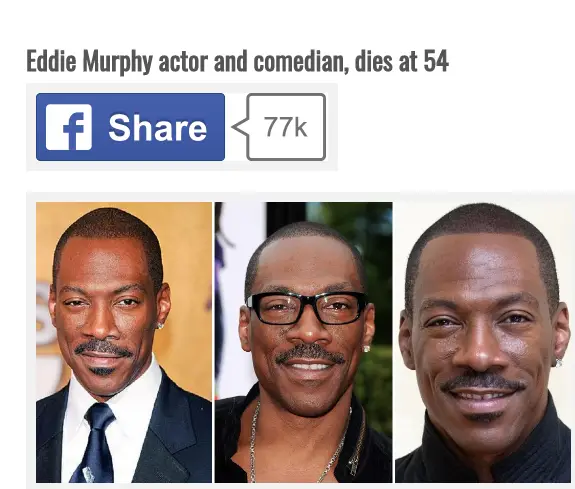 It's not clear whether the timing of his brother Charlie Murphy's death had anything to do with Eddie Murphy's death hoax going viral, but the timing is certainly fishy.
Either way, LinkBeef.com is a notorious for fake news and celebrity death hoaxes like this one. The Eddie Murphy death hoax is just the latest example of that.