The long history of disease being used to manufacture outrage against immigrants saw another illegitimate campaign drummed up in 2014 by the right-wing media ecosystem.
That year saw an outbreak of enterovirus D68 (EV-D68 for short) around the U.S., which was confirmed by the Centers for Disease Control (CDC):
From mid-August 2014 to January 15, 2015, CDC or state public health laboratories confirmed 1,395 people in 49 states and the District of Columbia with respiratory illness caused by EV-D68. Almost all of the confirmed cases were among children, many whom had asthma or a history of wheezing. Additionally, there were likely many thousands of mild EV-D68 infections for which people did not seek medical treatment and/or get tested. This was the first documented nationwide outbreak of EV-D68. Although illness associated with EV-D68 is not notifiable, circulation of this virus occurs most often in late summer and fall, which is the typical enterovirus season.
The virus itself was first identified in California in 1962 and had been reported in small clusters of cases around the U.S. annually between 1987 and the 2014 outbreak. (Separate outbreaks have since been reported in 2016 and 2018.) But, while EV-D68 outbreaks had been reported in Japan, the Philippines and the Netherlands the disease showed no such activity in Mexico or across Central America.
Similarly, there was no evidence that Latinx children were influencing the spread of the virus in 2014. As the Texas Observer noted at the time, they were more likely to have undergone a more stringent vaccination protocol than their counterparts in the U.S.:
Consider, for example, Guatemala. According to the United Nations Children's Fund (UNICEF), Guatemalan kids are more likely than Texans to be immunized for most infectious diseases. Guatemala has universal health care. Vaccines are 100 percent funded by the government.

By comparison, one in six kids in Texas is uninsured, and even insured families often must pay for vaccination. That means that many Texas kids fall behind on vaccinations, or miss them altogether when their family can't afford a doctor's visit. Other families refuse vaccination.
Many previous cases of EV-D68 reportedly went undiagnosed because it often caused mild, flu-like symptoms that could be treated with over-the-counter therapies. But according to the Atlantic, medical providers said that the biggest difference between the 2014 strain of EV-D68 and its predecessors was its potency and not its prevalence.
"What's different this year are the number of children coming to the ER and actually being sick enough to be admitted or end up in the pediatric intensive care unit," Lisa Miller, division director for Disease Control and Environmental Epidemiology at Colorado's Department of Public Health, said. "Those numbers were higher than normal for this time of year. That's what first got people's attention, how sick these children were."
Regardless of the facts, however, the 2014 outbreak was transformed into xenophobic gruel for various outlets thirsty to churn out disinformation, including "alternative medicine" blogs that falsely claimed that EV-D68 was "linked" to immigrant communities: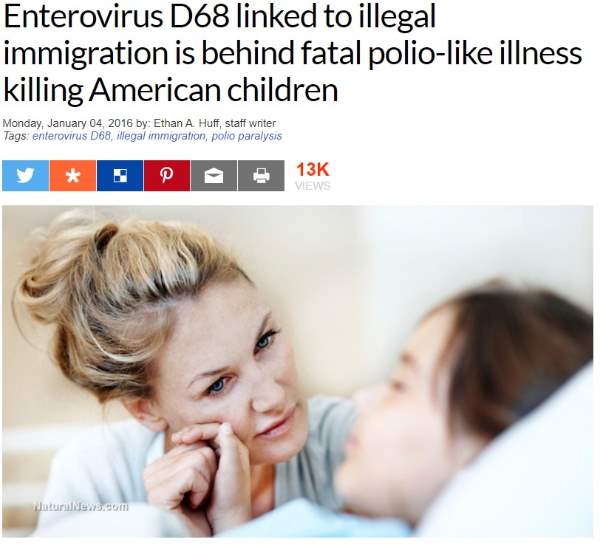 Meanwhile, as the progressive watchdog site Media Matters reported, right-wing media figures like Rush Limbaugh and Michael Savage, to name just two, seized on the outbreak to push more anti-immigrant arguments to their listeners.
That strain of xenophobia persisted and resurfaced sharply as COVID-19 hit the U.S. in 2020, with then-President Donald Trump insisting on calling it the "Chinese virus" and sycophantic media outlets following suit, helping to fuel a rise in violence against Asian-Americans around the country.
"We didn't really shut down as a society until mid-March, yet we see how early Chinese Americans are feeling the impact of the virus," Erika Lee, director of the Immigration History Research Center at the University of Minnesota, told Smithsonian magazine in October of that year. "Partly because of the history, partly because they are connected transnationally to families and communities in China, but also because the xenophobia that has risen out of Covid-19 was already global before we really experienced the pandemic ourselves."
In July 2021 authoritarian Texas Gov. Greg Abbott used COVID-19 as the pretext in an executive order allowing law enforcement officials to "reroute" or seize vehicles if they suspected the driver was transporting immigrants infected with the virus. The U.S. Justice Department has filed a lawsuit asking for the order to be blocked.
Update 8/1/2021, 11:45 p.m. PST: This article has been revamped and updated. You can review the original here.