U.S. Servicemen in Bahrain Forced to Observe Ramadan-Truth! & Fiction!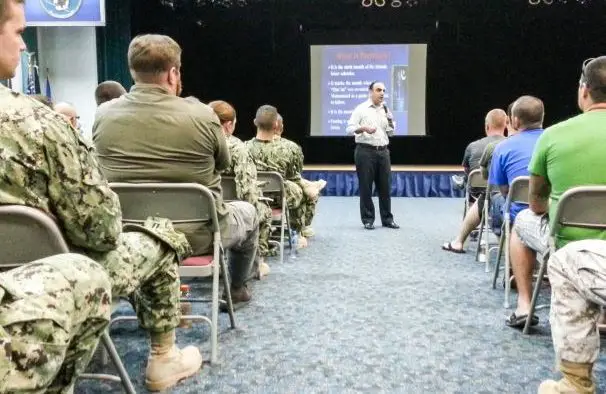 U.S. Servicemen in Bahrain Forced to Observe Ramadan-Truth! & Fiction!
Summary of eRumor:
Opinions and blog postings have gone viral on the Web alleging that the Department of Defense (DOD) has banned bibles from military bases and forced deployed members of the military in Bahrain to observe Ramadan.
 
The Truth:
Military members on deployment in Bahrain are not being forced to observe Ramadan.
The opinions, blogs and vents are misinterpreted commentaries on a June 26, 2014, article by Stars and Stripes. One opinion even appeared in a blog section hosted by the Fox News website.
The Stars and Strips article said that the 8,200 U.S. personnel living in Bahrain were not required to fast during Ramadan but may find food services closed during the religious observance. It also warned that non-Muslims could be "fined or detained by local authorities for eating, drinking or smoking in public when off-base during daylight hours."
When off base, during this time of religious observance, Stars and Stripes reported that more conservative clothes should be worn by American personnel and that the U.S. "Navy is demanding that men wear long-sleeved shirts and women wear sleeved blouses that cover their elbows. Also, men must wear long trousers, and women should wear pants or skirts that cover the knees." 
Currently, there is no DOD ban of bibles from military bases or hospital facilities. This was an old eRumor dating back to 2008 about the Gideon Society not being allowed on base, which we reported as Fiction!  In 2011, there was a similar eRumor about bibles and religious articles not being permitted into Walter Reed, which was true but the order was later rescinded. (See below for links.)
The Stars and Stripes article included a photo of a briefing that took place at the Bahrain base on the Islamic customs and traditions during Ramadan, which was attended by 150 personnel.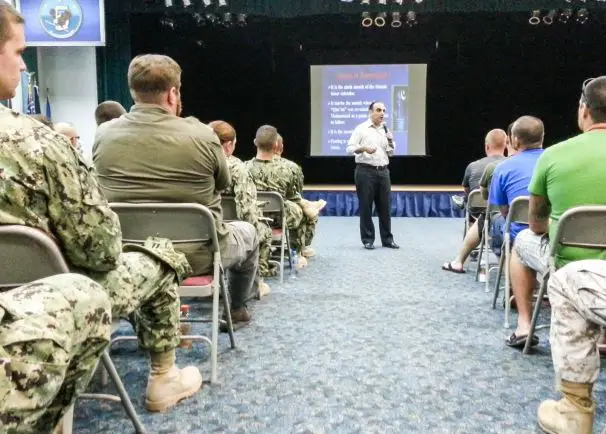 Posted 07/02/14
Related eRumors:
Gideons Kicked off of Military Bases-Fiction!
Walter Reed Medical Center has Banned Religious Items-Truth! But Rescinded!
 
---
A real example of the eRumor as it has appeared on the Internet:
U.S. Servicemen Forced to Observe Ramadan!
 
According to recent reports from Stripes.com, the Navy is required seals in Bahrain to follow Sharia law during Ramadan, the Muslim holy month.

The officials are implementing a mandatory order to dress conservatively while off-base during the month of Ramadan. For men, this means wearing long-sleeved shirts and long pants. Women are required to wear blouses that cover their elbows, and pants or skirts no shorter than their knees.

Perhaps most confusing of all, the dress code is not even required by the Bahraini government.

What do you think of this new rule? Should our government be forcing Sharia Law on our Navy?