Were U.S. Troops in Bahrain 'Required to Fast' For Ramadan?
Claim
U.S. troops stationed at Naval Support Activity Bahrain were required to fast during the Muslim celebration of Ramadan in 2014.
Like this fact check?

Reporting
Right-wing fringe blogs who often purport to care about "religious freedom" were quick to spin a report from the military newspaper Stars & Stripes into a whipped-up and spurious slight.
The story, published in June 2014, covered a notice sent to U.S. troops at Naval Support Activity Bahrain advising them in advance of the beginning of Ramadan. According to the story:
For Muslims around the world, Ramadan is a month of fasting and devotion to God. Most Muslims fast from dawn to sunset, when families gather for Iftar — the meal that breaks the fast.

For the 8,200 U.S. personnel living here, and those serving throughout the U.S. Central Command area of responsibility — including servicemembers, civilian personnel, contractors and family members — the month may require changing some daily routines.

Businesses and government offices will reduce hours and most restaurants will be closed during daylight hours.

While not required to fast during Ramadan, in Bahrain, Americans can be fined or detained by local authorities for eating, drinking or smoking in public when off-base during daylight hours.
While literally explaning that troops would not be forced to fast — just not eat in public spaces — right-wing bloggers and social media users falsely claimed the opposite: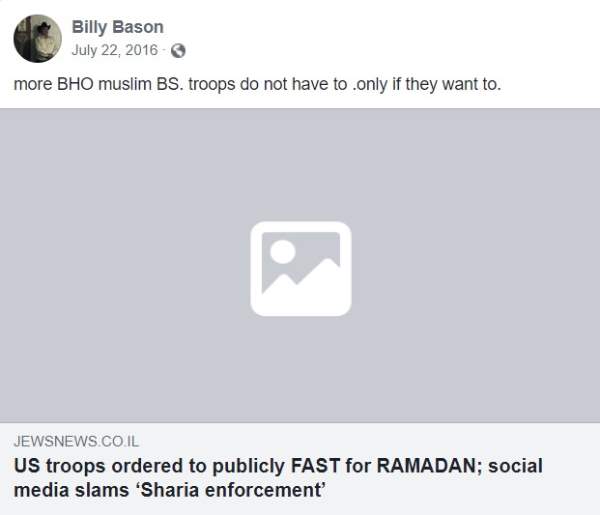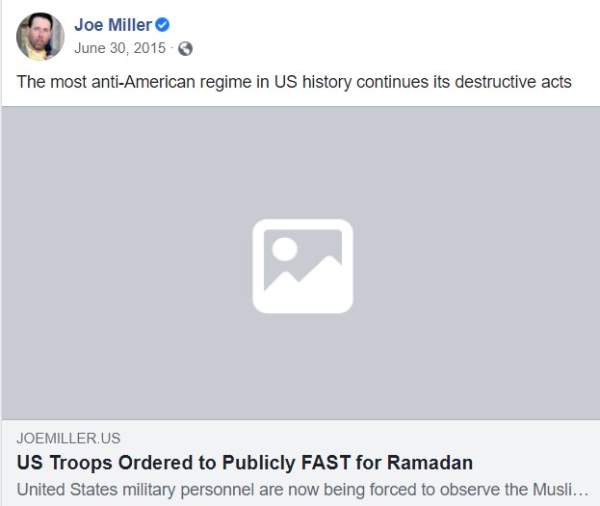 Nearly five years later, Stars & Stripes published a separate piece explaining in greater detail how non-Muslim troops could observe Ramadan while still venturing off-base:
Eating and drinking — including alcohol — can be done in a private residence or hotel room, and food and drink can still be purchased at supermarkets during the day, but not sampled there.

Four- and five-star hotels also typically stay open for all-day dining, though [a base specialist] said it's best to call ahead to be sure.

Local community groups, the U.S. Embassy and word-of-mouth can also be helpful when looking for a place to eat during the fast.

"Most restaurants will have takeout and delivery," said Tina Hurban, administrator of the Bahrain Family Group page on Facebook, who sent out a list of popular restaurants that will serve during fasting hours.
Update 11/18/2021, 2:10pm PST: This article has been revamped and updated. You can review the original here. -ag