New York Court: Fox News 'Turned a Blind Eye' to Guests' Election Disinformation
The right-wing Fox network must face a second defamation lawsuit for promoting election deniers following Donald Trump's resounding loss to Joe Biden in 2020.
The New York State Supreme Court ruled on March 8 2023 that a $2.7 billion lawsuit filed by the voting machine manufacturer Smartmatic can proceed.
The company said in its lawsuit that by broadcasting the claims from the former United States president and his allies that he won the 2020 presidential election (he did not), Fox damaged Smartmatic's reputation through a disinformation campaign.
State Justice David Cohen wrote in the ruling:
Even assuming that Fox News did not intentionally allow this false narrative to be broadcasted, there is a substantial basis for plaintiffs' claim that, at a minimum, Fox News turned a blind eye to a litany of outrageous claims about plaintiffs, unprecedented in the history of American elections, so inherently improbable that it evinced a reckless disregard for the truth.
The lawsuit names not just the network, but presenters Maria Bartiromo, Lou Dobbs, and Jeanine Pirro as well as frequent guests Rudolph "Rudy" Giuliani and Sidney Powell. Smartmatic's lawsuits against them will also be allowed to continue following the court's ruling.
A similar lawsuit for $1.6 billion filed by another tech company, Dominion Voting System, has showed that in several instances, Fox presenters such a Tucker Carlson and Laura Ingraham knew that claims that the presidential election was "stolen" from Trump were false — while also telling their viewers otherwise or treating those claims as plausible. In addition, a deposition revealed that Fox Corporation chair Rupert Murdoch also failed to believe allegations against Dominion were well-founded. On April 18 2023, Fox and Dominion reached a $787.5 million settlement just as that trial was set to begin.
"Dominion's litigation exposed some of the misconduct and damage caused by Fox's disinformation campaign. Smartmatic will expose the rest," Smartmatic attorney Eric Connolly said in a statement. "Smartmatic remains committed to clearing its name, recouping the significant damage done to the company, and holding Fox accountable for undermining democracy."
An attorney for Smartmatic, Erik Connolly, went into more detail on that in an April 20 2023 interview with CNN, saying that the company was "looking to take this case through trial" and specifying that any settlement agreement would have to be worth more monetarily than the settlement in the Dominion case, and go further.
"They need to get an apology," Connolly said of his client. "They need to get a full retraction."
Both Dominion and Smartmatic were also targeted by conspiracy theories after Trump's loss, with some relying on antisemitic tropes by linking Smartmatic to left-wing billionaire George Soros, long a convenient boogeyman for the right wing: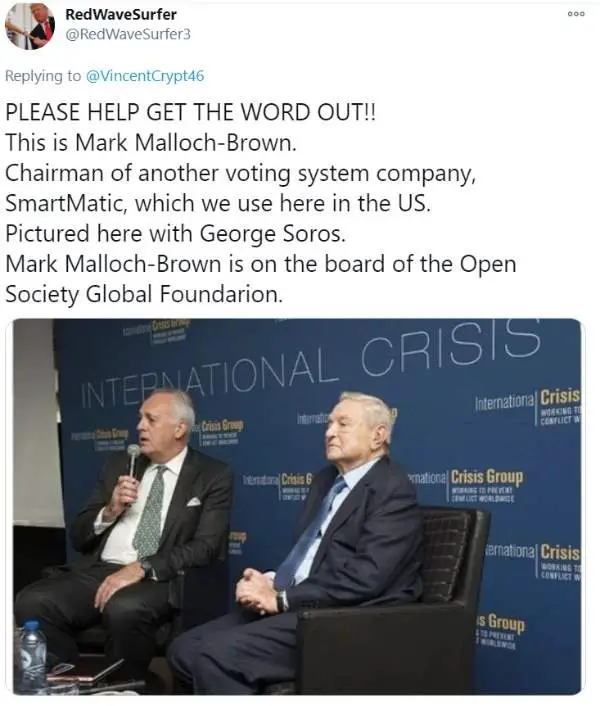 The Fox network said in a statement to The Guardian:
Freedom of the press is foundational to our democracy and must be protected, in addition to the damages claims being outrageous, unsupported and not rooted in sound financial analysis, serving as nothing more than a flagrant attempt to deter our journalists from doing their jobs. There is nothing more newsworthy than covering the president of the US and his lawyers making allegations.
In December 2020, another right-wing broadcaster, NewsMax, publicly backtracked from its own coverage pinning Trump's loss on Smartmatic and Dominion after being threatened with legal action.
On April 24 2023, Fox News announced that Tucker Carlson was no longer with the network:
NEW YORK — April 24, 2023 — FOX News Media and Tucker Carlson have agreed to part ways. We thank him for his service to the network as a host and prior to that as a contributor.

Mr. Carlson's last program was Friday April 21st. Fox News Tonight will air live at 8 PM/ET starting this evening as an interim show helmed by rotating FOX News personalities until a new host is named.
The release offered no further explanation.
Update 4/18/2023, 2:00 p.m. PST: Updated to reflect a $787.5 million settlement between Dominion Voting Systems and Fox News and a response from Smartmatic. — ag
Update 4/20/2023, 11:04 p.m. PST: Updated to include recent statements by a Smartmatic attorney regarding the type of settlement agreement they would accept in their lawsuit against Fox. — ag
Update 4/23/2023, 9:11 a.m. PST: Updated with announcement of Tucker Carlson leaving the Fox network.