George Soros, Pro-Clinton Groups Fund Trump Protests-Unproven!
George Soros, Pro-Clinton Groups Fund Trump Protests-Unproven! 
Summary of eRumor:
It's been rumored that George Soros and pro-Clinton groups funded protests and paid professional protesters after Donald Trump was elected president.
The Truth:
We haven't found any proof that George Soros or pro-Clinton groups have funded anti-Trump protests.
After Donald Trump's upset victory in the 2016 election, thousands of Trump protesters were reported in cities like New York City, Los Angeles, Chicago, Portland and Philadelphia, CNN reports:
Protesters are upset about Trump's policies on health care, the environment, LGBT rights and other issues. Some are questioning the legitimacy of Trump's victory over Hillary Clinton by noting that although he took the Electoral College, Clinton won the popular vote.
Over the weekend, Los Angeles saw anti-Trump protests swell to 8,000 people on Saturday. In New York, thousands peacefully marched two miles on Saturday and gathered outside Trump Tower, the President-elect's home in Manhattan, where they chanted "not my president."
As protests stretched into a sixth day, rumors persisted that George Soros or pro-Clinton groups were organizing the protests and even paying "professional protesters." Those rumors are based on a number of theories, and we'll take a look at few of them.
Photos Show Protestors Being Bused into Austin, Texas –Fiction!
Photos that appeared to show protestors being bused into Austin have been debunked.
A man named Eric Tucker created a stir on social media when he posted multiple photos of charter buses with the caption "Anti-Trump protestors in Austin today are not as organic as they seem. Here are the busses they came in." #fakeprotests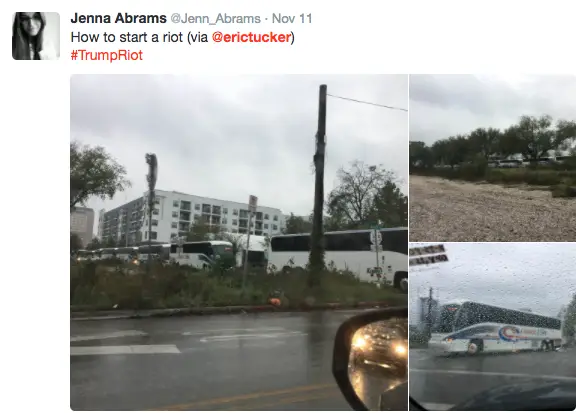 The photos quickly went viral. Many pointed to them as proof that Soros (or someone else) had been organizing the anti-Trump protests — going as far as busing in professional protesters from outside the state.
However, a FOX affiliate in Austin found that the charter buses were actually being used to shuttle people from hotels to the Tableau Conference being held at the Austin Convention Center. The buses had nothing to do with protests:
Before Eric Tucker took the tweet down Friday, it had nearly 17,000 retweets and became part of a national controversy. "I thought going on Twitter was not a big deal, I thought, I have 40 followers, I post twice a year on Twitter, I'm not a professional blogger at all," Tucker said.
Tucker said seeing a bunch of charter buses lined up on 5th Street near Waller on Wednesday, coincidentally around the same time an anti-Trump rally was being held in downtown Austin he said was unusual. So he took to Twitter with the claims the buses were being used to ship in protesters. "I hadn't really fact checked at all, it was just all kind of circumstantial and then before I know it, it's a story, I am over 10,000 tweets by the next day.
…But when people started questioning Tuckers claim, so did he. Turns out the buses were being used as hotel shuttles for the Tableau Conference being held at the Austin Convention Center. "Was I wrong in this case, yes I was," Tucker said.
These viral photos don't actually show protestors being bused in by outside groups.
Craigslist Ads Recruit Professional Protestors for $15 Per Hour-Unproven!
There's no way to prove that Craigslist ads that appear to be recruiting professional protesters are real.
Craigslist ads are free and easy to create. Someone could easily create a fake ad for professional protestors as a joke, to mislead people into believing that protesters are actually being paid, or to take advantage of people who respond to the post.
In a widely circulated Craigslist ad, the Washington Community Action Network (Washington CAN) appeared to be recruiting professional protestors that would be paid $15-$22 per hour. The position even supposedly came with medical, dental and paid time off: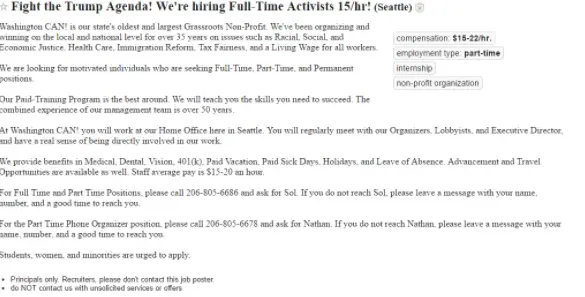 Contact information in the ad doesn't appear to match the contact information listed on the organization's website. We reached out for comment from a Washington CAN rep and future updates will be posted here.
For now we're calling these claims "unproven."
Leaked Documents from Soros' Group Point to Paid Protestors-Fiction!
Open Society Foundations (OSF), a group that was founded by Soros primarily to help countries transition away from communism, was hacked in June 2016 — but leaked files don't prove that Soros is behind Trump protests.
It appears that Russian hackers stole the documents. They were shared at "DCLeaks," a site similar to (but not affiliated with) Wikileaks, Bloomberg reports:
Open Society Foundations, the Soros group, reported the breach to the Federal Bureau of Investigation in June, said spokeswoman Laura Silber, who added that an investigation by a security firm found the intrusion was limited to an intranet system used by board members, staff and foundation partners.
In the case of Soros's Open Society, hackers stole a trove of documents after accessing the foundation's internal intranet, a system called Karl, according to a person familiar with its internal investigation. On August 3, the DCLeaks.com Twitter account tweeted "Check George Soros's OSF plans to counter Russian policy and traditional values," attaching a screenshot of a $500,000 budget request for an Open Society program designed to counter Russian influence among European democracies.
The hackers may have had access the foundations' network for nearly a year, according to another person familiar with the investigation. Although Open Society has about 800 full-time staff, as many as 7,000 people have access to Karl, which is used to circulate draft program proposals, budgets and other internal documents.
The $500,000 budget proposal from Open Society Foundations to help counter Russia's growing influence in the European Union was among the most notable leaked documents. Included in a "background" section of the proposal was this statement: "Our inclination is to engage in activities and with actors that will understand and counter Russian influence and support to movements defending traditional values."
That statement has been used to argue that Soros' group has supported and organized protestors to sway public opinion and elections in the past, so he'd likely doing it again in response to Trump's victory. However, the statement is pretty broad and it's not clear that "actors" refers to protesters.
We're calling these claims "unproven."
Soros Funded Protests in Ferguson; He'd Do it Again-Misleading!
We looked into reports that Soros had paid millions to help protests in Ferguson after a grand jury decided not to indict Officer Darren Wilson in Michael Brown's death in December 2014. We them to be both true and misleading.
At the time, the Washington Times reported that Soros had paid $33 million directly to groups organizing protests in Ferguson. And, while we found that OSF had given $33 million to support community groups involved in the protests, those funds were earmarked for various initiatives — not protests themselves.
OSF wrote in a December 2014 blog post, however, that it had made $2.5 million in investments to support "frontline community groups in Ferguson as well as develop a national database on the use of police force." Then, two days later, OSF announced that it would award $2.9 million in grants in response to ongoing events in Ferguson and Staten Island, where protests followed the death of Eric Gardner:
To supplement those efforts, we are this week making additional investments totaling $2.9 million in response to the recent events in Ferguson and Staten Island. One portion of the investment is intended to help community groups in Missouri advance initiatives to promote police accountability. A second component will further the development of a nationwide database involving police stops and use of force, thereby addressing one of the systemic flaws that limits the ability of police departments and communities to address bias-related issues.
So, it's true that Soros's OSF group supported groups organizing protests in Ferguson. However, it appears that OSF mostly supported larger police accountability initiatives like nationwide databases — not the protests themselves. That's why we called this one "true and misleading" at the time.
Right now, there's no proof to support claims that Soros is paying or organizing anti-Trump protestors. Check back for updates.