The Harry and David "Twelve Days of Christmas" Pack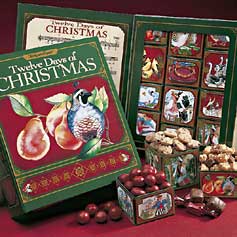 We love Harry and David boxes of fresh fruit, nuts, and chocolate.
One of our readers sent us an example of their 2003 "Twelve Days of Christmas" collection.  It's a large box with twelve smaller boxes, each with Christmas goodies in them.
But the back of the box has an ornate rendition of "The Origin of the Twelve Days of Christmas," an eRumor that claims the song originated as a Christian catechism in England between 1500 and 1800. It's an eRumor that started on the Internet a few years ago and with no substantiation from history.
CLICK HERE for the details on the eRumor.