ICE Raids Dozens of Convenience Stores in St. Louis-
Truth! 
Summary of eRumor:
Federal ICE agents raided dozens of convenience stores in the St. Louis area in May 2017, resulting in 35 indictments.
The Truth:
Federal ICE agents took part in a raid on more than a dozen of convenience stores in the St. Louis area, and 35 men were arrested on charges related to selling illegal cigarettes and synthetic drugs.
Reports about the arrests surfaced in local St. Louis-area media reports  immediately after ICE convenience store raids in May 2017, and those reports filtered into fringe publications after a Department of Justice (DOJ) press release a list of 35 people with Arabic names who were indicted.
ICE involvement in the convenience store raids initially led to speculation that the crackdown was related to illegal immigration, but the St. Louis Post-Dispatch clarified that the raid was tied to synthetic drugs and illegal cigarettes:
One man, Hikmat "Abu Amjad" Hamed, was arrested in the St. Louis area. He was one of six people indicted May 17 in the Southern District of New York on charges of conspiracy to distribute narcotics and conspiracy to introduce misbranded drugs into interstate commerce.
The indictment claims Hamed and five others were involved in shipping "potpourri" from Kentucky to New York that was laced with synthetic cannabinoids.
Sources with knowledge of the investigation said the raids were also tied to the illegal sale of cigarettes.
Right-wing news sites like River Front Times and the Gateway Pundit picked up on the report after the DOJ issued a press release on May 31, 2017. The sites either reported or inferred that ICE had cracked down on Muslim-owned convenience stores based on a list of 35 people who were indicted, 34 of which had Arabic-sounding names:
St. Louis, MO – Thirty-five (35) people were indicted in St. Louis on charges of conspiring to traffic in contraband cigarettes, conspiracy to distribute synthetic drugs and money laundering.
Indicted were the following individuals:
Mohammed Almuttan, aka Abu Ali, 35, St. Louis, MO
Rami Almuttan, aka Abu Louay, 33, St. Louis, MO
Hisham Mutan, aka Abu Mohamed, 41, St. Louis, MO
Saddam Mutan, aka Abu Ali, 24, St. Louis, MO
Mazin Abdelsalam, aka Abu Mohammad, 38, St. Louis, MO
Najeh Muhana, aka Abu Yazan, 41, Fairview, NJ
Fares Muhana, aka Abu Yamama, 40, Cliffside Park, NJ
Ayoub Qaiymah, aka Abu Faysal, 23, Richmond, VA
Naser Abid, 23, Chicago, IL
Yadgar Barzanji, aka Abu Siver, 47, St. Louis, MO
Wafaa Alwan, 50, St. Louis, MO
Ahmed Abuali, aka Bazilla, 31, North Bergen, NJ
Mohammed Kayed, aka Mohammed Fayez, 21, Clifton, NJ
Momen Abuali, 20, Little Ferry, NJ
Firat Sevindik, 42, Cliffside Park, NJ
Mohammed Mustafa, 30, North Bergen, NJ
Mohammad Karashqah, Abu Yazid, 47, North Bergen, NJ
Fayez Sheikha, 46, Mishawaka, IN
Jihad Shihadeh, Abu Malik, 58, Chicago Ridge, IL
Ismael Abadi, 57, Carol Stream, IL
Abed Hamed, Abed Fawzan, 39, Greenville, NC
Maher Hamed, Abu Alazara, 33, Swansea, IL
Abdel Adi, 25, Oak Lawn, IL
Muhanad Khatib, Abu Alamin, 36, Chicago, IL
Eyad Awad, 38, Chicago, IL
Dale Garbin, 60, Kankakee, IL
Hayder Al Fatli, 40, St. Louis, MO
Kutlay Guvener, 35, Chicago, IL
Saad Al Mallak, 30, Dittmer, MO
Hassan Abdelatif, 29, Collinsville, IL
Mahajir Naz, 32, St. Louis, MO
Talal Abuajaj, 23, St. Louis, MO
Basem Hamdan, aka Abu Ramiz, 57, St. Louis, MO
Zainal Saleh, 29, St. Louis, MO and
Ibrahim Awad, 39, St. Louis, MO
Beyond the men's names, ages and city of residence, the DOJ didn't release any additional identifying information about them.
Social media users were quick to applaud President Trump for orchestrating the aggressive crackdown, and some accused the mainstream media of refusing to cover the story.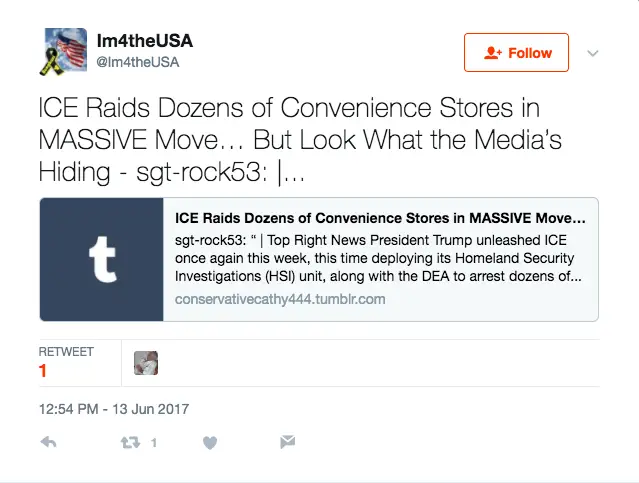 While exact details of the raid haven't been made clear, however, the DOJ release indicates that it was a culmination of a two-year effort:
According to the indictment, defendants conspired for more than two years to buy contraband cigarettes in St. Louis, Missouri, a low tax market, and transport and distribute them in Chicago, Illinois and New Jersey, high tax markets. Defendants used several convenience stores which they owned or operated to create the appearance of legitimate cigarette purchases. Illegal profits from the contraband cigarette sales were laundered through accounts associated with the convenience stores.
Based on the DOJ press release, we're calling claims about ICE agents raiding convenience stores in the St. Louis area "truth," but any other claims or inferences about the men arrested at this point are unproven by available information.