Publishers Simon & Schuster canceled plans on January 7 2021 to release a book by Missouri Sen. Josh Hawley (R) after it was spotted on the company's website.
The company had been promoting a book in which Hawley was regurgitating the false claim that social media companies were "the gravest threat to American liberty since the monopolies of the Gilded Age":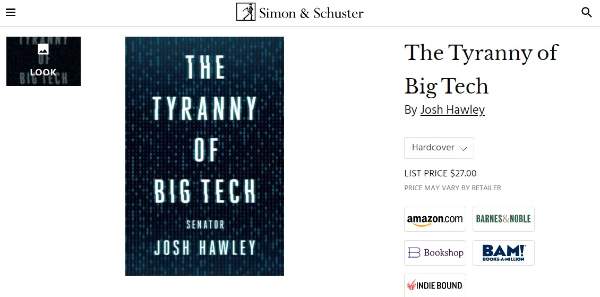 We contacted the company seeking comment on the book, as well as on his objection to the certification of the Electoral College victory of President-Elect Joe Biden, which directly led into the January 6 2021 pro-Trump riots at the U.S. Capitol building. The publisher did not respond to us, but told the New York Times:
As a publisher it will always be our mission to amplify a variety of voices and viewpoints: At the same time we take seriously our larger public responsibility as citizens, and cannot support Senator Hawley after his role in what became a dangerous threat.
The senator released a statement attacking the publisher as a "woke mob":
This could not be more Orwellian. Simon & Schuster is cancelling my contract because I was representing my constituents, leading a debate on the Senate floor on voter integrity, which they have now decided to define as sedition. Let me be clear, this is not just a contract dispute. It's a direct assault on the First Amendment. Only approved speech can now be published. This is The Left looking to cancel everyone they don't approve of. I will fight this cancel culture with everything I have. We'll see you in court.
Hawley was one of six Republican Party senators who voted in opposition to the certification of Biden's victory during a joint session of Congress which was interrupted by an attack on the U.S. Capitol by right-wing gangs incited by the actions and rhetoric of outgoing U.S. President Donald Trump and his political enablers.
The Missouri lawmaker claimed, falsely, that a 2019 law passed in Pennsylvania allowing for universal mail-in voting was unconstitutional.
"When Pennsylvania and [its] citizens tried to go and be heard on the subject, before the Pennsylvania Supreme Court, they were dismissed on grounds of procedure, timeliness in violation of that Supreme Court's own precedent," he added.
The lawsuit, filed by Pennsylvania state Rep. Mike Kelly, called for 2.5 million mail-in ballots to be disqualified or for the state legislature — controlled by the GOP — to select the state's electors. In response state Justice David Wecht wrote, "They have failed to allege that even a single mail-in ballot was fraudulently cast or counted."
Following Hawley's objection, Pennsylvania Sen. Bob Casey noted that the law was passed by that same Republican-controlled state legislature.
"It was only after the 2020 presidential election when it became clear President-elect Joe Biden won Pennsylvania by a little more than 80,000 votes did some Republican politicians in our state decide to challenge the constitutionality of the law," said Casey, a Democrat. The objection was voted down both in the Senate and the House
Hawley's late-night objection came after he was photographed greeting the right-wing mob that attacked the Capitol building before the attack:
According to the Kansas City Star, Hawley also sent a fundraising email shortly before the attack saying in part:
Many career politicians in the D.C. establishment want me to stay quiet. I suppose you can assume nothing I do will matter. That it won't matter if I object or not, so I should sit by and do nothing.
The premise of Hawley's book — that social media stifles conservative content — is also a lie; a study released in October 2020 by the news site Politico and the London-based Institute for Strategic Dialogue, which monitors extremist activity online, found the opposite:
Right-wing social media influencers, conservative media outlets and other GOP supporters dominate online discussions around two of the election's hottest issues, the Black Lives Matter movement and voter fraud, according to the review of Facebook posts, Instagram feeds, Twitter messages and conversations on two popular message boards. And their lead isn't close.

As racial protests engulfed the nation after George Floyd's death, users shared the most-viral right-wing social media content more than 10 times as often as the most popular liberal posts, frequently associating the Black Lives Matter movement with violence and accusing Democrats like Joe Biden of supporting riots.
Hawley's erstwhile deal with Simon & Schuster was also brought to light online two days after he falsely claimed that "Antifa" — a catch-all term for a nonexistent formal group — threatened his family at his Virginia home. However, the group of peaceful protesters livestreamed the entire event, which clearly showed no violence and no threats.
Update January 7 2021, 4:04 p.m. PST: Updated with statement from Sen. Hawley.