Giant military jet stranded over roadway-Truth!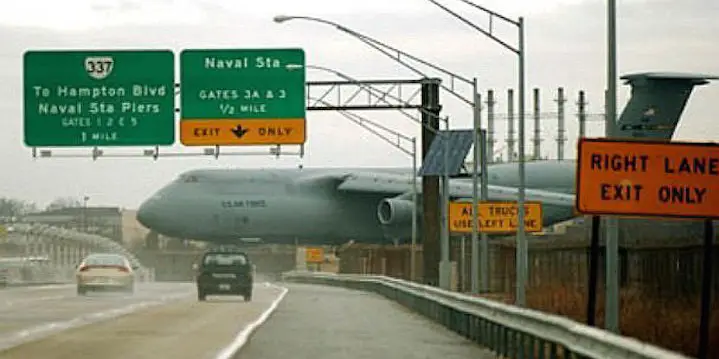 The Military Jumbo Jet that Got Stranded at the Norfolk Naval Air Station-Truth!

Summary of eRumor:
Pictures of a giant C-5 Galaxy sitting on an overpass.  The story says it got stuck on the runway at the Norfolk Naval Station because it could not turn around. 
The Truth:
According to the folks at the Norfolk Naval Station, this story and the pictures are true.
The road goes under the runway through a tunnel which made for quite a sight for cars driving toward the tunnel.
Last updated 11/18/05
---
A real example of the eRumor as it has appeared on the Internet:

NORFOLK Naval Air Station Virginia — One of the military's largest
transports got stuck at the end of a runway atop the I-564 overpass
for more than 16 hours. It was unable to turn around at the West end
of Chambers Field at the Norfolk Naval Station. The incident forced
the closing of the field to all but helicopter traffic and made for a
dramatic sight for hundreds of motorists passing beneath it during
morning rush hour.
"That thing's like a big building sitting there." said motorists.
The nose of the aircraft actually stuck out and OVER the Interstate!
The aircraft's nose was so far over the end of the ramp, the crew was
unable to see the runway where it was supposed to turn around so the
pilot simply had to leave it at the end of the runway. The Air Force
C-5 Galaxy, largest airplane in the free world, is almost as long as
a football field and as high as a six-story building.
Weighing 420 tons with a full load, it uses a system of 28 wheels to
distribute its weight. The aircraft had to wait for a specially made
tow bar trucked in from Dover, Delaware! When the tow bar arrived,
it was used to hook the C-5 to a tractor that then turned the
aircraft around. The plane was not damaged.