Did Justice Scalia Say 'Innocence Is No Reason Not to Carry Out a Death Sentence'?
Claim
Late U.S. Supreme Court Justice Antonin Scalia has been widely quoted as saying, "Mere factual innocence is no reason not to carry out a death sentence properly reached."
Like this fact check?

Reporting
A statement by late Supreme Court Justice Antonin Scalia that has survived online, in a truncated sense.
The quote attributed to Scalia states:
Mere factual innocence is no reason not to carry out a death sentence properly reached.
As often happens, it has circulated online as a meme as well: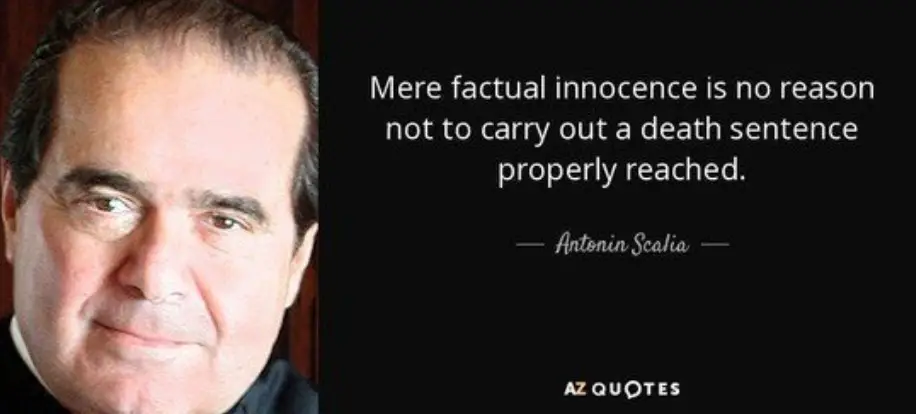 But Scalia never uttered or wrote such a statement. That sentiment, however, was reflected in his concurring opinion in the case of Herrera v. Collins in January 1993.
The case dealt with Leonel Torres Herrera, a Texas man and Vietnam War veteran who was convicted of capital murder for shooting Officer Enrique Carrisalez on September 29 1981, causing his death eight days later. After being sentenced to death for that killing, Herrera also pled guilty to the murder of Texas Department of Public Safety Officer David Rucker.
However, Herrera later filed a writ of habeas corpus in federal court, saying that new evidence showed that his brother Raul Herrera, Sr. had actually confessed to both murders. Torres Herrera argued that in light of that new evidence, putting him to death would violate the Eighth Amendment because it would constitute cruel and unusual punishment.
The high court rejected Torres Herrera's petition by a 6-3 margin. In the majority opinion, then-Chief Justice William Rehnquist cited previous court decisions establishing that state court decisions could not be relitigated at the federal level.
"Few rulings would be more disruptive of our federal system than to provide for federal habeas review of freestanding claims of actual innocence," the chief justice wrote.
Scalia, joined by Justice Clarence Thomas, penned a concurring opinion that contained the remark that would later be turned into the version spread online; emphasis ours:
We granted certiorari on the question whether it violates due process or constitutes cruel and unusual punishment for a State to execute a person who, having been convicted of murder after a full and fair trial, later alleges that newly discovered evidence shows him to be "actually innocent." I would have preferred to decide that question, particularly since, as the Court's discussion shows, it is perfectly clear what the answer is: There is no basis in text, tradition, or even in contemporary practice (if that were enough), for finding in the Constitution a right to demand judicial consideration of newly discovered evidence of innocence brought forward after conviction. In saying that such a right exists, the dissenters apply nothing but their personal opinions to invalidate the rules of more than two thirds of the States, and a Federal Rule of Criminal Procedure for which this Court itself is responsible.
Scalia served on the Supreme Court until his death on February 13 2016. In July 2022, Rolling Stone reported that both Scalia and Thomas, along with Justice Samuel Alito, held "prayer meetings" with leaders of an evangelical group that would bring arguments and cases before it.
The report stemmed from a remark made by Peggy Nienaber, the "director of policy" for the far right Liberty Counsel, which filed an amicus brief in Dobbs v. Jackson Women's Health, the July 2022 case in which the court struck down the constitutional right to an abortion. According to the magazine:
[Nienaber] spoke to a livestreamer who goes by Connie IRL, seemingly unaware she was being recorded. "You actually pray with the Supreme Court justices?" the livestreamer asked. "I do," Nienaber said. "They will pray with us, those that like us to pray with them." She did not specify which justices prayed with her, but added with a chortle, "Some of them don't!" The livestreamer then asked if Nienaber ministered to the justices in their homes or at her office. Neither, she said. "We actually go in there."
The group's founder, Mat Staver, has denied that any such meetings took place, although he reportedly could not explain Nienaber's remarks. However, Rob Schenck — who founded the original iteration of the group, Faith and Action in the Nation's Capital — told the magazine that he prayed with Alito, Thomas, and Scalia:
When Schenck first began his approach in 1994, prayer activities on the Supreme Court's property was considered an act of demonstration, and therefore illegal. Eventually, Justices Alito, Scalia, and Thomas would embrace Schenck, he says, and pray with him in various corners of the high court's grounds — including, occasionally, in their chambers. (Chief Justice John Roberts, meanwhile, remained more guarded and skeptical of such groups' influence.)
"The intention all along was to embolden the conservative justices by loaning them a kind of spiritual moral support — to give them an assurance that not only was there a large number of people behind them," Schenck told Rolling Stone. "But in fact, there was divine support for very strong and unapologetic opinions from them."
Update 7/6/2022, 3:45 p.m. PST: This article has been revamped and updated. You can review the original here. — ag