Mass Re-enlistment on July 4th-Truth!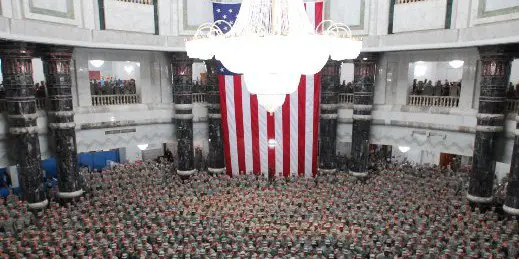 More than 1200 Servicemen and women re-enlisted in Baghdad on the 4th of July-Truth!
Summary of eRumor:
A re-enlistment swearing in ceremony was held July 4, 2008 at Al Faw Palace, Baghdad, Iraq officiated by General

 

Petraeus.   The email begins with a complaint that news of this failed to get stateside owing to a news media that does support the US intervention in Iraq. 
The Truth:
1215 men and women participated in the swearing in ceremony recommitting themselves to the war against terror and all together, the service members pledged more than 5,500 years of additional service to their country.  We checked various news sources including the Los Angeles Time and MSNBC where we found this story posted.   In our investigation we discovered two official press releases posted by the Army.
One of the press releases mentioned that a married couple, Sergeants Ryan and Erika Lowe, considered the importance of starting a family with stability and the benefits that the Army provides as good reasons for their re-enlistment in Iraq.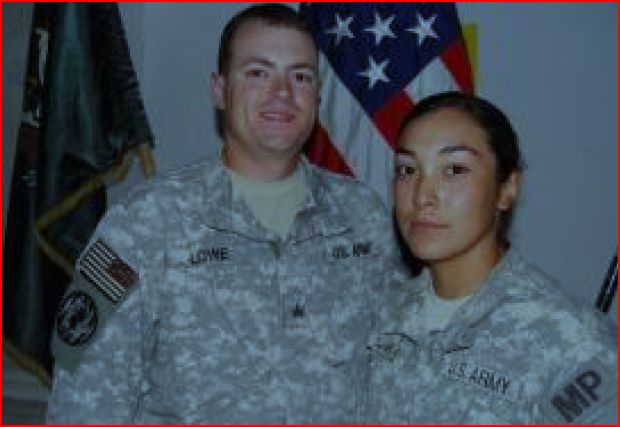 Sergeants Ryan and Erika Lowe
"What other job could you see all the places in the world we have seen," said Lowe (Ryan), who is reenlisting with his wife to be stationed together in Brussels, Belgium for their next assignment with NATO.
Beside stability, benefits and the ability to travel all over the world the Lowe's said they love being Noncommissioned Officers (NCO) and that is another reason they elected to stay in the Army.
"I like working with Soldiers and seeing them grow in their skills as military police," said Erika.
"Building up Soldiers is a great experience and just being an NCO is one of the reasons why I elected to stay in," said Ryan.
CLICK for DOD press release
CLICK for Army press release
CLICK for Youtube Video of the swearing in ceremony
Updated 08/14/08
---
A real example of the eRumor as it has appeared on the Internet:
As usual, the good news goes unreported.  Tremendous re-enlistment in Baghdad….hmmm…never made mainstream media…guess it doesn't fit with their reporting of the hollow force, poor morale, etc. For those who have been in the Al Faw Palace you'll have a better estimation of the number of people crammed in the rotunda.

Here is a reenlistment ceremony from Baghdad on the 4th of July.  It seems to say that all of the young men and women in these photos think that what they are doing is important and they want to continue to be part of it. Somehow this did not make it onto network news broadcasts.
Attached are pictures of what is reputedly the 'largest re-enlistment ceremony ever held in military history'.  The ceremony was held July 4, 2008 at Al Faw Palace, Baghdad, Iraq. General Petraeus officiated.  A pizzeria in Chicago donated 2000 pizzas that were made last weekend, shipped on Sunday, arrived in Baghdad Wednesday and were fed to the enlistees on the 4th.
Oh, by the way, the media did report on the 2000 pizzas…just not what they were for.