Did Oprah Winfrey Say Old White People Must Die to End Racism?
Claim
Oprah Winfrey once said that old white people must die to end racism or to achieve racial progress.
Like this fact check?

Reporting
A 2013 interview by media magnate Oprah Winfrey was twisted into weaponized disinformation years later by right-wing bloggers and social media users desperate to paint her as "divisive."
The interview was originally published by BBC in November 2013, when Winfrey was promoting the movie "Lee Daniels' The Butler," in which she played Gloria Gaines, the wife of Cecil Gaines (played by Forest Whitaker), who worked as a butler at the White House for more than 30 years.
When asked by correspondent Will Gompertz whether the film's depiction of racism was relevant in the present day, Winfrey said:
It would be foolish to not recognize that we have evolved, in that we're not still facing the same kind of terrorism against black people en masse. Are there still places where people are terrorized because of the color of their skin, because of the color of their black skin? Yes. But there are laws that have allowed us to progress beyond what we saw in "The Scottsboro Boys" and beyond the – even prejudice that we see in "The Butler." As long as people can be judged by the color of their skin, the problem is not solved. There are still generations of people, older people, who were born and bred and marinated in it – in that prejudice and racism – and they just have to die.
Winfrey also said that she felt that then-U.S. President Barack Obama was the victim of particular political attacks because of his ethnicity:
Just the level of disrespect – when [Rep. Joe Wilson] yelled out "you're a liar." Remember that? "You lie!" at the president while he was addressing a joint session of Congress. I think there's a level of disrespect for the office that occurs, and that occurs in some cases and maybe even many cases because he's African-American.
Winfrey's remarks about the racism of prior generations were twisted by fringe blogs as far back as 2016 but were also distorted in 2018 with accusations that she was calling for the death of white people: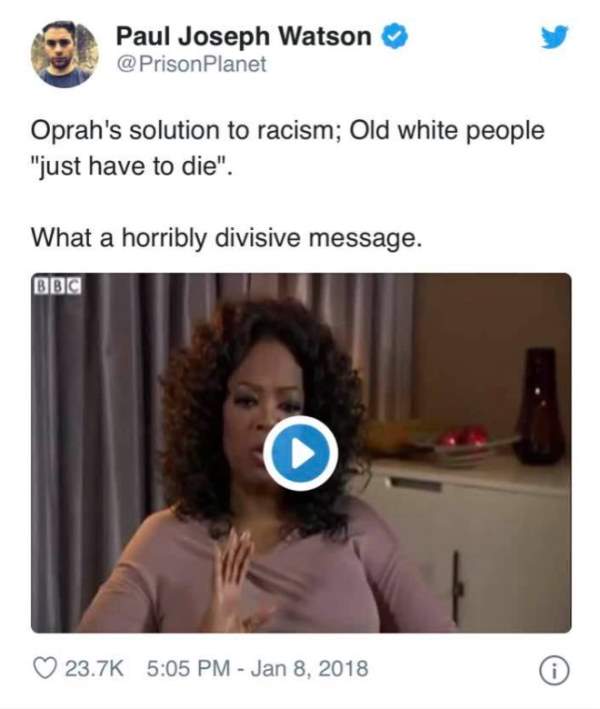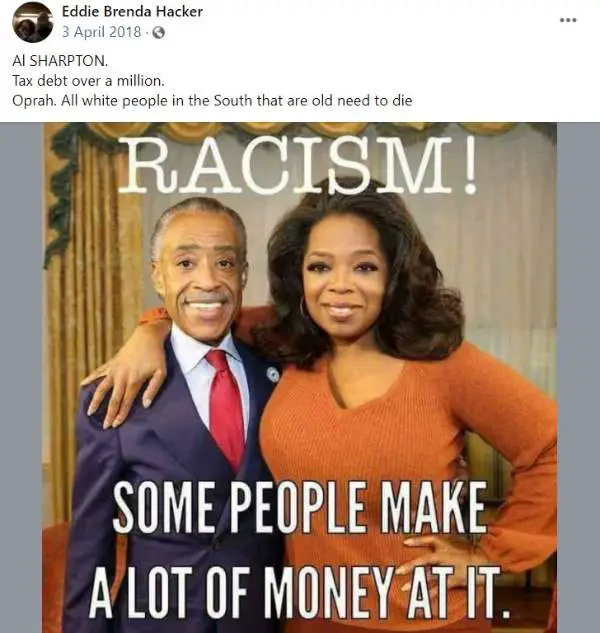 Update 6/10/21, 12:15 p.m. PST: This article has been revamped and updated. You can review the original here. -AG