Video of Couple in Pasadena Unaware of Bear-Truth!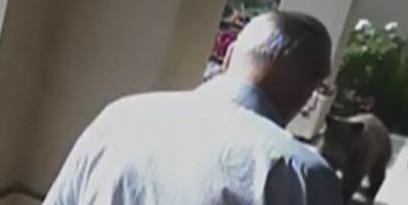 Video of Couple in Pasadena Unaware of Bear-Truth!
Summary of eRumor:
This is a video from a security camera that showed an elderly couple leaving a building totally unaware of a wild black bear a few feet away.

The Truth:
The video is real and was released in a January 21, 2014 article by
LiveLeak.com
.
The video caption "Elderly Pasadena Couple Doesn't See Bear On Their Front Porch... Time For Some New Glasses Folks!"  pretty much gives the reader the message the importance of situational awareness.
According to a
January  24 , 2014 article by the U.K.'s Daily Mail
, Bob McKeown and his wife, Irene, were on vacation from Scotland and staying with family in Pasadena, California when they had a surprise encounter with a black bear cub.
The article said that the couple was not attacked by the bear but Bob McKeown did receive a scratch after the "curious cub" followed them to their car.   About that time the Scottish couple realized that they were not alone.
McKeown told reporters at the Los Angeles based KTLA-TV, "I felt something brushing against my leg. Once I closed the [car] door, I turned around, I shout, 'It's a bear! It's a bear!'"
A small nick on his leg was an unexpected souvenir of his Southern California trip.
During the week of this incident, there was a number of bear sightings near residences of cities located in the foothills of the San Gabriel Mountains.
Posted 1/24/14.
---
A real example of the eRumor as it has appeared on the Internet:
Video of elderly couple in Pasadena Ca unaware of a bear on their porch.