Pizzagate Pedophilia Conspiracy Theory-Fiction!
Pizzagate Pedophilia Conspiracy Theory-Fiction!
Summary of eRumor:
John Podesta, Hillary Clinton and other top Democrats have been involved in a child sex trafficking ring operated through Comet Ping Pong pizzeria in Washington, D.C., in a scandal that has become known as "Pizzagate."
The Truth:
Pizzagate is a baseless conspiracy theory.
No evidence has been produced to back up claims that a pedophilia ring was run out of Comet Ping Pong, or that John Podesta or Hillary Clinton were involved in child sex trafficking.
These conspiracy theories began building toward the end of October when FBI Director James Comey announced that the FBI was reviewing new evidence into Hillary Clinton's use of a private email server while secretary of state. Reports surfaced that the "new evidence" was found on a laptop used by Huma Adedin and her estranged husband, Anthony Weiner, who was under investigation for allegedly sending sexually graphic images to a teen.
Online sleuths immediately began circulating reports on social that cited unnamed sources within the NYPD that Abedin's emails pointed to a pedophila ring that Hillary Clinton was at the center of: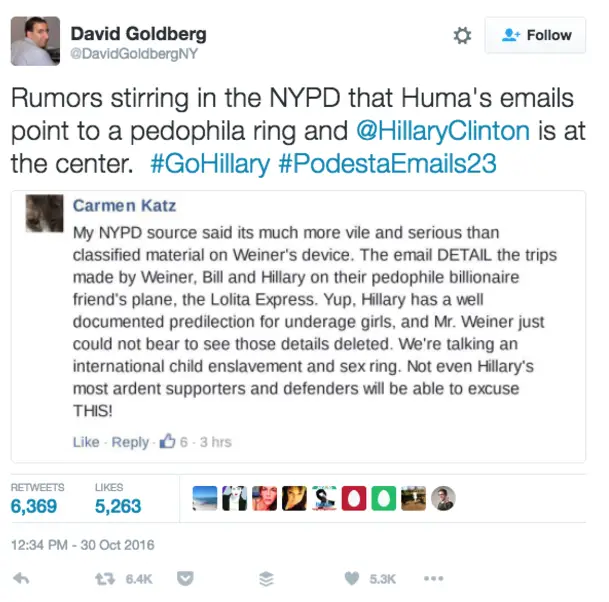 In the coming days, posts citing unnamed NYPD and FBI sources popped up on message boards and discussion forums like 4chan and Godlike Productions. Those threads found a larger audience when fake news and conspiracy websites began citing them in reports claiming that Clinton and Podesta emails had been linked to a "political pedophile sex ring." We debunked a variation of Pizzagate that can be found here. In turn, the threads that started the rumor began citing these false reports as proof that their conspiracy theories were right.
As the pedophilia sex trafficking ring theory gained momentum, people began scanning John Podesta's lead emails for any proof to back up their claims. Given that there was none to be found, commenters on 4chan and Reddit sub-groups began to theorize that he had spoken in code to cover his tracks, giving rise to the idea that he had used "pizza" as a code word for pedophilia or child sex trafficking — and the Pizzagate conspiracy theory was born.
As it turns out, John Podesta and other Democratic operatives eat (and sent and received emails about) pizza a lot. People milling through Podesta's emails would take a seemingly harmless email like this one, and claim that he had swapped "pizza" for "pedophilia":
Wanted to flag a dinner I'm doing at my house tomorrow for Hillary. Doing a fundraiser at my house with my brother John on October 6 at my house, John and I are cooking along with guest chefs James Alefantis of Comet Ping Pong Pizza and Buck's Camping and Fishing, Amy Brandwein of Centrolina and Massimo Fabbri of Ristorante Posto. Would love if you could go online and make your contribution…
Again, there's no proof whatsoever that the email refers to child sex trafficking, but those conspiracy theories, and no law enforcement officials have confirmed anything of the like. Still, those conspiracy theories continue to this day.
The Pizzagate story took on an even darker twist when an armed North Carolina men took a gun into Comet Ping Pong to "self-investigate" and rescue child victims of assault from the pizzeria, NBC News reports:
Edgar Welch, 28, was arraigned Monday on charges of assault with a dangerous weapon, carrying a pistol without a license and other crimes, the documents say.
The documents allege that Welch, whose address is listed 250 miles south, in Durham, N.C., arrived at the pizzeria, Comet Ping Pong, armed with an AR-15 rifle and a .38 caliber handgun just after 3 p.m. to help "rescue" child sex slaves that he believed were possibly being held there.
At the pizzeria on Sunday, a worker told police that he was outside when Welch apparently arrived. Identified only as CW-1 in the documents, the worker said that he stepped out to grab pizza dough when he heard three loud bangs coming from inside.
"CW-1 re-entered the restaurant and observed a white male holding an AR-15 type rifle," the documents say, adding that when Welch allegedly swung the rifle towards him he immediately ran outside.
Again, there's no proof whatsoever that John Podesta, Hillary Clinton or anybody else was involved in the Pizzagate pedophilia ring. Those rumors started on social media, made their way into fake news and then took on new life on message boards. Throughout it all, however, no hard evidence has been provided to back it up.