Pronged Collars Should be Banned Because They are Harmful to Dogs-Fiction!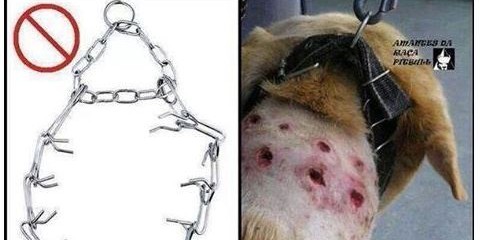 Pronged Collars Should be Banned Because They are Harmful to Dogs-Fiction!
Summary of eRumor:
This warning about the dangers of pronged collars, a tool used for training dogs, appeared on social media. The warning said that they should be banned and included a photo of a dog with several lacerations on its neck, allegedly caused by a pronged dog collar.
The Truth:
Pronged dog collars are a training tool that are suggested by professional dog trainers for dog owners who may have dogs that are harder to train. In order to work, they must be properly fitted so that the least amount of effort is used by the dog owner to train the dog to walk properly. This according to a spokesperson at the K9 Connection, who said that the collars are actually one of the safest collars to use because they do not put stress on the dog's trachea and larynx. The injured dog in the photo may have been a result of improper use of a prong collar, or it may not have been properly fitted. Prong collars should only be used when training the dog and one that is too loose or too tight will lose its safety features. These collars should never be used on a dog for an extended period, for example, tying the dog in the back yard.
The K9 Connection posted a two-part educational video on how to properly fit and use the collars on YouTube: Prong Collar Lesson part 1
Prong Collar Lesson part 2 The American Society for the Prevention of Cruelty to Animals (ASPCA) posted a handy guide of training tools for dogs on its website. The ASPCA suggested that pet owners who use prong collars "seek guidance from a Certified Professional Dog Trainer (CPDT) who has experience using those kinds of training tools." A member of our TruthOrFiction.com team has two rescue dogs who went through a city-approved dog obedience course. Prong collars were suggested for both dogs by the professional dog trainer. After a year, one dog no longer needs the training collar for her walks. The other dog was totally wild when she was rescued from the streets by the owner and has progressed nicely with her training. Prior to the class, a variety of techniques were tried by the owner, but nothing has been as effective as the prong collar in training the canines. Neither dogs were harmed in the training process by the prong collars. Posted 06/27/14
---
A real example of the eRumor as it has appeared on the Internet:
Ban Pronged Dog Collars!