Rattlesnake more than 9 feet long and nearly 100 pounds-Unproven!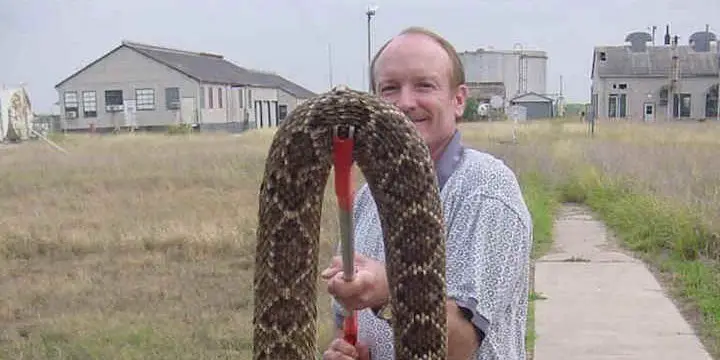 Picture of Rattlesnake-More than 9 Feet Long and Weighing Nearly 100 Pounds-Unproven!

Summary of eRumor:

A picture of what appears to be a large rattlesnake said to have been found near Medicine Lodge, Kansas.  Other versions say it was found near Amarillo, Texas. 
The Truth:
We've not found a source or confirmation of the picture, but it appears to be a fabrication.
We've received versions that claim the picture is from both Kansas and Texas.  All of them also allege that the snake was 9 feet 1 inch long and weighed 97 pounds.
The picture itself is one of a rattle snake that has been positioned well in front of the man holding it and close enough to the lens of the camera to make it appear larger than life.  It's doubtful that a 97 pound rattlesnake could be held as effortlessly as depicted in the picture.
Updated 7/14/07
---
A real example of the eRumor as it has appeared on the Internet:
This might make me move a little faster!!!

 9 feet, 1 inch – 97 lbs. – found in Medicine Lodge  Kansas . 

Next time you're out in the tall grass, remember this one. 

  This snake was recently found at old stripping plant located just south of

  Highway 160 near Medicine Lodge.

   A reminder that these creatures are actually out there and no matter what you believe,

   Sometimes they should get not only prescriptive rights to be there but the full right of way!

   9 feet, 1 inch – 97 lbs.

   DEEP-FRIED RATTLESNAKE
   1 medium-sized rattlesnake (3-4 lbs.), cut into steaks
1/2 cup flour
1/4 cup cornmeal
1/4 cup cracker crumbs
1/2 cup milk
1 egg
1/4 teaspoon garlic powder (not garlic salt)
1 teaspoon salt
Dash pepper
Mix dry ingredients. Whisk milk into beaten egg and use to dip snake steaks.
Then coat them with dry ingredients. Fry, uncovered, in 400 degree oil until brown.
   Yum,Yum!  It sorta tastes like chicken.